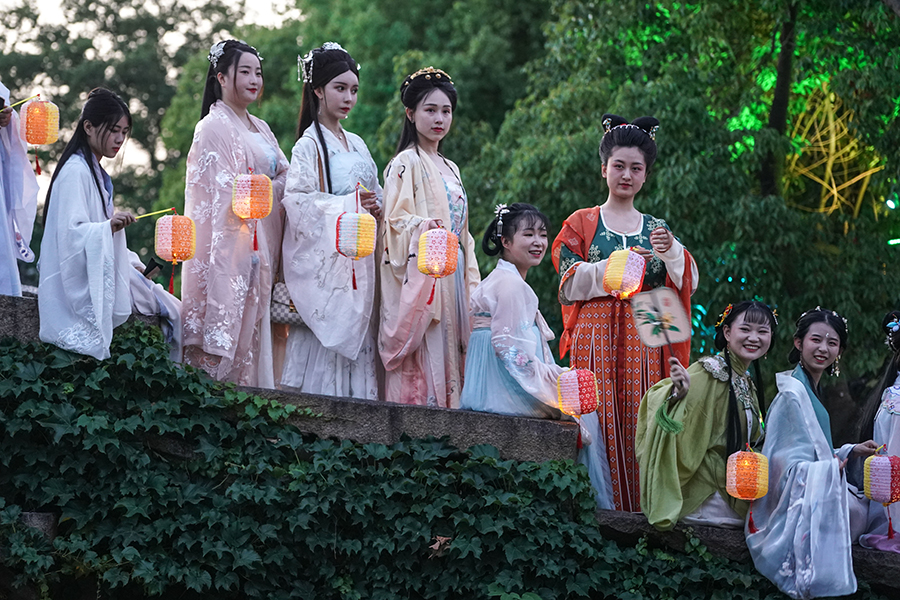 Hanfu attire, accessories become popular
A group of young people wearing hanfu, the traditional clothing of the Han ethnic group, gathered at Donghua University in Shanghai in November to stage a series of performances.
The event, featuring ancient dancing and singing, was staged by two traditional culture clubs-Han Fu and Huayue-and was seen by scores of attentive students.
Deng Yujie, president of the university's hanfu club, who hosted the event, said nearly 30 students took part in the performances.
Deng added that in recent years, young people have become increasingly interested in activities to promote and display traditional culture.
Such performances have had to be called off, however, because of the novel coronavirus pandemic.
Deng, a major of functional materials, said she began her love affair with hanfu when she was a child.
"I felt that the clothes in period costume dramas were very beautiful. I often dressed myself in a bedsheet to play the role of a woman in traditional garb," the 20-year-old said.
Deng, who also joined the hanfu club at her high school, said she spends about 3,000 yuan to 5,000 yuan ($432 to $720) on the attire every year.
"I usually buy a new item every three months. The short coats and long skirts from the Ming Dynasty (1368-1644) are my favorites because the shape of the garments is the closest to modern styles," she said.
Deng doesn't just wear hanfu attire for performances. When she goes shopping or attends classes, she usually wears a "horse face skirt"-a traditional item of clothing featuring multiple pleats-or some traditional accessories. "Hanfu has become part of my daily life," she said.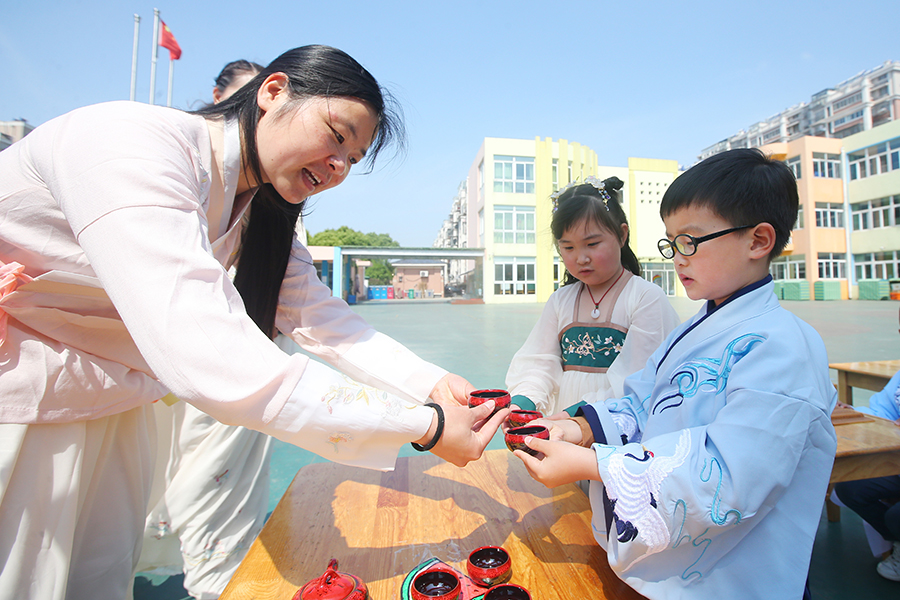 Wen Run, professor of textile design and industrial economics at Donghua University, said hanfu is totally different from Western attire, as it is part of "the national clothing system".
"Chinese fashion emphasizes implicitness-an inclination to hide the body in clothing, especially for women. Western fashion tends to emphasize the strength of muscles and curves, highlighting these through the tailor's cut," Wen said.
The main features of hanfu include collars, upper garments in the style of a skirt, jade ornaments and a sash, according to Wen. Materials such as brocade and yarn, along with traditional craftwork, including embroidery, are also hallmarks of the attire.
Guo Xiaoxiao, a leading designer in Shenzhen, Guangdong province, said the hanfu cultural phenomenon emerged from the continuous integration and evolution of a number of ethnic costumes. Those from the Han group comprise the main type.
There were more than 2 million hanfu enthusiasts in China in 2018, according to a survey by the market consultancy iMedia Research, a year-on-year rise of nearly 73 percent. The total value of the hanfu industry exceeded 1 billion yuan.
A report released jointly by CBN Data and Tmall said hanfu sales revenue last year rose by more than 200 percent year-on-year.
Meanwhile, the number of online hanfu stores on the Taobao shopping platform last year reached 1,188, a rise of nearly 46 percent compared with 2018, according to the 2019 Hanfu Industry Report by Hanfu Information.
The report also said that last year hanfu items were mainly bought by young people, including students, with nearly 75 percent of buyers in the 16 to 24 age group.
Popular dramas
Many hanfu enthusiasts, including Deng from Donghua University, first learn about the culture from television and films.
The attire features in popular period dramas such as Nirvana in Fire and Ten Great III of Peach Blossom, which are set against a backdrop of ancient Chinese culture.
Many young people record themselves wearing hanfu clothing and accessories, sharing the footage with friends on the Bilibili platform.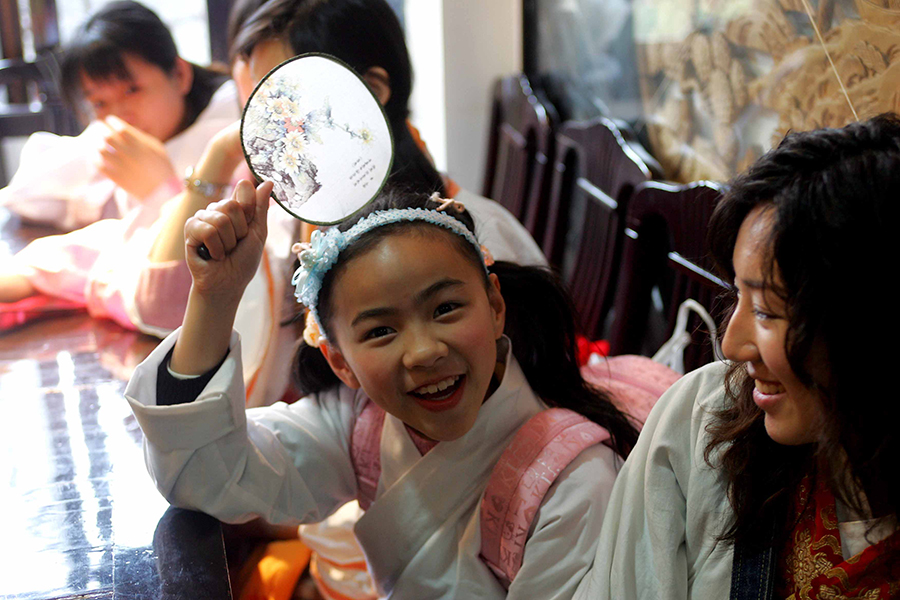 Wen said these enthusiasts not only want to be seen wearing beautiful clothing, but also wish to identify with traditional culture.
"Young people have a growing sense of cultural identity, while environmental improvements and better living conditions have given them a sense of superiority. They don't feel that wearing period clothing is unfashionable. Instead, they are proud to do so," Wen added.
Hanfu enthusiasts refer to themselves online as tongpao, which literally means wearing the same type of gown as a symbol of comradeship. Most tongpao love traditional culture and see the use of hanfu items as the most important symbol of the group's identity. They also attend hanfu festivals and travel while wearing the clothing.
According to the CBN Data and Tmall report, there were 2,000 hanfu cultural organizations worldwide last year, up from more than 1,300 in 2017.
Deng said she wants to help promote hanfu culture so that more people can acquire accurate information about it and experience its charm.
She said that after years of increased understanding and development, young people's choices and attitudes toward hanfu have changed greatly.
"For example, when I was in high school, we only thought we needed to look good while wearing hanfu, and didn't care whether we were wearing it correctly or about its history," Deng said.
"But after starting university, students tend to develop a more rational and deeper understanding of hanfu. In addition to looking good, we care about the practical aspects of wearing the clothing in daily life and have adopted a more professional approach to this," she added.
The Donghua University hanfu club now boasts more than 100 members. It organizes activities every three weeks for people to learn about the culture, while holding events such as traditional dancing, readings and tea art presentations every week.
Deng said: "I've seen obvious changes and trends in recent years. For example, clubs and groups for hanfu, chess, tea art and ancient poetry now have stronger links with each other. More people have begun to develop a consensus on all traditional cultures."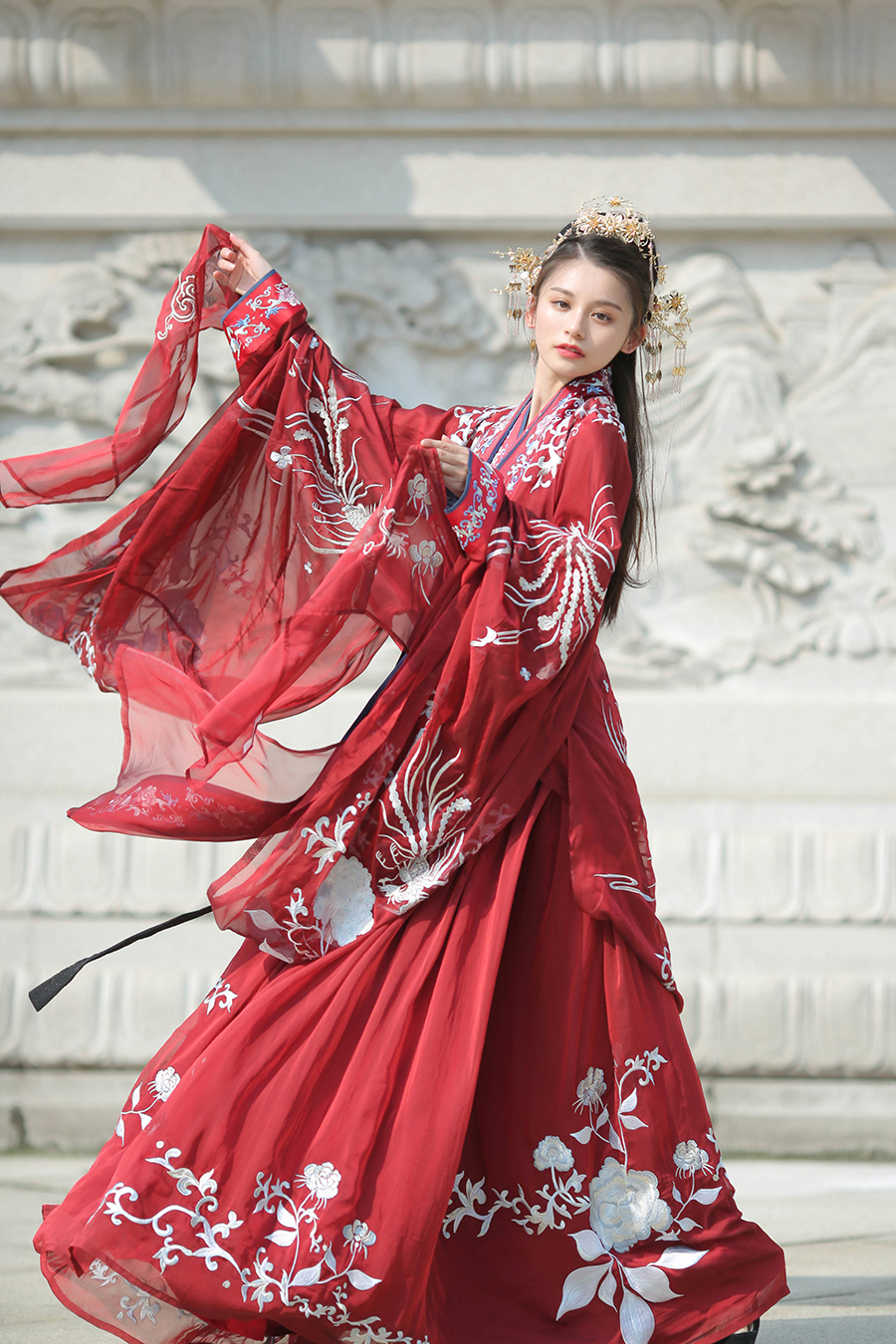 In addition to promoting such groups, China has encouraged traditional culture in recent years, with the State Council releasing a document in 2017 regarding the inheritance and development of the country's traditional arts.
High-end market
In a video uploaded at the end of 2018, Bilibili user "Shiyin" said she spent 5,450 yuan on a traditional hanfu costume, but had to wait 10 months before it was ready to wear, as it featured a complex design and intricate tailoring.
The 2019 Hanfu Industry Report said items costing from 100 yuan to 300 yuan were the most popular, comprising nearly 42 percent of the market, followed by those selling for 300 yuan to 500 yuan. Those in the 500 yuan to 1,000 yuan price bracket accounted for less than 6 percent of the market.
The owner of Fanshawe, a Taobao store selling designer hanfu items, said, "The average price ranges from 3,000 yuan to 4,000 yuan, while the most expensive items sell for 5,000 yuan."
A graduate of Donghua University, where she majored in fashion design, the owner, who only gave her surname of Fan, launched the online store in 2015 after experiencing difficulties finding genuine hanfu items.
She said all those from her store sell online for only one to two hours, with stocks quickly selling out as only a few collections are promoted each time.
"Prices always rise for used items. For example, a style selling for 1,700 yuan at my store will fetch as much as 10,000 yuan on the second-hand market," she said.
Fan added that it usually takes several months to finish an item, including acquiring the materials, the design process, manufacture and adjustments.
"I sold 2,000 units of a highly popular product in less than two hours and it took us half a year to complete all the orders." she said.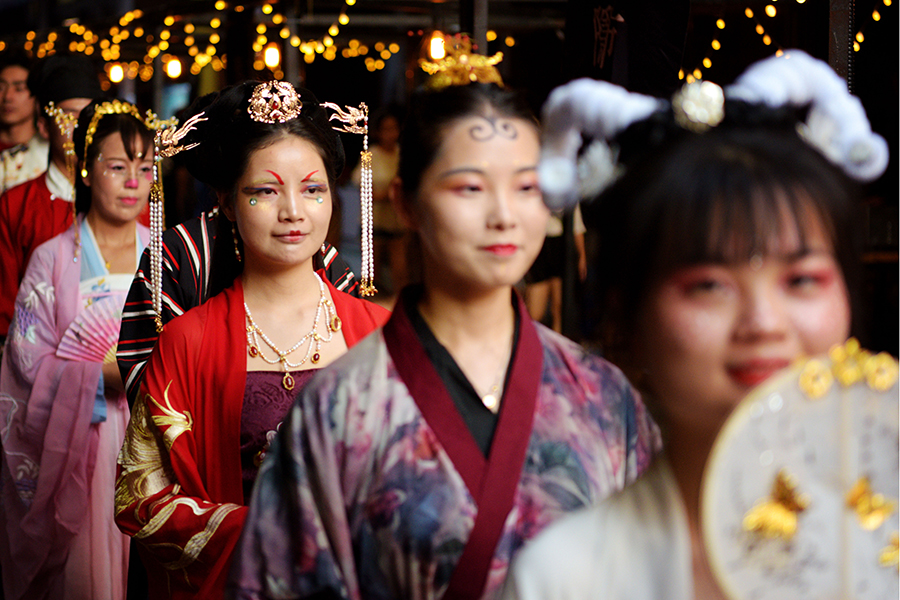 Problems exist
Guo, the Shenzhen designer, said the development of hanfu hinges on it being promoted by enthusiasts, enterprises and industry associations. However, this has resulted in a market with a mix of genuine and fake products.
There are only a few well-known hanfu brands, but also monotonous styles and a lack of high-quality stock, Guo said.
Wen, the professor, said, "It is impractical to universally copy traditional clothing, as lifestyles have changed over time, inevitably affecting fashion trends.
"If people want to make hanfu part of their daily lives, we must consider style, fabrics and comfort-areas in which we have a long way to go."
Deng, who learns about hanfu from books and major networking platforms such as Sina Weibo and Douyin, said the culture still lacks official guidance and education channels.
"But whatever the difficulties, the beauty of the old times, combined with today's fashions, are like a river flowing continuously. Clothing is no longer a basic demand, but a symbol that can reflect one's image and attitude toward life in modern society."
Wen concluded, "The future of hanfu is uncertain, but the love for it will imperceptibly change society."
[disclaimer] the above article is reprinted from the Internet, which is intended to convey more information. It does not mean that this website agrees with its views and is responsible for its authenticity; if the copyright unit or individual of the manuscript is unwilling to issue it on the website, please contact us or call us within two weeks.andy steel structure.