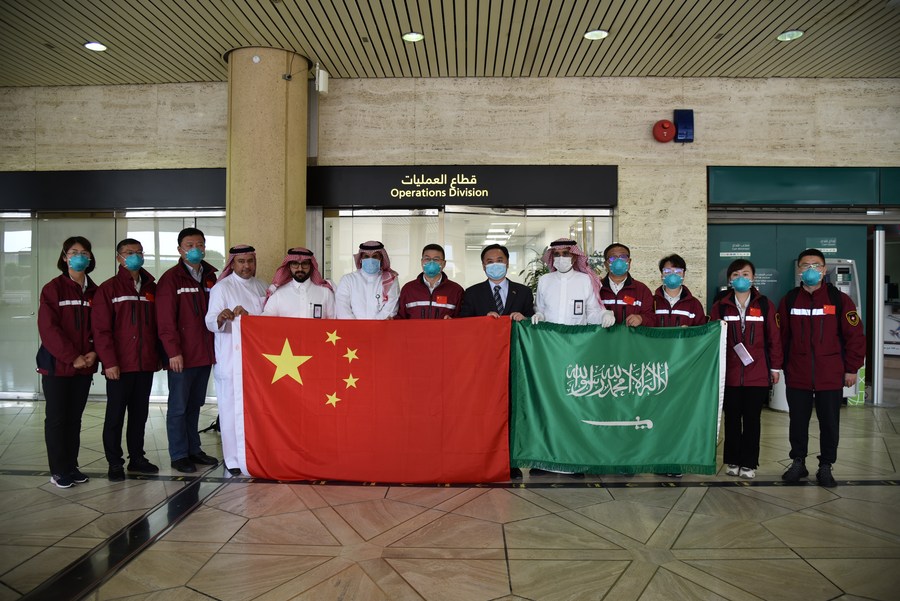 Chinese medical experts pose for photos with others at the King Khalid International Airport in Riyadh, Saudi Arabia, on April 15, 2020. A team of Chinese medical experts arrived in Riyadh on April 15 to assist the kingdom in combating COVID-19. [Photo/Xinhua]
President Xi Jinping reiterated the need for united action and coordination between different countries in the global fight against the COVID-19 pandemic as he spoke over the phone with the heads of state of Saudi Arabia and Uruguay on Wednesday night.
In his phone conversation with Saudi King Salman bin Abdulaziz Al Saud-the third between the two leaders this year-Xi underscored that China is willing to maintain close coordination and cooperation with Saudi Arabia, to enable the Group of 20 countries to work more closely together and help make COVID-19 vaccines a global public good.
It is important to ensure all countries and all people can afford and have access to the vaccines, he said.
China is willing to work with other G20 members to boost aid to developing countries, build an open world economy, safeguard the stability of global industry and supply chains and facilitate the orderly flow of personnel, he said.
The G20 should lead the way in cooperation on digital economy and create an open, fair, just and nondiscriminatory digital economy environment, he said.
Xi expressed China's willingness to use the 30th anniversary of China-Saudi Arabia relations as an opportunity to boost political mutual trust and continue to offer each other support on issues concerning respective core interests and major concerns.
The Belt and Road Initiative can be better aligned with Saudi Arabia's Vision 2030 to enable deeper and more concrete cooperation in various areas, he added.
King Salman said Saudi Arabia hopes to deepen anti-epidemic cooperation with China, especially in the research and development of vaccines, and Riyadh is willing to maintain close coordination and communication with Beijing to strengthen unity and cooperation among the G20 members.
Xi's conversation with Uruguayan President Luis Lacalle Pou was the first between the two leaders since Lacalle Pou was sworn in as Uruguayan president in March.
As the world is undergoing profound changes unseen in a century, solidarity and cooperation should be pursued in the spirit of building a community with a shared future for mankind, Xi said.
China will continue anti-epidemic cooperation with Uruguay, firmly support the leading role of the World Health Organization and strive for an early victory against the virus, he said.
Hailing Uruguay as China's trustworthy friend in Latin America, Xi said China is willing to import more high-quality agricultural products and high value-added products that meet its domestic market demand.
The two countries should work toward new growth areas in bilateral cooperation such as e-commerce and service trade and step up exchanges and cooperation in culture, education and sports, he added.
Lacalle Pou said the Uruguayan side hopes that the complementary nature between the two economies can be fully exploited, and cooperation in areas such as agricultural products, infrastructure and innovation can be advanced.
[disclaimer] the above article is reprinted from the Internet, which is intended to convey more information. It does not mean that this website agrees with its views and is responsible for its authenticity; if the copyright unit or individual of the manuscript is unwilling to issue it on the website, please contact us or call us within two weeks.andy steel structure.