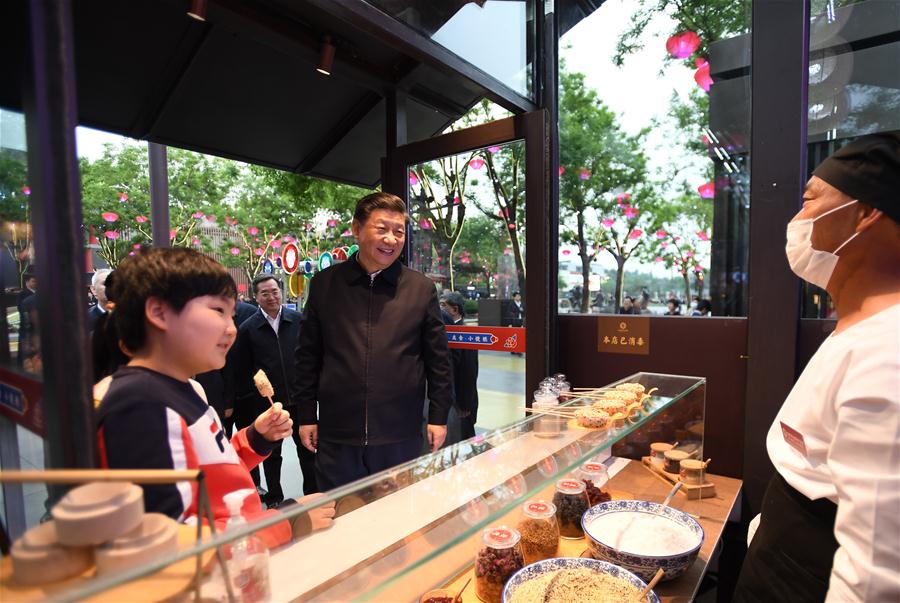 President Xi Jinping visits a food stall at the Great Tang All Day Mall on Wednesday in Xi'an, Shaanxi province, during his inspection tour of the province. [Photo/Xinhua]
President instructs officials to overcome obstacles to improve people's livelihoods
President Xi Jinping instructed officials to overcome the impact of the novel coronavirus outbreak and fulfill this year's poverty eradication goal during an inspection tour that concluded on Thursday.
Local authorities should implement the decisions of the Communist Party of China Central Committee and work hard to stabilize employment, finance, trade, investment and people's expectations, Xi said.
During the four-day visit to Shaanxi province, Xi traveled to nature reserves, impoverished rural areas, communities, schools and businesses, and made a thorough inspection of issues such as environmental protection, poverty reduction in rural areas, and the resumption of work and production.
He required the officials to make efforts to promote employment, improve people's livelihoods, safeguard energy and food security, stabilize the industrial and supply chains, and maintain the normal operation of society.
The novel coronavirus outbreak has brought challenges for this year's goal of building a moderately prosperous society and the elimination of poverty, Xi said while delivering a speech to provincial authorities on Thursday morning.
He encouraged the officials to work hard and contribute more to the fulfillment of the Chinese dream of national rejuvenation.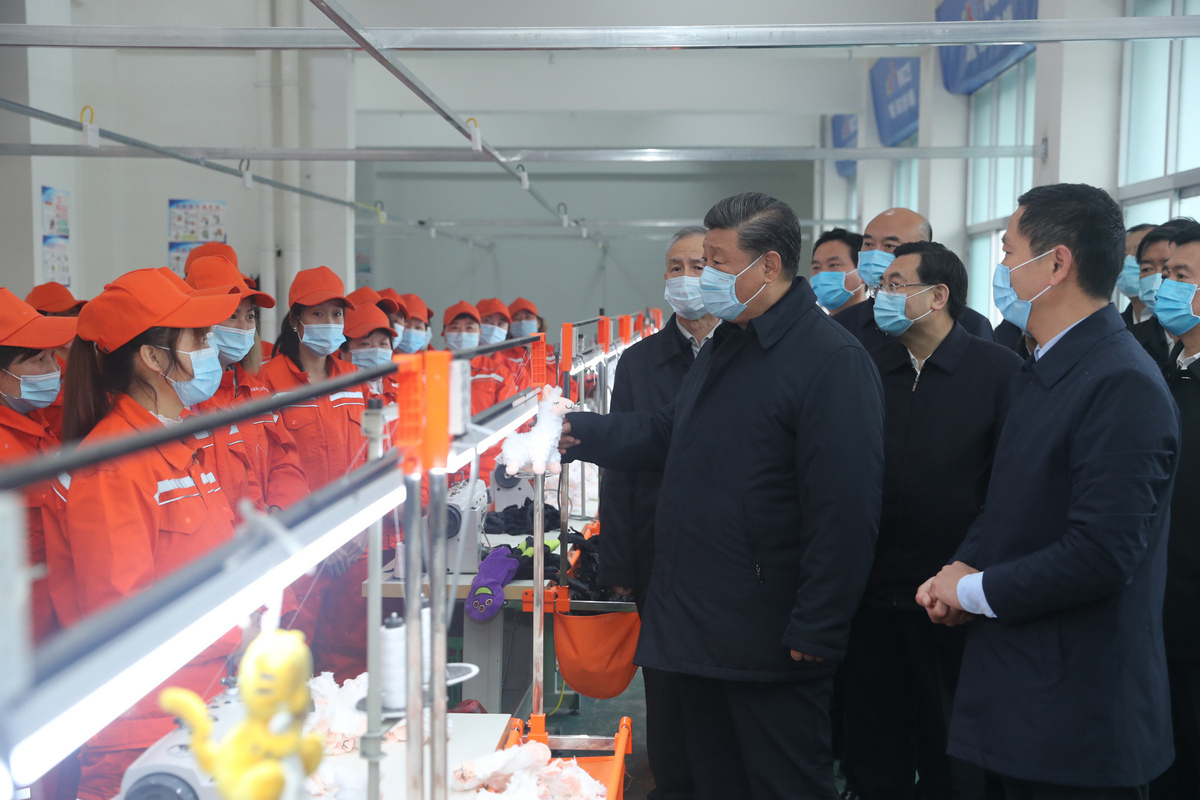 President Xi Jinping, also general secretary of the Communist Party of China Central Committee and chairman of the Central Military Commission, inspects the local poverty alleviation work in Jinping community of Laoxian township, Pingli county of the city of Ankang, Northwest China's Shaanxi province, April 21, 2020. [Photo/Xinhua]
Noting that the stable and long-term good prospects of Chinese economy remain unchanged, Xi instructed the officials to boost confidence and build up the country's real economy, especially in the manufacturing sector.
Xi stressed the importance of promoting infrastructure construction in areas such as 5G telecommunication technologies and artificial intelligence, enhancing investment in transportation, water projects and the energy sector, and improving infrastructure and public services in rural areas to resolve the problems of unbalanced and inadequate development.
He required the officials to promote reform and opening-up in inland areas, further integrate with the building of the Belt and Road, and speed up the construction of a trade and logistics hub connecting with Central Asian, South Asian and Middle Eastern countries.
Xi attached great importance to ecological and environmental protection, saying that the concept that "lucid waters and lush mountains are invaluable assets" must be upheld. He visited the Niubeiliang National Nature Reserve to learn about ecological conservation in the Qinling Mountains on the first day of his visit.
He said that the authorities should uphold a people-centered development philosophy, implement targeted measures to lift people out of poverty, make policies to prevent them from becoming poor again, and promote the employment of groups including college graduates, migrant workers and military veterans.
The fight against the outbreak is a big test that has demonstrated the great strength of Party organizations, but it has also exposed some problems such as inadequate leadership in some organizations and some officials' lack of capability and their dishonest work style, said Xi, who is also general secretary of the CPC Central Committee.
He instructed the officials to strictly implement the CPC Central Committee's eight-point rules on frugality, oppose formalism and bureaucracy, and promote the building of an anti-graft system that means officials dare not, cannot and will not be corrupt.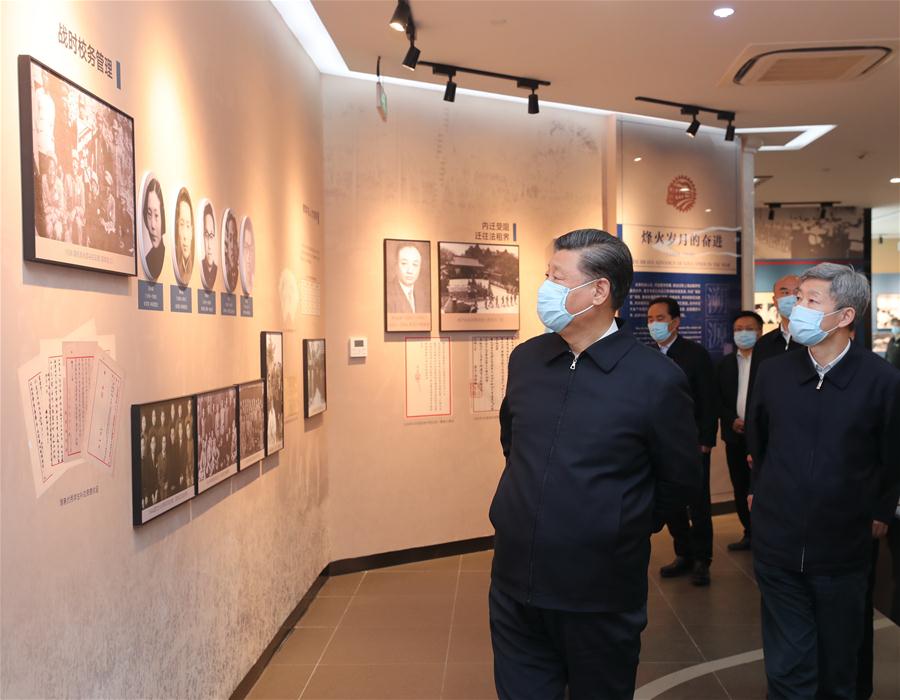 President Xi Jinping, also general secretary of the Communist Party of China Central Committee and chairman of the Central Military Commission, visits Xi'an Jiaotong University in Xi'an, capital of Northwest China's Shaanxi province, on April 22, 2020. [Photo/Xinhua]
On Wednesday, Xi visited an exhibition at a museum in Xi'an Jiaotong University on the relocation of Jiaotong University from Shanghai to Xi'an and its development and achievements. He met with 14 professors who had been relocated along with the university decades ago.
"I was deeply moved by your letter, it struck a chord with me," Xi said, speaking of a letter sent to him two years ago by professors at Xi'an Jiaotong University.
He praised the professors for making personal sacrifices in the interests of the country by moving with the university from Shanghai to Xi'an.
He encouraged teachers and students at the university to remain true to their original aspirations, continue to draw inspiration from the relocation, pursue their careers where the country's needs are greatest, and pass on the "westward relocation spirit" from generation to generation.
While visiting Shaanxi Automobile Holding Group, a State-owned manufacturing enterprise, on Wednesday, Xi spoke highly of the company's work during the coronavirus outbreak and hailed the great importance of SOEs in the resumption of work and production.
"Your work during this period has not been affected by the epidemic and, most importantly, has reached the highest level of car manufacturing of all time. This should be praised," he said.
[disclaimer] the above article is reprinted from the Internet, which is intended to convey more information. It does not mean that this website agrees with its views and is responsible for its authenticity; if the copyright unit or individual of the manuscript is unwilling to issue it on the website, please contact us or call us within two weeks.