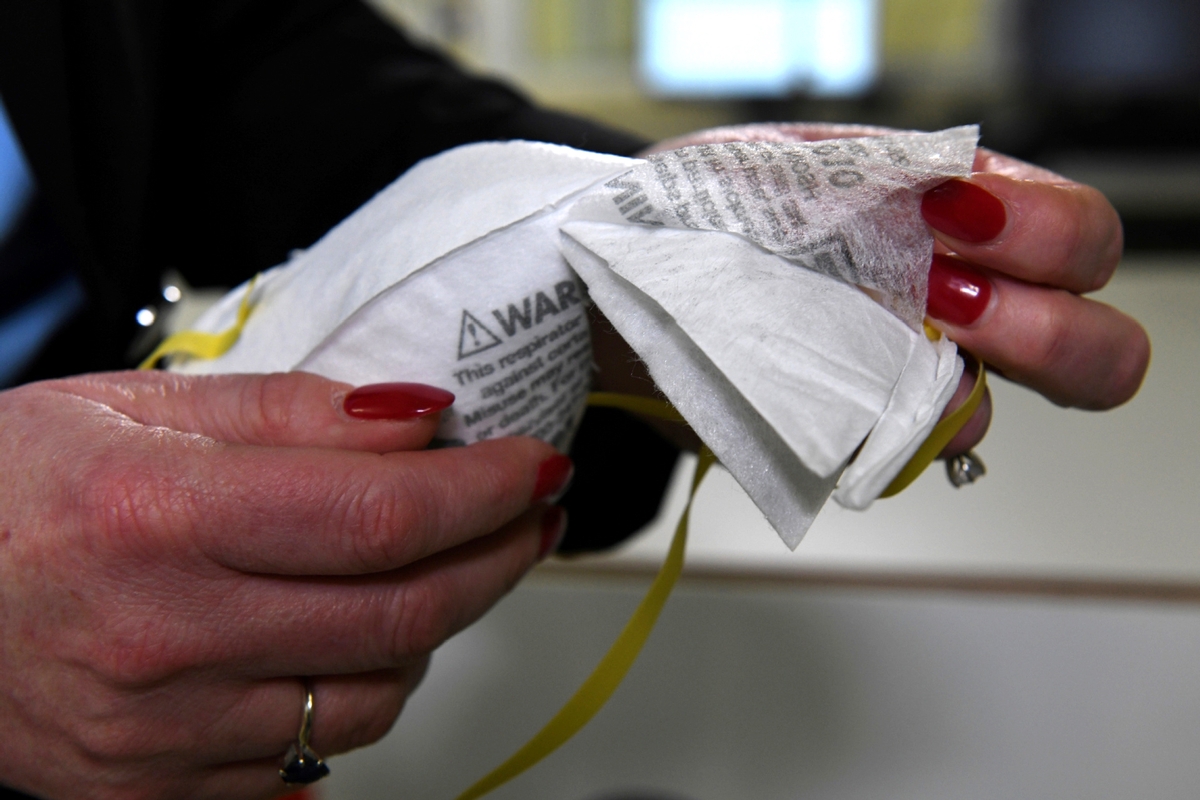 Dr. Nicole McCullough, a global health and safety expert at 3M, reveals the various layers of a N95 respirator mask, which includes the proprietary filter media, the middle layer, during a media demonstration at a laboratory of 3M in Maplewood, Minnesota, US, March 4, 2020. [Photo/Agencies]
The United States Food and Drug Administration has issued an emergency use authorization for imported non-NIOSH approved respirators manufactured in China, as the supply gap for respirators continued to rise in the country.
The NIOSH, or the National Institute for Occupational Safety and Health, is a subsidiary under the US Centers for Disease Control and Prevention. It offers suggestions on epidemic prevention and work-related injuries.
Under the FDA directive, 46 manufacturers in China, including 3M and Creative Concepts' factories in China, and local Chinese companies, will be able to produce and export their respirators to the US. Out of these, 26 companies are producing respirators according to China's KN95 mask standard.
The KN95 mask standard, issued by the Ministry of Emergency Management of China, is a national class 1 standard for particulate filtering masks. The CDC said previously that the efficiency of KN95 masks was similar to that of the N95 masks, and served as a proper substitute for the latter.
"We need to do everything we can to increase the availability of critical medical devices … so that healthcare workers on the front lines are better protected and provide the best care to COVID-19 patients," said Stephen M Hahn, FDA commissioner, in a press announcement released by the FDA.
As reported by the Cable News Network (CNN), according to a federal draft, US enterprises are barred from exporting essential medical supplies related to COVID-19. On April 2, the White House issued a presidential memorandum to stop manufacturer 3M from sending medical-grade face masks to Canada and Latin America.
To tackle the shortage in medical supplies, at the end of March, the FDA issued a EUA on imported masks from the European Union, Australia, Brazil, Japan, South Korea and Mexico, excluding China from the list.
Chen Qiaoshan, a medical analyst at Beijing-based market consultancy Analysys, said: "Currently, the US is facing a severe shortage of respirators, and China is one of the few countries to produce qualified products. Therefore, the US issued the EUA for respirators manufactured in China."
She said that the US government started to encourage the public wearing of face masks only recently, and its production capacity for masks is far from enough to meet domestic demand. Importing respirators from other countries is a measure to address social panic.
Many Chinese companies, including Yichang, Hubei province-based Allmed Medical, Shenzhen, Guangdong province-based Selen Technology, and Hangzhou-based Great Star, said that their masks were currently approved by the FDA and the companies were preparing to ship the products to the US.
Starting April 1, exporters of medical products, including COVID-19 testing kits, medical face masks and ventilators, need to provide extra documentation when they go through customs clearance, according to the Ministry of Commerce.
Jin Hai, head of the General Administration of Customs' Department of General Operation, said earlier at a news conference that during the epidemic prevention and control period, the Chinese government will ramp up supervision to ensure the orderly and top quality export of medical supplies.
Data from the GAC showed that from April 1 to Sunday, it had 16.6 billion yuan ($2.4 billion) worth of inspected medical supplies. It had also intercepted over 33 million pieces of medical materials produced by unqualified medical enterprises at the port, including 31.65 million face masks, 509,000 protective clothing, 1.19 million COVID-19 detection kits, 6.77 million ventilators and 46,000 infrared thermometers.

[disclaimer] the above article is reprinted from the Internet, which is intended to convey more information. It does not mean that this website agrees with its views and is responsible for its authenticity; if the copyright unit or individual of the manuscript is unwilling to issue it on the website, please contact us or call us within two weeks.