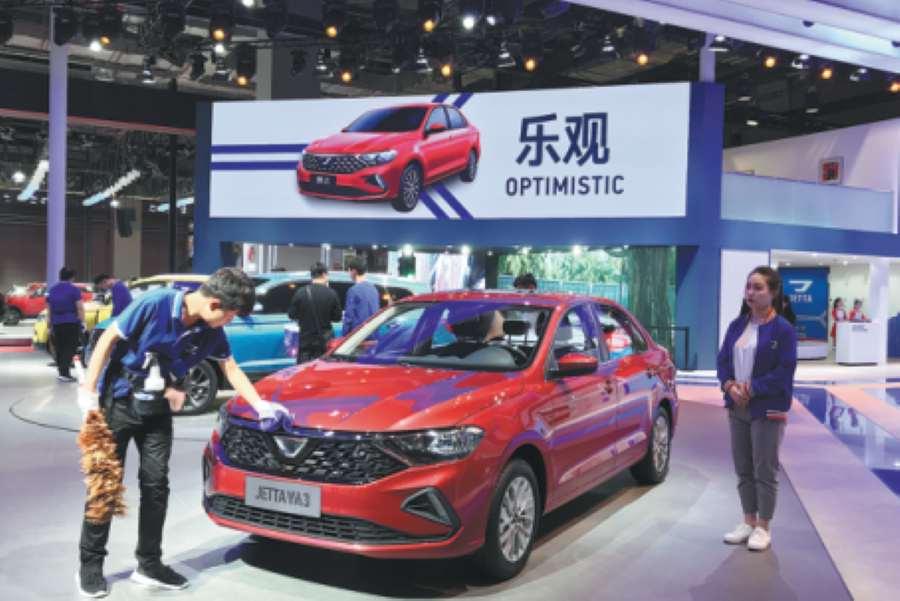 German carmaker Volkswagen AG sees new opportunities abounding in China, as the country subdues the coronavirus outbreak.
"China has always been the engine of Volkswagen's success, especially now, as the economy in Europe and the US is under great pressure. In the wake of the pandemic, the Chinese auto market is full of new opportunities," said CEO Herbert Diess in a Sina Weibo post on Wednesday.
His words came after Volkswagen's China sales in the last weeks of April rebounded to the same level of last year following nosedives in the first quarter, pushing its share in the world's largest car market up 1.7 percentage points to 21 percent.
The carmaker's China performance was a stark contrast to other parts of the world. In Germany, April sales were down 60 percent year-on-year, with the rest of Europe down 85 percent as some major markets like Italy and Spain ground to a halt, according to Reuters. Sales in North America were down 50 percent, and down 81 percent in South America.
In a Linkedin post on Wednesday, Volkswagen Group China CEO Stephan Woellenstein called China the global role model for renewing vitality in automotive markets, saying it will stabilize the group's business while operations in Europe are still slowly coming back.
"We have left the deepest valleys behind us, and are now on the climb to the peaks again. After a total market downturn of 80 percent in February, 40 percent in March, and around 10 percent down in April, we are returning to normality," Woellenstein said.
He said people unable to buy a car over the last few months are now eagerly visiting dealers, and many of them are first-time buyers as they want to avoid public transport these days.
He said they account for 60 percent of car customers in the country.
Wealthy customers are coming back to the market faster than expected, which has brought about sales growth in the first quarter for Volkswagen's luxury brands Bentley, Audi and Porsche.
"Should the current trend continue, we at Volkswagen Group China can be cautiously optimistic and forecast a yearly result that is not so far away from our original plan," said Woellenstein.
Despite the promising sales, he said the pandemic will change something in the Chinese car market, including an industry shakeout and digitization of sales, services and marketing.
"An automotive market with over 100 brands, even with a huge size such as China's, is not healthy," Woellenstein said, adding that the pandemic may force out some uncompetitive brands so that the market will see better products and customer service.
Since the outbreak of the pandemic, many carmakers have been launching new models online because of the need for social distancing.
He said Volkswagen has intensified its online-offline sales mode over the last few months and found solutions for digital communications with customers.
Looking forward, Woellenstein said it would be wrong to think that daily life is going to return completely to normal soon, and the company will maintain consistency in its business ramp-up strategy, with international exchanges, and especially with prevention measures.
"One thing hasn't changed among all of this: With our long-term confidence, we are still seeing China as the coming powerhouse of the automobile world," he said.
[disclaimer] the above article is reprinted from the Internet, which is intended to convey more information. It does not mean that this website agrees with its views and is responsible for its authenticity; if the copyright unit or individual of the manuscript is unwilling to issue it on the website, please contact us or call us within two weeks.andy steel structure.