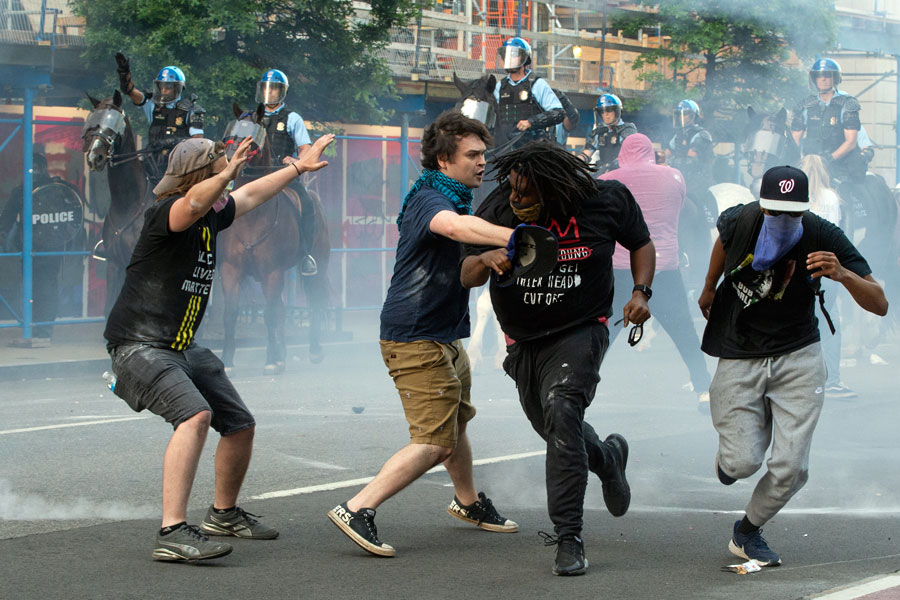 Trump says governors should 'dominate' streets amid protests
At 6:44 on Monday evening, about a quarter-hour before a curfew took effect in Washington, DC, two open-air events were being held simultaneously several hundred meters apart.
Speaking from the White House Rose Garden, United States President Donald Trump said the looting and violent protests following the death of George Floyd on May 25 were "acts of domestic terror". The unarmed Minneapolis black man died after a white policeman knelt on his neck for 8 minutes and 46 seconds, though Floyd cried out that he couldn't breathe before he stopped moving.
Meanwhile, to prepare for the president's speech and one of his evening events, police under federal command were firing tear gas to disperse hundreds of peaceful protesters who had gathered in Lafayette Park directly north of the White House as protesters shouted "Hands up! Don't shoot!" and "Black lives matter". The sound of tear gas canisters exploding could be heard as Trump was speaking.
The scenes lay bare how the specter of racism, heightened by incidents of police brutality, is roiling the country, with a president intent on quickly solving a problem by bellicose rhetoric and aggressive actions, an approach that seems only to have added fuel to the fire.
Seven straight days of demonstrations, which in many cases escalated into looting, arson and vandalism, have swept the country since a video went viral of Floyd being held to the ground by a police officer kneeling on his neck on May 25.
Trump said he would mobilize "all available federal resources, civilian and military" to quell the protests, declaring himself the "president of law and order". Earlier in the day, during a teleconference, he told governors that "most of you are weak "and he urged governors nationwide to "dominate" the streets.
The Pentagon on Monday ordered an active-duty battalion of military police soldiers from Fort Bragg, North Carolina, to deploy to the Washington, DC, area as the city braces for more violent demonstrations.
At least 26 states and the District of Columbia had activated 17,000 National Guard troops to assist local authorities in curbing civil unrest by Monday. More than 40 cities issued curfews, according to US media reports.
Many quarters of the nation's capital, which had just started to ease its "stay-at-home" restrictions on Friday, seemed to have been plunged into another "lockdown" on Monday.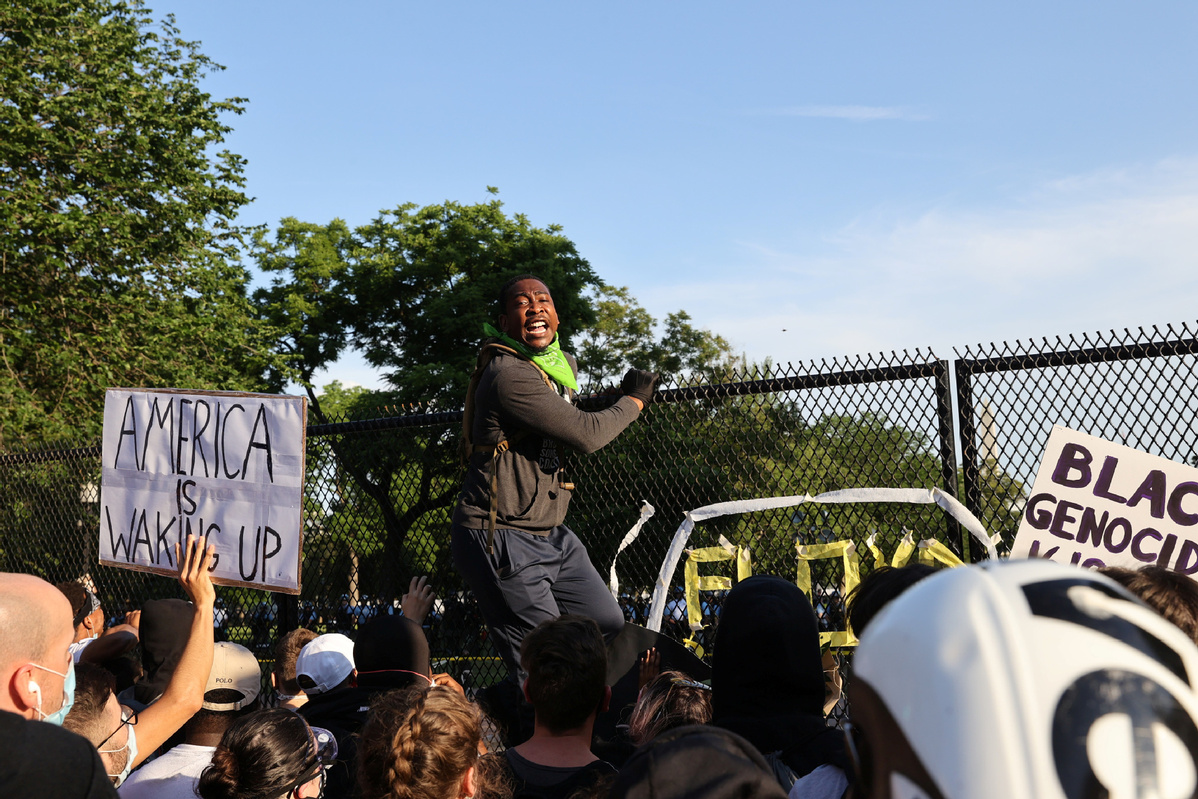 A curfew was announced on Monday at an unusually early 7 pm, four hours earlier than the one imposed on the previous night, when protests turned violent.
Graffiti was painted on structures including the Treasury Department building and monuments in the city center, and numerous fires flared just blocks from the White House, where police confronted protesters at the gates.
The windows of a CVS pharmacy on Connecticut Avenue Northwest were boarded up Monday, as the owner sought to protect it from rioters. That store had been open even when the coronavirus outbreak was at its peak in the city several weeks ago.
Workers with construction helmets were also covering the windows and entrance with plywood at shops across from the National Press Building, which is about a five-minute walk from the White House.
Such wooden barricades erected earlier have become canvases for spray-painted messages such as BLM ("black lives matter") and "I can't breathe".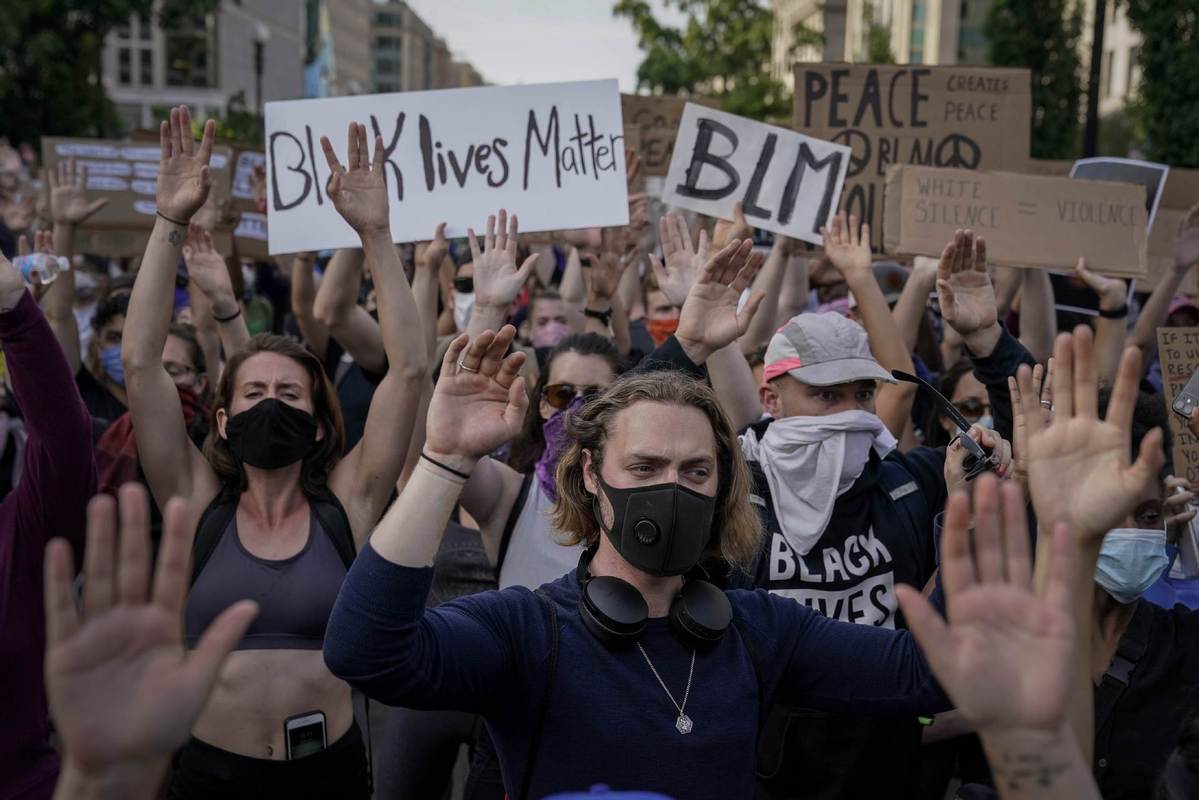 Standing near Lafayette Park, Karen Graylove of Bethesda, Maryland, carried a special placard that she had made to honor Floyd, as well as Ahmaud Arbery, a black jogger who was shot to death in Georgia in February and Breonna Taylor, a black woman whom police shot to death in her home in Louisville, Kentucky, in March.
"I can't stand racism. I can't stand man's inhumanity to man," Graylove told China Daily. "We have to admit that we are a racist society. And enough is enough."
Graylove, a yoga trainer, said she was against racial profiling and has advocated for more rigorous training of police and getting rid of bad officers.
"This is man-made disaster. This is the administration allowing racism and bigotry to exist and it's not right. It's not fair, and it's just this George Floyd that was the straw that broke the camel's back.
"Do I believe in looting? No, but you can understand people's exhaustion and their rage," she said.
Kay C. James, president of The Heritage Foundation, said the "horrific and needless" death of George Floyd must serve as a turning point to make people in the US finally end the "ugly racism" that stains the nation's history.
James, who was part of the civil rights movement of the 1960s and helped desegregate her school, said in a statement on Sunday that racism in the US is a wound that could not be cured with Band-Aids.
"The arrest of fired Minneapolis police officer Derek Chauvin on Friday on charges of manslaughter and third-degree murder is a welcome step, but it is just a Band-Aid," she said.
The solution to racism is expected to be hotly debated in the run-up to the presidential election, which is just five months away.
The Republican president, who is seeking reelection, was hearing calls from members of his own party to tone down his rhetoric.
"I think the country is definitely looking for healing and for calm," Senate Majority Whip John Thune of South Dakota said on CNN. "I think leaders right now need to have empathy and humility and respect."
Republican Senator Tim Scott of South Carolina also said he had spoken to the president over the weekend about his inflammatory tweets, which he described as "not constructive".
Presumptive Democratic presidential nominee Joe Biden has pledged that he would address "institutional racism" in his first 100 days in office.
"Hate just hides. It doesn't go away, and when you have somebody in power who breathes oxygen into the hate under the rocks, it comes out from under the rocks," the former vice-president said on Monday.
[disclaimer] the above article is reprinted from the Internet, which is intended to convey more information. It does not mean that this website agrees with its views and is responsible for its authenticity; if the copyright unit or individual of the manuscript is unwilling to issue it on the website, please contact us or call us within two weeks.andy steel structure.