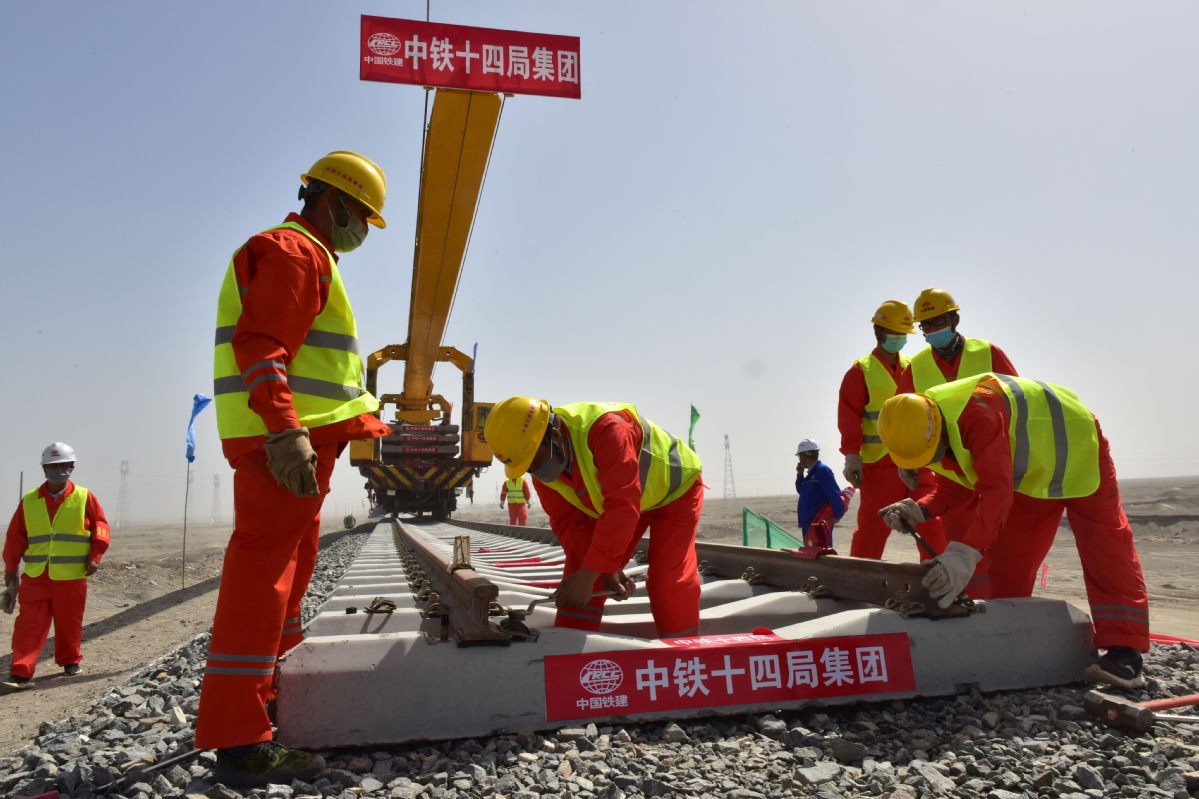 Railway workers lay tracks on the Hotan-Ruoqiang railway in the Xinjiang Uygur autonomous region. CHINA DAILY
Track-laying work has picked up steam on a major railway project in the Xinjiang Uygur autonomous region, marking huge progress for a loop line circling the Tarim Basin in northwestern China, according to the country's top railway operator.
The 825-kilometer railway, linking Hotan prefecture with Ruoqiang county in the Mongolian autonomous prefecture of Bayingolin, saw track-laying work begin on Sunday, according to China State Railway Group.
With a designed speed of 120 km per hour, it will pass seven prefecture-level regions in Xinjiang and finally be connected to the Golmud-Korla railway, linking the city of Golmud in Qinghai province and the city of Korla in Xinjiang, the latest passage in and out of Xinjiang that is scheduled to open to traffic later this year.
With construction having started in 2018, the Hotan-Ruoqiang railway is expected to be put into operation next year. By then, a loop railway network circling the Tarim Basin will have taken shape, said China State Railway Group.
The loop railway will greatly cut travel time for local residents and play an important role in promoting regional socio-economic growth, the company added.
Construction of the Hotan-Ruoqiang railway is being carried out on the southern edge of the Taklamakan Desert, where wind and sandy weather, as well as huge temperature differences between day and night, bring tremendous difficulties, it said.
Confronted with an intricate natural environment, the company set up a management and construction team with rich experience in desert railway construction, as well as a research team, said Zhang Gang, project manager of China Railway 14th Bureau Group.
"In order to ensure smooth progress, construction workers have been working around the clock to ensure no less than 2 km of track laying per day," he added.
Railway authorities also said they plan to finish the 520-km track-laying work and the construction of 19 stations by the end of this year.
The company has been purchasing construction materials and daily supplies locally. It has also hired a large number of residents to help lift them out of poverty, said Wang Jinzhong, Party secretary of the China Railway Hotan-Ruoqiang Group.
[disclaimer] the above article is reprinted from the Internet, which is intended to convey more information. It does not mean that this website agrees with its views and is responsible for its authenticity; if the copyright unit or individual of the manuscript is unwilling to issue it on the website, please contact us or call us within two weeks.andy steel structure.