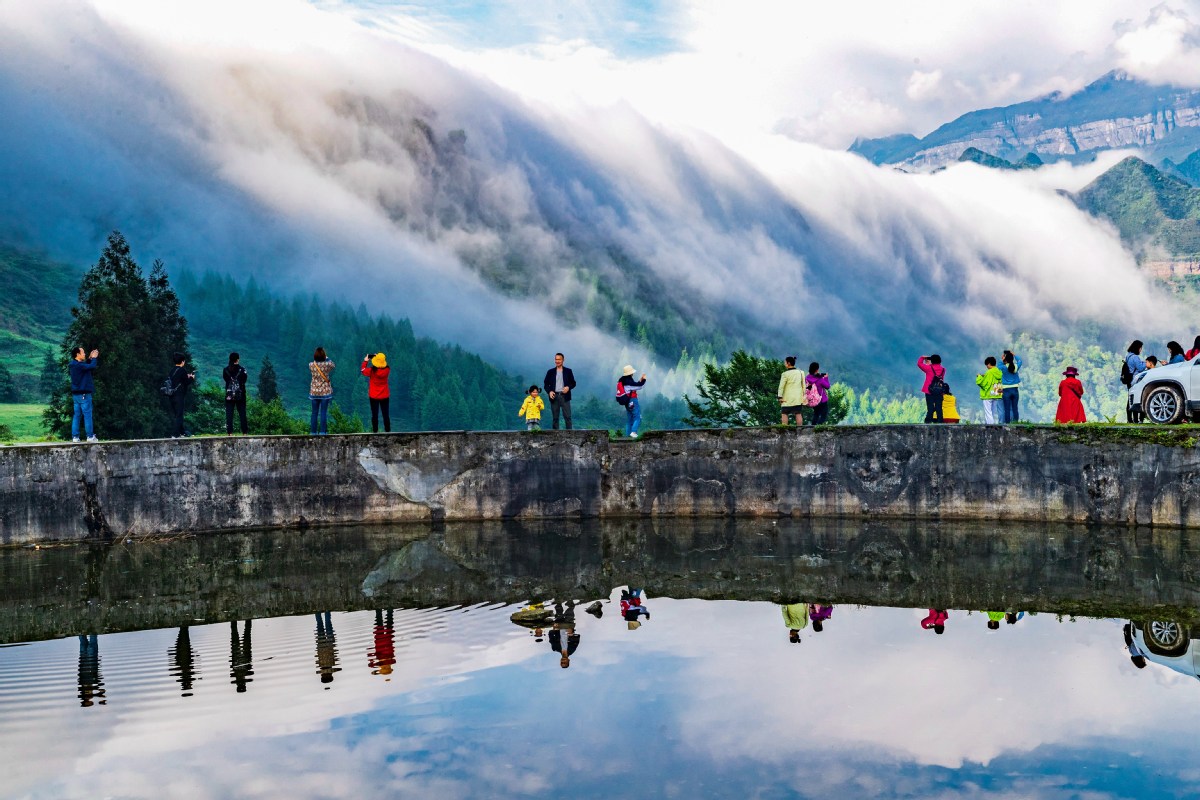 Tourists savor the views at Jinfo Mountain in Chongqing on Friday, at the start of the May Day holiday. [Photo by Qu Mingbin / For China Daily]
Trip numbers lower than last year, but domestic travel seen as encouraging
The May Day holiday that ended on Tuesday produced strong signs of recovery for the tourism sector, which has been buffeted by the novel coronavirus outbreak.
The five-day holiday saw 115 million trips, resulting in 47.56 billion yuan ($6.74 billion) in revenue for travel operators, according to the Ministry of Culture and Tourism.
Though the results were still significantly below those of the same period last year, which saw 195 million trips during the four-day holiday, the market showed encouraging signs of recovery after travel restrictions were relaxed thanks to effective work in containing the coronavirus, officials said.
On Friday, the first day of the holiday, the surge began to take shape as attractions nationwide received a total of some 23.2 million visits generating 9.77 billion yuan in revenue for the day.
Officials at Lvmama, an online travel agency based in Shanghai, said the numbers showed that the desire to travel had increased-its reservations for tour packages were 150 percent higher than those placed for the Tomb Sweeping Day holiday last month.
Wang Xiaosong, Lvmama's president, said enthusiasm for domestic travel emerged as the COVID-19 outbreak eased. Most reservations were for short trips because travelers are still making health and safety a priority, he said.
A Lvmama report said 30 percent of its users traveled in the area of their hometown and 40 percent went to the destinations within their province. Also, self-guided tours via automobile were popular because they involve less contact with others.
The cities with the highest numbers of travelers were Shanghai; Hangzhou, Zhejiang province; Suzhou, Jiangsu province; and Beijing. The capital's residents were especially enthusiastic as Beijing lowered its emergency coronavirus response level as of Thursday from the top level to second level, relaxing some domestic travel restrictions.
Qunar, a travel agency in Beijing, said reservations for flights departing from Beijing surged fifteenfold in the half-hour following the capital's announcement.
"I was so excited when I heard the news, and I booked tickets to Sanya right away," said Qiu Ping, a 29-year-old accountant in Beijing. "It's not that easy getting a five-day break, I didn't want to waste it or just spend the time hanging out in Beijing."
He said that he prepared well for the flight because it's still important to guard against possible infection risks. "I wore a mask and sunglasses on the plane. The other travelers did, too, which made me feel safe."
COVID-19 control and prevention remains the priority, officials said, though measures are being taken to revive tourism. In late April, the Ministry of Culture and Tourism and National Health Commission released a notice requiring domestic attractions to limit attendance to below 30 percent of their daily maximum visitor capacity during the holiday.
[disclaimer] the above article is reprinted from the Internet, which is intended to convey more information. It does not mean that this website agrees with its views and is responsible for its authenticity; if the copyright unit or individual of the manuscript is unwilling to issue it on the website, please contact us or call us within two weeks.andy steel structure.