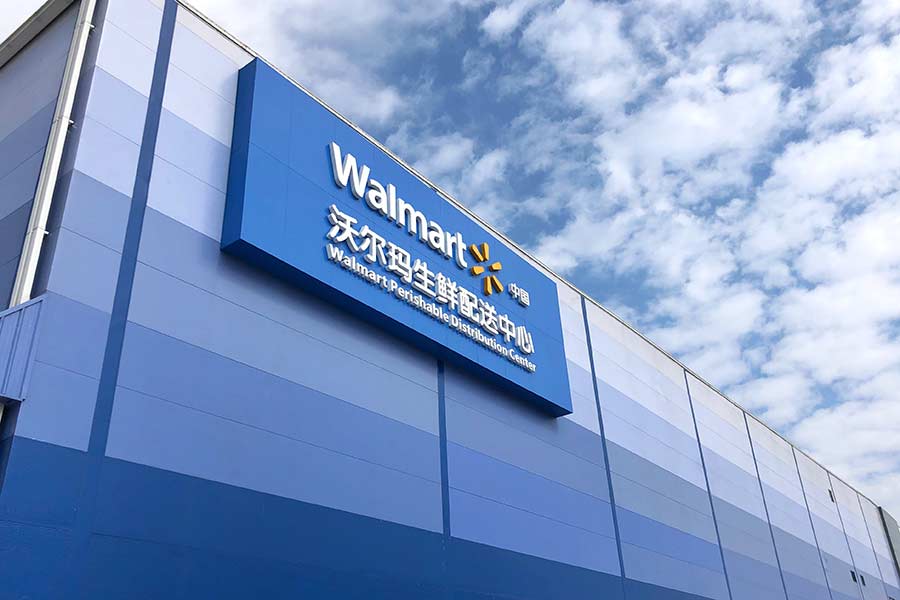 Walmart's South China Perishable Distribution Center. [Photo provided to chinadaily.com.cn]
Global retail giants like Walmart, Starbucks, Nestle and Fonterra are scaling up their investments in China to cash in on the strong rebound in the country's consumption sector with the steady recovery from the novel coronavirus outbreak, industry experts said on Thursday.
Earlier this month, US retailer Walmart Inc said it will invest 3 billion yuan ($424.5 million) in Wuhan, Hubei province, to open four Sam's Clubs, 15 hypermarkets and more community stores over the next five years. The firm said it was planning to open more than 500 new stores and depots(smaller warehouses) in China during the next five to seven years and revamp 200 existing stores in three years.
Sam's Club, the high-end membership store of Walmart, is expected to open a flagship store in Shanghai, its third in the city, by 2021. The outlet, spreading over 70,000 square meters, will be the largest single floor outlet operated by Sam's Club in China and will be primarily a shopping and entertainment destination offering priority item selections and rich shopping experiences.
Andrew Miles, president of Sam's Club China, said the outlets are "a testimony of the company's commitment to its members and China".
Coffee chain Starbucks China said on March 13 that it will invest $130 million to set up a new roasting facility in China by 2022, as part of its new Coffee Innovation Park, to further strengthen its footprint in Asia.
It will be Starbucks' largest roasting capacity outside of the United States and includes a roasting plant, warehouse and distribution center. Currently, Starbucks operates six other roasting facilities-one in Amsterdam to support European markets, and five in the US.
"The Supply Innovation Park will be a blueprint for the future of coffee roasting and the supply chain. It will propel China's coffee industry to a whole new altitude, while opening Starbucks' next growth chapter in China," said Belinda Wong, chairman and chief executive officer of Starbucks China.
Global food and beverage giant Nestle in January signed an agreement with Laixi municipal government for building an infant and toddler food plant as well as a dairy supply production center in the city, which is close to Qingdao, Shandong province.
The project, under the company's Gerber brand, will produce about 1,000 metric tons of baby food in fruit and vegetable flavors by March 2021. It will be the only factory producing Gerber branded baby food in Asia, Africa and Oceania.
Fonterra, the world leading dairy producer and exporter, has already identified China as a major consumption and innovation market and a key to the global supply chain.
"The Chinese economy, in the long term, will continue to be promising and we are confident of the great potential from the Chinese market," said Teh-han Chow, CEO of Fonterra China (interim).
The company is also going to launch a research and development center in Shanghai with a local partner this month. It will also develop 36 new products covering seven dairy sectors from August this year. Fonterra's fifth application center is expected to come up next year in Wuhan to better serve customers and clients in Central and East China.
Jason Yu, general manager of Kantar Worldpanel China, said with the epidemic under better control in the country, the consumption markets are poised for recovery.
"Our data show that during the first quarter of this year, young consumers and residents in lower tier cities are more willing to spend and not too worried by the downturn in consumption due to the COVID-19 epidemic," Yu said.
[disclaimer] the above article is reprinted from the Internet, which is intended to convey more information. It does not mean that this website agrees with its views and is responsible for its authenticity; if the copyright unit or individual of the manuscript is unwilling to issue it on the website, please contact us or call us within two weeks.