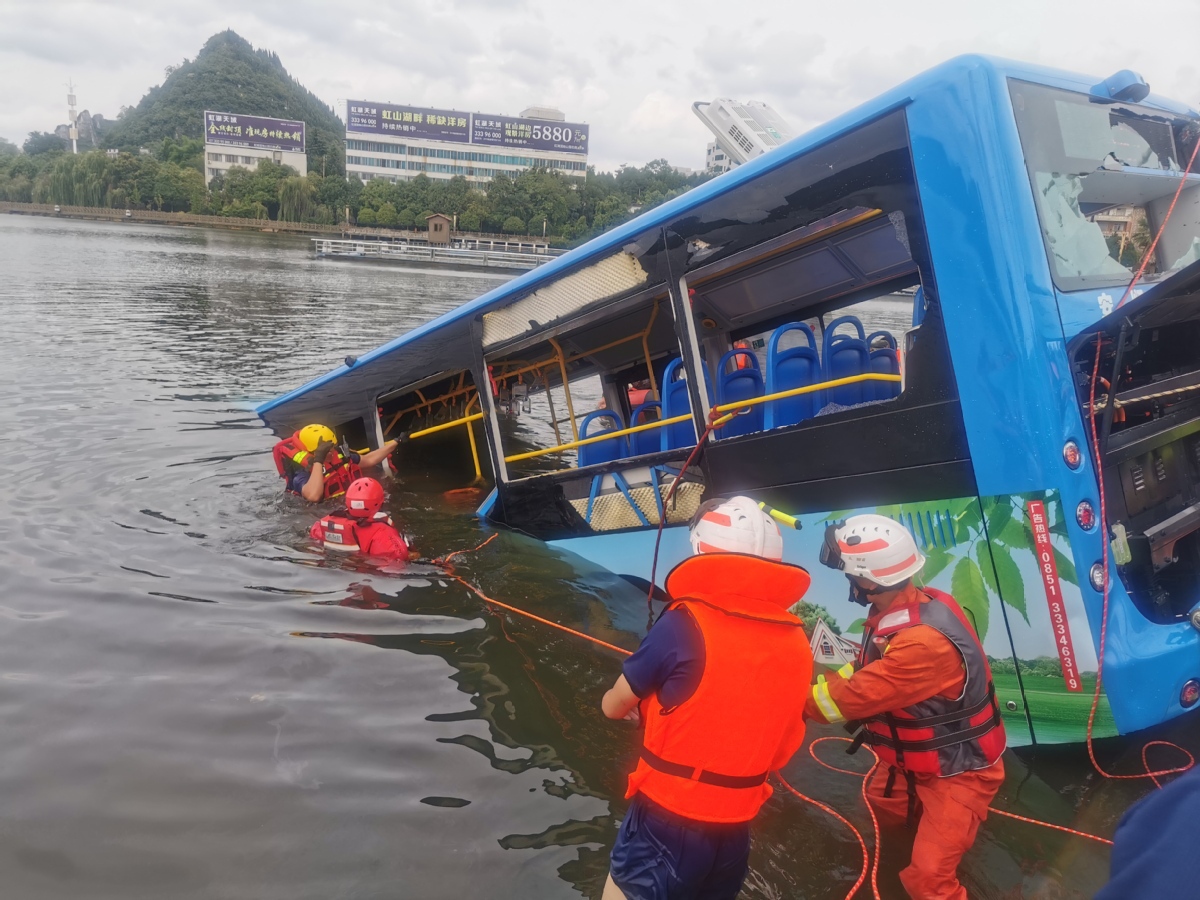 The Public Security Ministry urged further strengthening of safety management for public transport and training for drivers and crew to eliminate risks and hidden dangers in time on Wednesday.

The ministry asked the public security organs to strengthen the early warning and prevention of risks and coordinate with other departments to collect and analyze information promptly and take strict prevention and control measures on a video conference for public security organs across the country to inform them about the bus accident in Anshun, the southwestern province of Guizhou.

A bus broke through the guardrail and plunged into a lake on Hongshanhu Road, Xixiu district, Anshun city at noon on Tuesday, causing 21 deaths including five students, and injuring 16 other people during the incident, with six of them being treated, according to Anshun's Emergency Management Bureau.

The bus driver surnamed Zhang, 52, was a local resident and had driven the bus route since 1997. Zhang also died in the incident. The case is under further investigation.

The public security organs were asked to enhance the safety management of public transport enterprises, cooperate with other departments to guide and urge enterprises to improve their security system, strengthen the training of public transport crews and safety operation management, and regularly organize random inspections on safety issues.

The promotion of safety prevention measures was also urged, along with continuing to promote the allocation of bus crews and the construction and application of new public transport safety prevention technologies.

Publicizing safety knowledge and effectively enhancing the public's ability to avoid risks and save themselves or other people in emergencies were also asked to be improved.

The ministry called for public security organs to be well-prepared to deal with emergency contingencies and establish specialized prevention forces and equipment along with detailed contingency plans to ensure a rapid response to incidents.

Public security organs were urged to give full play to their functions and fulfill the supervision and guidance responsibility in public transport safety prevention work, strictly exercising daily supervision, organizing periodic supervision and joint inspection to sort out problems and hidden dangers, and urging enterprises to rectify their problems. Those who refuse to make rectifications will be punished.
[disclaimer] the above article is reprinted from the Internet, which is intended to convey more information. It does not mean that this website agrees with its views and is responsible for its authenticity; if the copyright unit or individual of the manuscript is unwilling to issue it on the website, please contact us or call us within two weeks.andy steel structure.