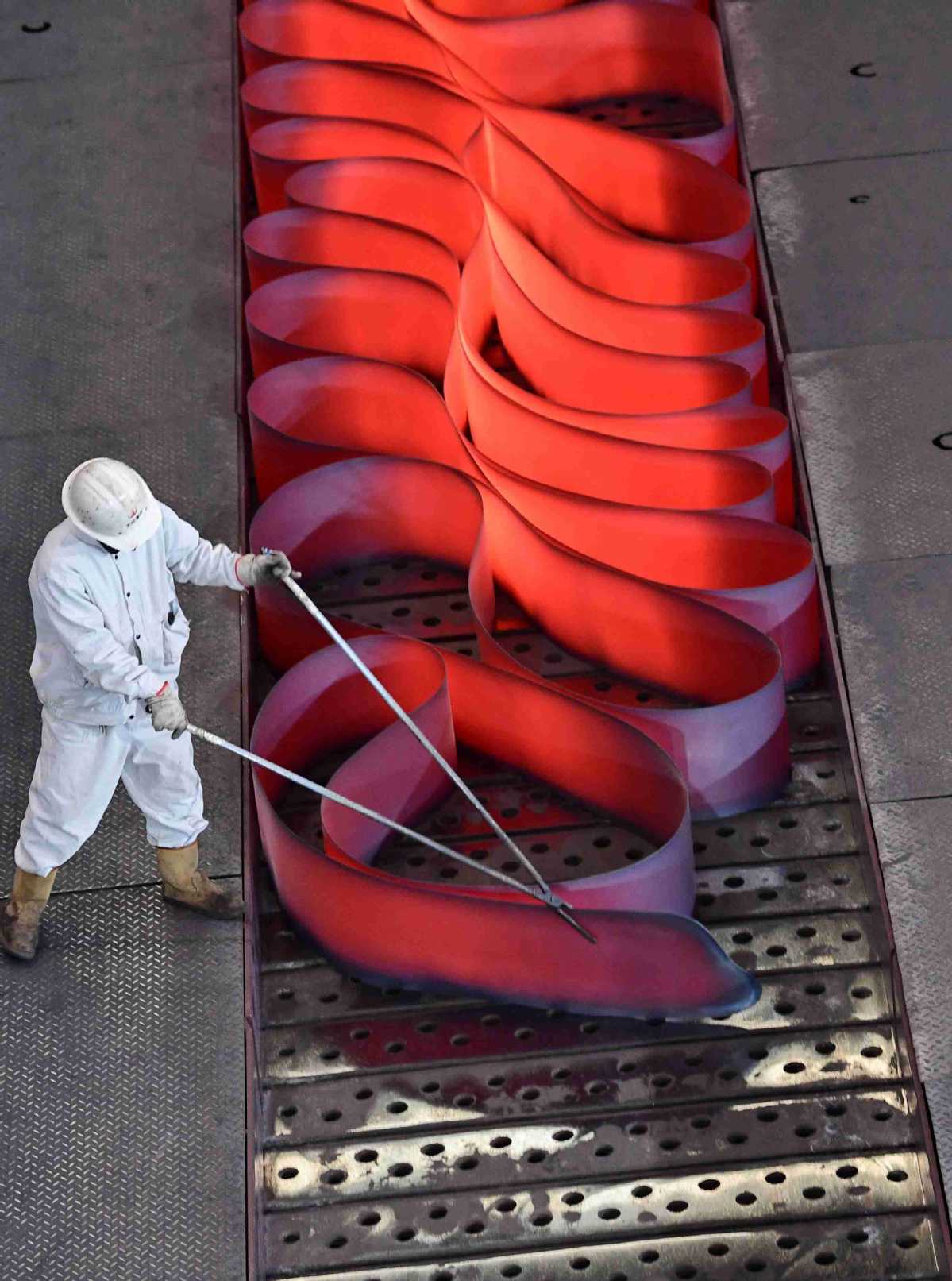 An employee works at the production line of a steel company in Tangshan, Hebei province, on Feb 24. [Photo/Xinhua]
Despite the severe hit seen by the COVID-19 outbreak, the Chinese steel sector is showing signs of recovery in the second quarter, industry experts said, prompted by rising demand from the orderly resumption of production and business across the country.
The rising number of infections outside China has led to a slump in steel exports and reduced economic activity in the global market, which will put pressure on the domestic market.
The country's steel mills and traders experienced a sharp fall in profits during the first quarter, mainly because of high inventories and low prices.
"As restrictions and social distancing are easing up, it is expected domestic steel demand will increase fast while inventories will be reduced, thanks to the rapid rebound in consumption and investment activities," said Chen Kexin, chief analyst at the Lange Steel Information Research Center in Beijing.
China's focus on new infrastructure projects to offset the economic impact of COVID-19 will also inject new momentum into sustainable growth of the steel industry, Chen said, citing statistics from the Ministry of Finance that local governments in China had issued new bonds worth 1.02 trillion yuan ($140 billion) for special infrastructure projects as of March 20.
"Infrastructure investment, including new infrastructure, will likely pick up with a year-on-year growth of 6 percent, and that means a spike in steel demand starting from March," he added.
The center's purchasing managers' index for China's steel distribution enterprises came in at 53.4 for March, up from 47.1 in February.
Among the 10 subindexes that constitute the PMI, those sampling enterprise sales, prices, orders, purchase costs, delivery speeds, finance environments, market expectations and purchasing plans all rose while that for inventories dropped.
The sales and orders indexes rose by 19.1 and 18.8, respectively, indicating an expansion in market demand, said Ge Xin, deputy director of the center.
The fall in the enterprise inventory index, although only down by 1.9, was a reverse from three-month successive increases, which means destocking has begun as demand becomes increasingly stronger, he said.
Xu Xiangchun, information director and analyst with iron and steel industry consultancy Mysteel.com, also said China's steel market is bouncing back from the disease's impact, since the country has shown success in containing the contagion's spread and resumption of business and economic activity remains on track.
However, steel prices are likely to remain flat due to high inventories accumulated in the past months, and also because of current demand, though there is an obvious upward growth trend of the demand from the market. So the situation is not as strong as the industry had expected at the beginning of March, which eventually will take a toll on profits of steel companies, Xu said.
New infrastructure investment will inject vigor into steel demand, but as the investment is expected to appear gradually over a long period, its effect on the steel sector this year will be limited, he added.
It is also difficult to predict the future situation of COVID-19 outside China, and as long as international trade and economic activity remains sluggish, China's steel market will be affected negatively, with foreign trade and related industries impacted and market confidence compromised, Xu said.
As downstream steel user purchases remain weak, the country's overall steel inventory is still high although transactions among trade enterprises have revived, Ge said, adding that steel inventories in 29 key cities were 21.52 million metric tons at the end of March, up 0.9 percent month-on-month and 52.7 percent year-on-year.
Chen said the worsening COVID-19 situation outside China will probably give rise to enterprise bankruptcy, debt default and unemployment, which will have a negative influence on the confidence of the domestic steel market.
Xu also pointed out the increased steel output from newly built advanced capacity in recent years is also likely to add pressure on inventories and steel market prices.
[disclaimer] the above article is reprinted from the Internet, which is intended to convey more information. It does not mean that this website agrees with its views and is responsible for its authenticity; if the copyright unit or individual of the manuscript is unwilling to issue it on the website, please contact us or call us within two weeks.