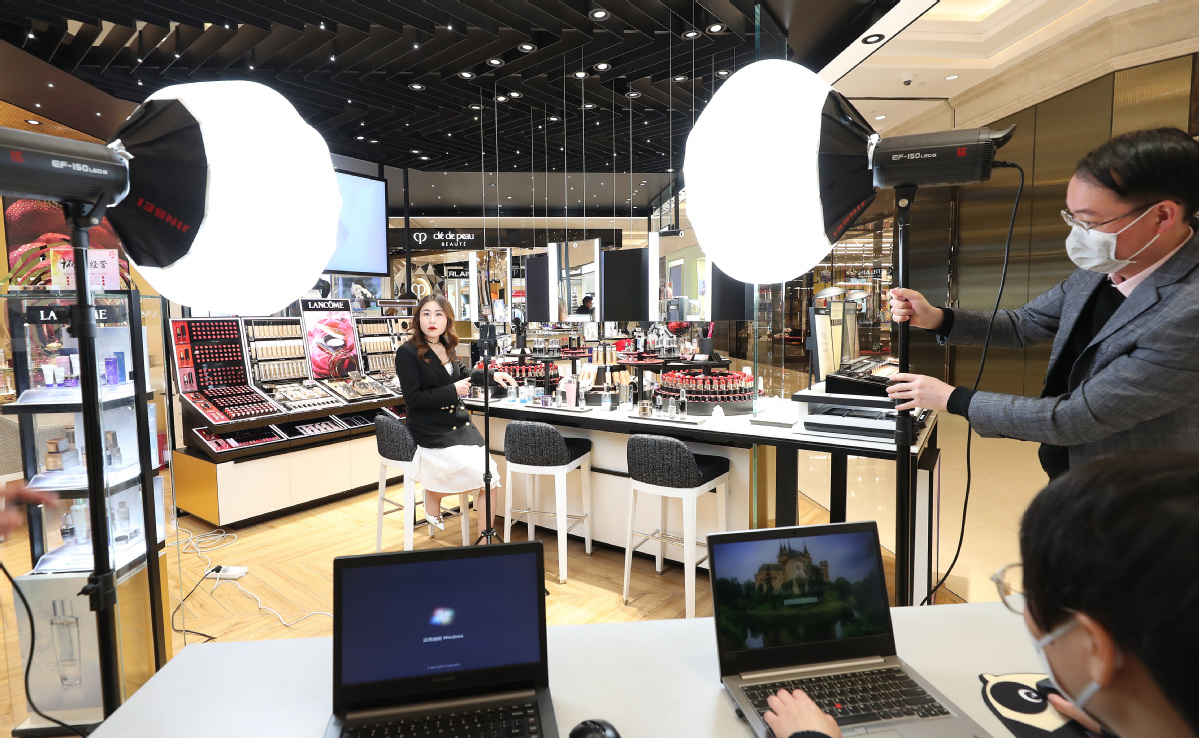 Online retailers have vowed to provide steep discounts and subsidies, dish out shopping coupons and use livestreaming for product promotions during this year's June 18 shopping carnival, in an attempt to boost consumption and shore up the economy, which was hit hard by the novel coronavirus outbreak.
Chinese e-commerce giant JD, which initially coined the midyear campaign, said it will offer 50-percent discounts on more than 200 million commodities, including electronic products, home appliances, daily necessities, cosmetics, apparel and over 1,000 housing resources.
"We aim to help at least 150 brands that will see their sales revenue exceed 100 million yuan ($14 million) each during the shopping extravaganza, and the transaction volume of 100,000 small and medium-sized merchants is expected to increase by more than 100 percent on a yearly basis," said Han Rui, vice-president of JD and head of platform business center at JD Retail.
Moreover, JD will launch more than 200 million new products and over 300,000 livestreaming events, which have become powerful sales channels for traditional industries as more consumers have switched to online purchases since the COVID-19 outbreak.
The Beijing-based company broke records during last year's June 18 shopping festival, with sales revenue rising to 201.5 billion yuan, compared with 159.2 billion yuan in 2018.
Tmall, the business to consumer site of Alibaba Group, officially kicked off the June 18 promotion from Monday midnight.
Liu Bo, who oversees the mega campaign at Alibaba, said the midyear promotion running through June 20 is bound to set new sales record.
"In the last fiscal year, some 2,200 brands had crossed the 100-million-yuan sales threshold on the Tmall platform. We are likely to see the figures expand," Jia said.
Livestreaming is under noticeable spotlight during this year's campaign, with over 600 senior company executives expected to appear in front of the cameras to market their goods, he said.
For instance, French luxury fashion house Chloe broadcast its first official livestream and drew over 62,000 views on May 20, an unofficial romantic holiday that is celebrated in China as the date bears resemblance to "I love you" in Mandarin, while Balenciaga raked in 38,000 new followers shortly after opening its flagship store on Tmall's Luxury Pavilion.
"This year's June 18 campaign is the first national online promotion event since the pandemic erupted. More and more consumers are keen on online purchases since the COVID-19 outbreak, which has cultivated more online shoppers and reshaped the shopping habits of consumers," said Barbara Shi, vice-president at e-commerce of market research firm Nielsen China.
Mo Daiqing, a senior analyst at the Internet Economy Institute, a domestic consultancy, said the transaction volume of this year's midyear shopping festival is expected to hit a record high, as the pent-up consumption demand of Chinese shoppers will be further released considering an array of coupons, perks and discounts offered by online merchants.
[disclaimer] the above article is reprinted from the Internet, which is intended to convey more information. It does not mean that this website agrees with its views and is responsible for its authenticity; if the copyright unit or individual of the manuscript is unwilling to issue it on the website, please contact us or call us within two weeks.andy steel structure.