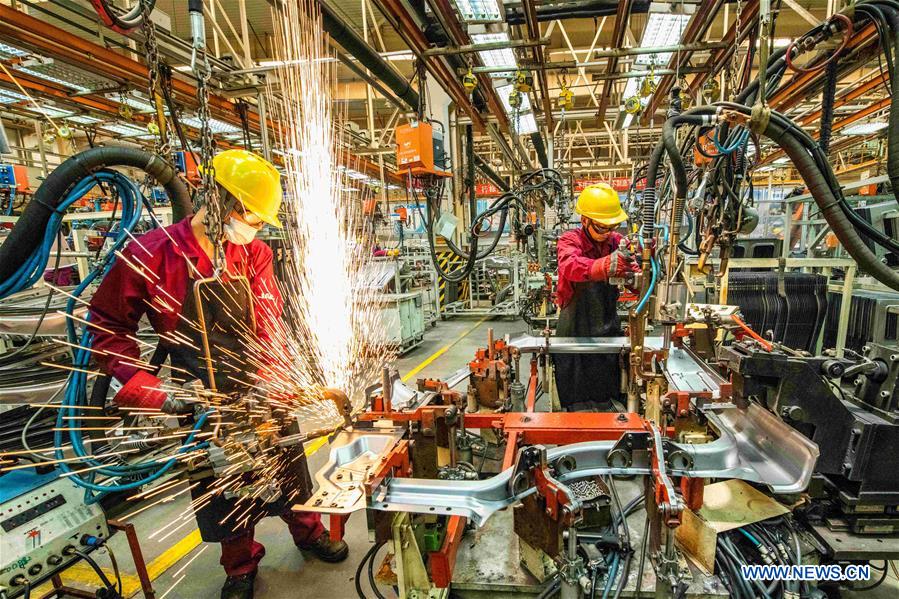 China's factory and services sectors expanded at a faster pace in June, indicating the country's economic recovery continues to gather momentum on the back of strong policy support amid the COVID-19 pandemic, the National Bureau of Statistics said on Tuesday.
But the ongoing recovery could still be threatened by external uncertainties, and smaller businesses continue to face greater production and operational difficulties than their larger counterparts. They may require more accommodative and targeted policies in the coming quarters, officials and economists said.
The country's purchasing managers index for manufacturing stood at 50.9 in June, up from 50.6 in May. The PMI for the nonmanufacturing sectors, comprised of services and construction sectors, rose to 54.4 from 53.6 in May, according to the NBS. An index reading above 50 represents an expansion.
Zhao Qinghe, a senior NBS statistician, said the data indicated that the economy continued to recover as supportive government policies to ensure stability in production and employment help the economy overcome difficulties amid the pandemic.
Expansion of the country's manufacturing sector in June was mainly supported by improving market supply and demand, a rebound in prices and the recovery of external orders, Zhao said. The new export orders index recovered sharply to 42.6 in June from 35.3 in May.
Uncertainty remains
The country's services sector continued to rebound strongly, with the services PMI rising to 53.4 from 52.3 in a return to precoronavirus levels.
"The Chinese economy has been in the process of recovery since March, and the economic indicators have shown marginal improvements, which is mainly because the novel coronavirus outbreak is basically contained in China," said Ding Shuang, chief economist for Greater China and North Asia at Standard Chartered, the British banking corporation.
Ding forecast that China's GDP will likely grow by about 3 percent year-on-year in the second quarter, and the country's retail growth is likely to turn positive for June if the contraction of consumption continues to narrow.
While the Chinese economy is on a steady path of recovery, the NBS warned on Tuesday that uncertainties remain as sub-indexes for new export and import orders were still in contraction territory, below 50, despite the rebound in the past two months.
Smaller firms continued to see greater production and operational difficulties than their larger counterparts as the PMI for small manufacturers stood at 48.9 in June, edging down by 1.9 points from the previous month, according to the NBS.
"Production recovery for smaller manufacturing enterprises was likely lagging behind large and medium-sized enterprises, which pointed to the need for more targeted policy support," economists with US-based Goldman Sachs Group said in a research note.
Lu Ting, chief China economist at Tokyo-based Nomura Securities, said that while China has seen a strong economic recovery since March, it is still too early for Chinese policymakers to reverse the easing policy.
The rebound in new COVID-19 cases in Beijing could deal a blow to the country's services sector, and the new export order index has been in contraction territory for six consecutive months, suggesting that headwinds remain from weak overseas demand, he added.
[disclaimer] the above article is reprinted from the Internet, which is intended to convey more information. It does not mean that this website agrees with its views and is responsible for its authenticity; if the copyright unit or individual of the manuscript is unwilling to issue it on the website, please contact us or call us within two weeks.andy steel structure.