High-rise buildings and skyscrapers dominate the skyline of the Huangpu River and the Lujiazui Financial District in Pudong, Shanghai, on Dec 28, 2018. [Photo/Sipa]
Editor's note: The 12th Lujiazui Forum kicked off in Shanghai on Thursday. With the theme of "Shanghai International Financial Center 2020: New Starting Point, New Mission, New Vision", the two-day forum gathered government officials and financial experts to discuss and foster international financial cooperation and further the reform and opening-up of China.
This year's forum adopted videoconferencing for the first time to connect overseas speakers who cannot be present in Shanghai due to the COVID-19 epidemic.
Here are some of the quotable quotes captured from the forum.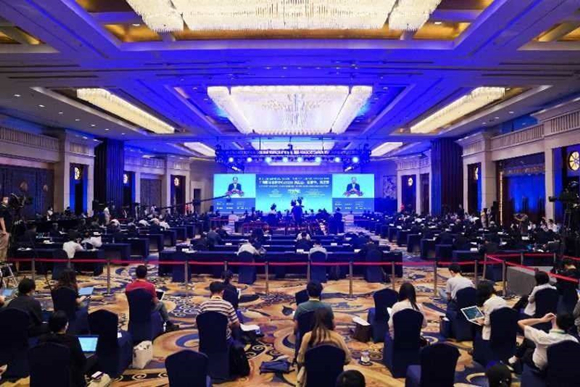 Chinese Vice-Premier Liu He
While China's economic growth still faced downward pressure, the economic trend has shown positive signs, Liu said in a congratulatory letter to the opening of the 12th Lujiazui Forum on Thursday.
Positive results can be seen as companies pick up production. The country's industrial output increased 4.4 percent year-on-year in May and the manufacturing sector grew by 5.2 percent year-on-year.
The country's total fixed asset investment rose by 5.87 percent from a month earlier. Consumption is also showing signs of improvement, represented by the recovery in sales of automobiles and residential housing, Liu said.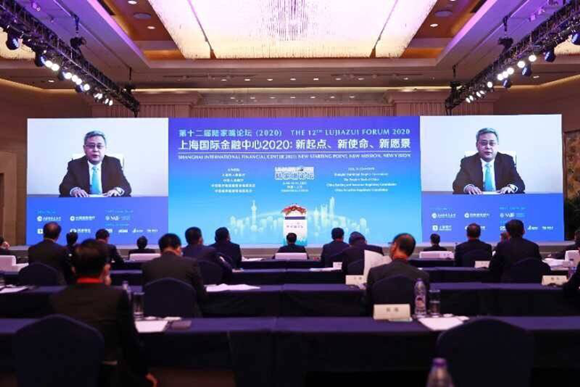 Guo Shuqing, Party secretary of the People's Bank of China
Countries should be more prudent when coming up with monetary and fiscal policies to boost economy against the COVID-19 epidemic, said Guo Shuqing, Party secretary of the People's Bank of China.
"The epidemic may still be alongside with us for a relatively long time. It is still unknown how many economies are planning for new stimulus packages. But it is our advice that regulators should save some room for the future," Guo said.
"China values very much our regular monetary and fiscal policies. We will not pour cash into the market or adopt monetization of financial deficit. Negative interest rate will neither be implemented," he added.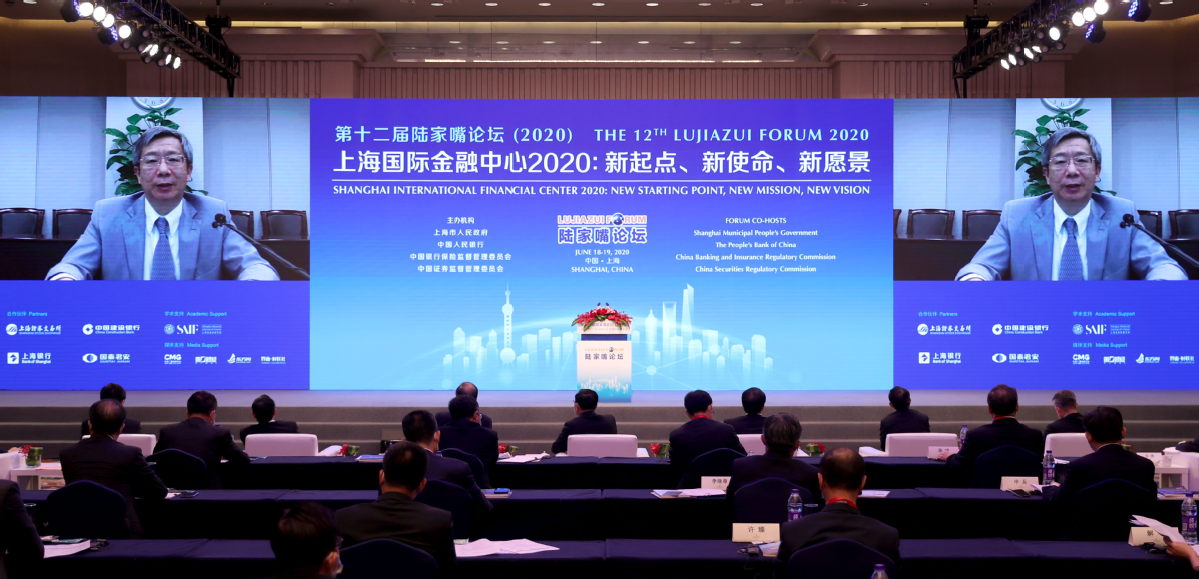 [Photo/China News Service]
Yi Gang, governor of the People's Bank of China
Financial institutions could sacrifice a part of their profits through interest rate cuts, the monetary policy tools to directly support credit, and the reduction of some service fees, said Yi Gang, governor of the People's Bank of China, the central bank.
"In the second half of this year, the monetary policy is expected to maintain liquidity at a reasonably ample level. For the whole year, new yuan loans are expected to increase by 20 trillion yuan, and the growth of aggregate financing will exceed 30 trillion yuan."
He also mentioned that as an international financial hub, Shanghai can take a step further to free the usage of RMB and achieve the convertibility of capital accounts. "As long as regulatory requirements are met for anti-money laundering, anti-terrorist financing and anti-tax evasion, capital in normal trade and investment can freely float both in and out (of Shanghai)," Yi added.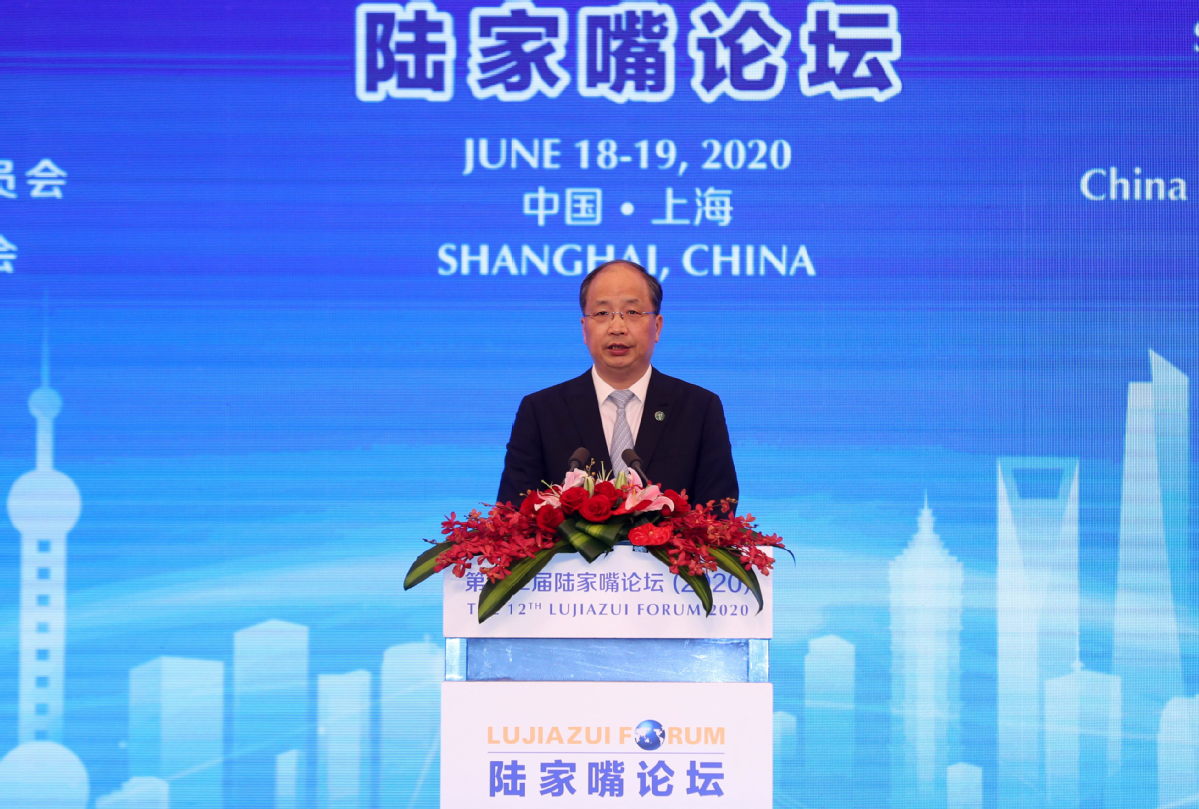 [Photo/China News Service]
Yi Huiman, chairman of the China Securities Regulatory Commission
Major policies to support the capital market reform and innovation will be first tried in Shanghai so that the city enhance its international financial hub status, said Yi Huiman, chairman of the China Securities Regulatory Commission.
The CSRC will support the opening-up of the stock market, bond market, futures and other derivatives market in the city. The Shanghai Stock Exchange will be encouraged to carry out more cooperation with overseas markets. The city should be more influential in terms of the pricing power in large commodities such as crude oil, Yi said.
Overseas financial institutions are welcome to establish foreign-controlled securities, fund, and futures branches, Yi said. Efforts should be made to attract more world-class investment banks and asset management firms. To that end, the regulators should continue to create an equal business environment, the CSRC chairman said.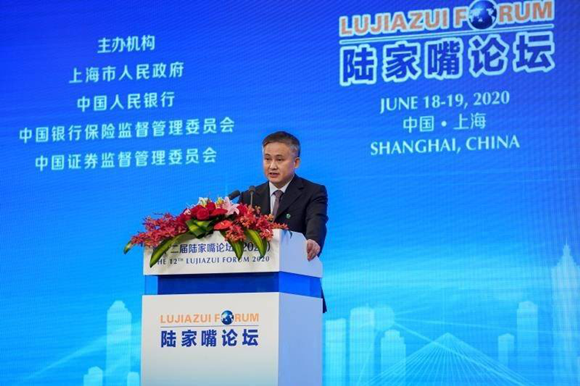 Pan Gongsheng, vice-governor of the People's Bank of China
A series of innovation pilots covering external debt financing, asset cross-border transfer and cross-border renminbi business will be unveiled in Shanghai.
As China's economic and financial strength improves greatly, renminbi, as an international payment, trading and reserve currency, has enhanced its global presence. Presently, the amount of renminbi asset deployed by overseas institutions has reached 6.4 trillion yuan, with an annual average growth of more than 20 percent.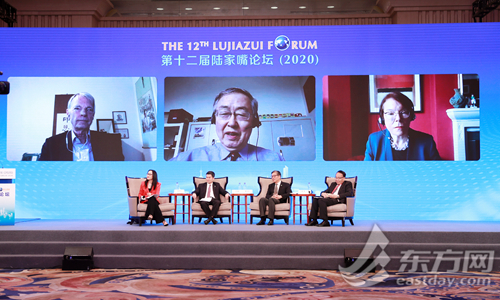 Zhou Xiaochuan, former governor of the People's Bank of China
In terms of transparency, China has shown its willingness to solve problems in corporate governance and the quality of external audit. Over the past few years, authorities took measures to crack down on financial statement fraud, market manipulation and insider trading in the capital market. However, it needs time to improve regulation and corporate governance.
In a bid to further open up the capital market, the central government rolled outthe Shanghai-Hong Kong Stock Connect, the Shenzhen-Hong Kong Stock Connect and the Shanghai-London Stock Connect. In this respect, it could be further enhanced.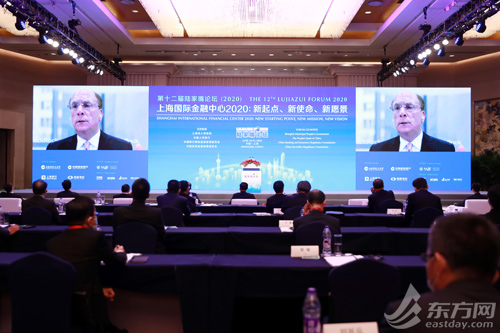 Larry Fink, chief executive officer of BlackRock Inc
After the COVID-19 pandemic, the world will face many changes in investor psychology, business mode, and consumption, and various industries should reassess their ways to do business, commute and transport.
However, whether it's asset management or investment, China will continue to be BlackRock's biggest opportunity in a long term. BlackRock will expand its business in China and improve its local experience, particularly in Shanghai. The company will help clients explore more opportunities in China and increase their onshore capital.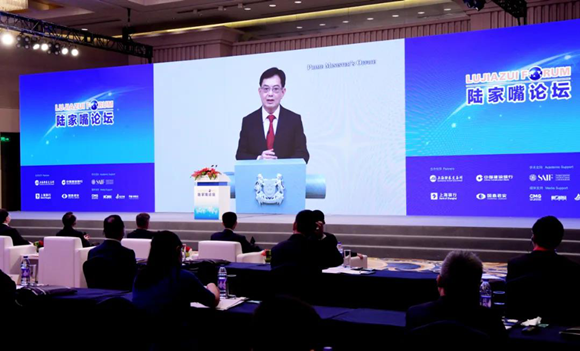 Singapore's Deputy Prime Minister Heng Swee Keat
Faced with the impact of novel coronavirus pandemic, no country can seek development on its own. Nations can achieve development and prosperity under an open and interconnected global economic system, and every country should join hands to cope with challenges.
Singapore and Shanghai, as two global financial center cities, are deepening cooperation in renminbi business, fintech and green finance, building new channels to promote the connectivity of the capital market, he said.
[disclaimer] the above article is reprinted from the Internet, which is intended to convey more information. It does not mean that this website agrees with its views and is responsible for its authenticity; if the copyright unit or individual of the manuscript is unwilling to issue it on the website, please contact us or call us within two weeks.andy steel structure.