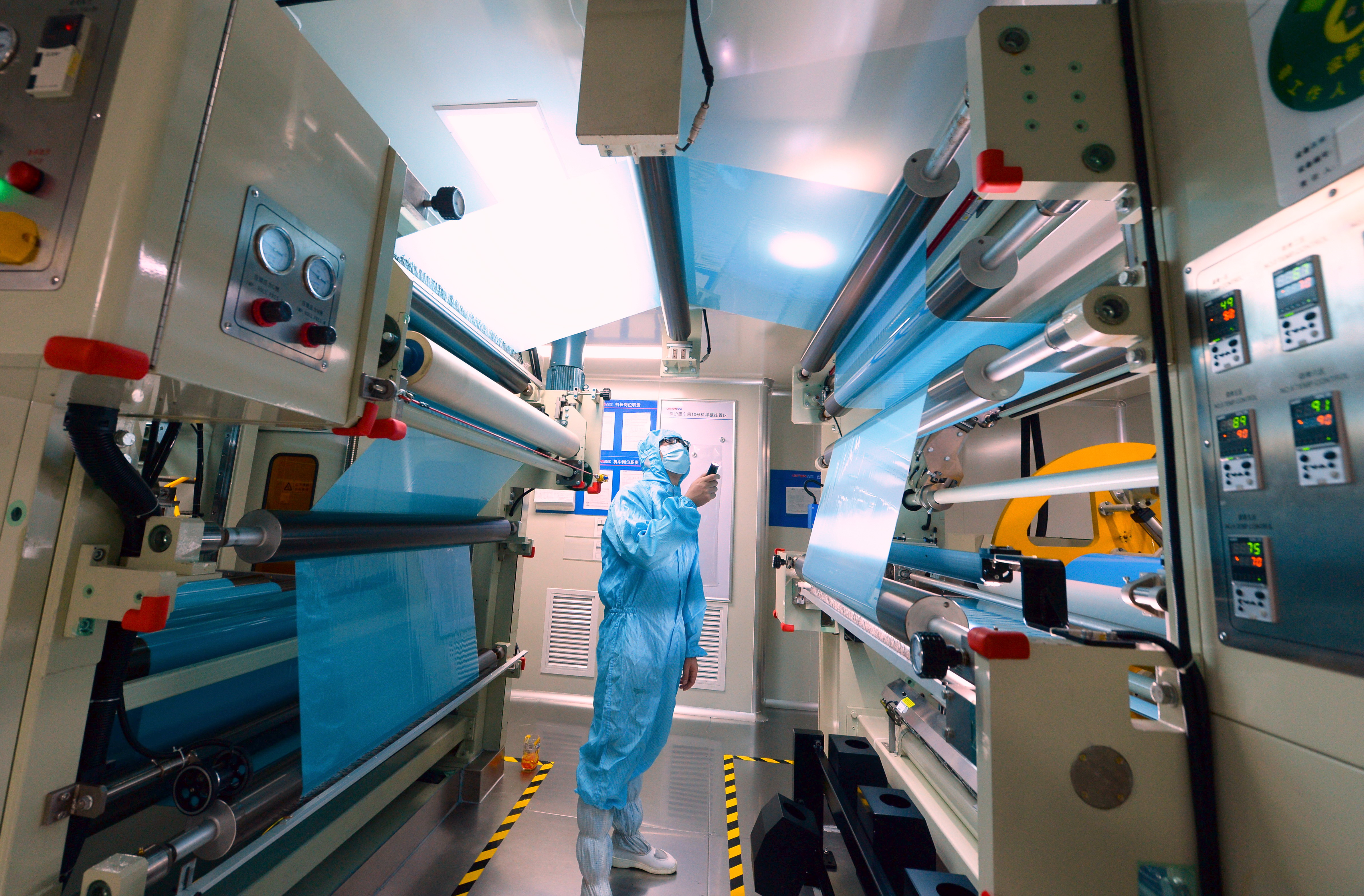 An employee checks manufacturing equipment at a packaging tape facility in Taicang, Jiangsu province, in July. [Photo/JI HAIXIN FOR CHINA DAILY]
Top Chinese private enterprises have achieved revenue growth despite the global economic downturn and they have beefed up their investment in independent technologies to weather future uncertainties, the latest industry report said.
A report by the All-China Federation of Industry and Commerce, a national federation that aims to better serve the private sector, said the country's top 500 private enterprises recorded total revenue of 30.17 trillion yuan ($4.4 trillion) last year, an increase of 5.85 percent year-on-year. Their total asset volume hit 36.96 trillion yuan during the same period, which soared 6.78 percent compared with the previous year.
Though faced with rising economic uncertainties, these private companies have achieved a total net profit of 1.39 trillion yuan after taxes, an 8.06 percent increase year-on-year.
"In face of rising downward pressure on the economy, Chinese private enterprises still made new breakthroughs, epitomized by improving quality and profits, optimized scale and structure as well as the overall industrial upgrading," said Gao Yunlong, chairman of the ACFIC.
"Since the beginning of this year, the nation's private firms have played an important role in combating the COVID-19 outbreak and was a major stabilizer for the country's economic development during the period," Gao said.
The findings followed the ACFIC's launch of the China Top 500 Private Enterprises List.
Tech giant Huawei Technologies Co, retail firm Suning Holdings Group, Shenzhen-based Amer International Group Ltd, a high-tech enterprise in non-ferrous metals and non-metallic materials, made it as the top three firms in the list.
Among the top 500 private enterprises, manufacturing firms took the lead by accounting for 57.6 percent of the total. More than 164 companies came from the tertiary industry and they contribute 36.34 percent of the total revenue of those 500 firms.
"For Chinese companies, especially private firms, lack of product originality and gradual loss of cost advantages were the biggest bottlenecks which will greatly hinder their development on the global stage," said Zhou Qiren, a professor at the National School of Development at Peking University.
"To gain an edge globally, Chinese companies should pour money into the originality and uniqueness of their business to bring extra profits and investment, invite the best minds in the world to make better products and innovation," he said.
Among the top 500 private enterprises, 321 companies have their research and development personnel accounting for over 3 percent of their total employees.
Huawei and Zhejiang Geely Holding Group Co Ltd ranked first and second in R&D investment, spending 131.659 billion yuan and 20.73 billion yuan, respectively.
Among top 500 firms, the key technologies of 402 companies were mainly developed independently, accounting for 80.4 percent of the total. The number of valid patents obtained by the top 500 firms increased by 8.46 percent in 2019, while the figure for international patents also grew significantly.
The private sector has become an indispensable force behind the country's development. Private enterprises contributed more than 50 percent of tax revenue, 60 percent of GDP, over 70 percent of technological innovation, 80 percent of urban employment, and 90 percent in new job creation and new firm establishment.
However, Huang Rong, vice-chairman of the ACFIC, said that private enterprises become more cautious in investing and securing financing since last year.
Merger and acquisition activities carried out by the top 500 private enterprises declined by 30.73 percent compared with the level of the previous year, he said.
The number of top 500 private companies that experienced difficulties in financing continued to grow from 254 companies in 2017 to 274 last year. Up 96 percent of the top 500 private companies believe the epidemic affected their production and operations.
"Many of them believe that such impact is mainly due to high production and operation costs, difficult production and a decrease of market orders," he said.
[disclaimer] the above article is reprinted from the Internet, which is intended to convey more information. It does not mean that this website agrees with its views and is responsible for its authenticity; if the copyright unit or individual of the manuscript is unwilling to issue it on the website, please contact us or call us within two weeks.andy steel structure.