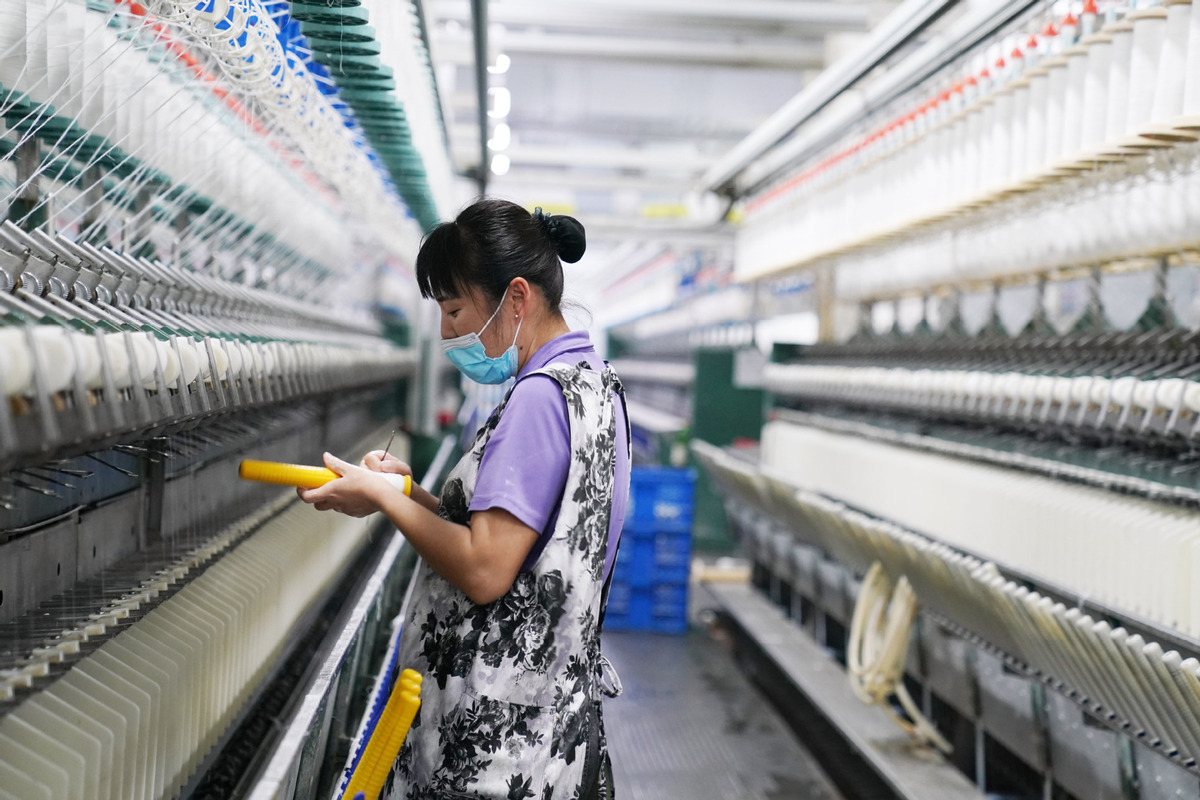 A woman works at the workshop of a textile company in Qinggang county, Northeast China's Heilongjiang province, April 16, 2020. [Photo/Xinhua]
President Xi Jinping has underlined the importance of the private economy in the country's overall development and has urged efforts to unite people engaging in private business to promote the sector's healthy development.
Xi, who is also general secretary of the Communist Party of China Central Committee and chairman of the Central Military Commission, made the remark in an instruction delivered to a conference on united front work in the private sector, which was held in Beijing on Wednesday.
Calling the private economy a significant part of the socialist market economy, he urged efforts to unite people from the private sector around the Party and better promote the growth of the private economy.
It is an important task to unite and guide the people engaged in the private economy, Xi said, urging Party committees at various levels to strengthen leadership over united front work in the sector, and fully implement relevant policies and decisions of the CPC Central Committee.
He also instructed federations of industry and commerce to play their role in uniting private businesspeople around the CPC.
On Tuesday, the General Office of the CPC Central Committee issued a set of guidelines for strengthening united front work involving the private sector.
The Party's united front work concerning the private economy has been innovating and breaking new ground, the document said.
However, it said, as socialism with Chinese characteristics has entered a new era, united front work is faced with a new situation and new tasks because the scale of the private sector has been expanding, risks and challenges have increased significantly and the values and interests of the people engaging in the private economy have become more diverse.
Strengthening united front work in the private sector is an important way to realize the Party's leadership over the private economy.
It is also significant to develop and improve the system of socialism with Chinese characteristics and constitutes an important guarantee to promote high-quality development of the private economy, it said.
Mechanisms for communication and consultation between government and private businesses should be improved, the document said.
[disclaimer] the above article is reprinted from the Internet, which is intended to convey more information. It does not mean that this website agrees with its views and is responsible for its authenticity; if the copyright unit or individual of the manuscript is unwilling to issue it on the website, please contact us or call us within two weeks.andy steel structure.