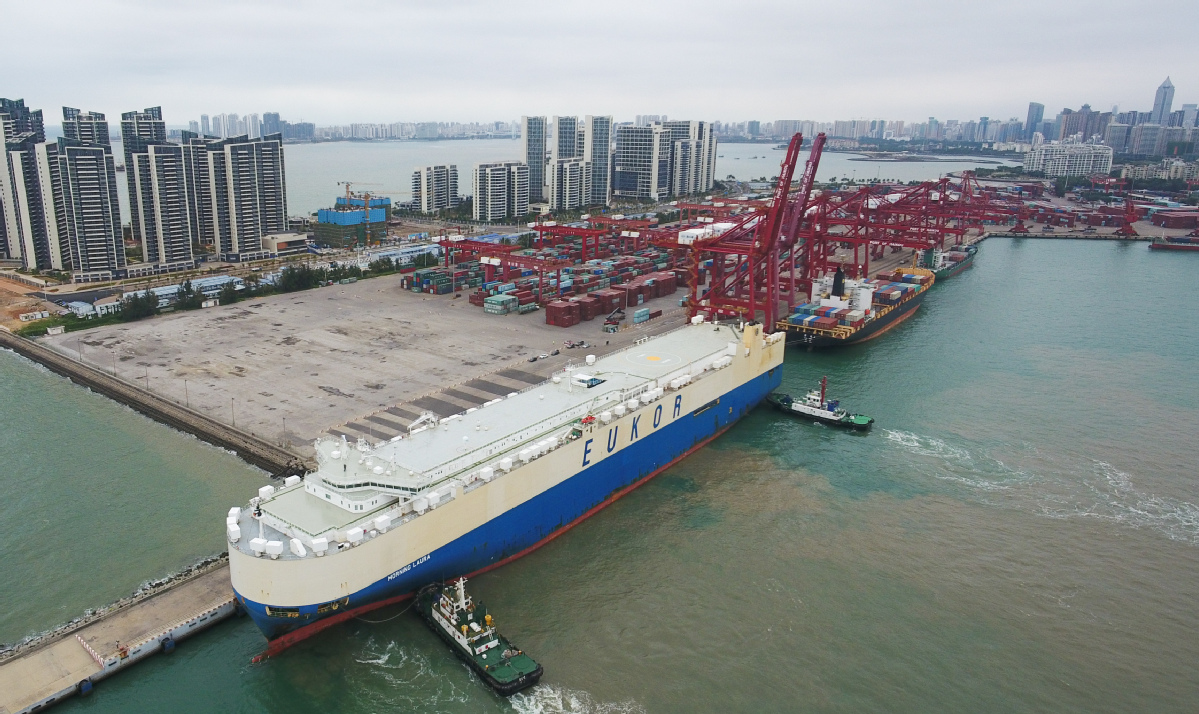 With free trade port, new investments, emerging industries, South China's Hainan province to complement Hong Kong
Dubai, Singapore, Hong Kong … Which city is best for shopping? Choice will become harder as South China's Hainan province is set to join the list of not-to-miss shopping havens.
Add to that the island's reputation as a tourist paradise-tropical geography, pristine coastline, year-round sunshine, balmy weather, and sandy beaches.
There's more coming up. Free trade port. Investments. High-tech industries. Industrial parks. Cultural elements. Entertainment hot spots.
Small wonder, global investors, top-end talent, foreign tourists, and mainland travelers are all redrawing their plans to include Hainan as a priority, never mind the overhang of the COVID-19 pandemic's economic fallout.
Lin Nianxiu, vice-minister of the National Development and Reform Commission, said during a recent news conference that the first phase of the government's new master plan will make preparations and lay the foundation for the proposed free trade port system before 2025. Focus will be on liberalization and facilitation of trade and investment.
"We will boost the free and efficient flow of various production factors and strive to make breakthroughs in around three years, which will lay a solid foundation for the island-wide special customs clearance operation in 2025," Lin said.
The second phase will focus on comprehensively promoting the implementation of opening-up and free trade port policies before 2035.
According to the government's plan, the free trade port system and operations in Hainan will be more mature by 2035, and high-level process supervision will be mostly built to achieve free trade and investment, free cross-border capital flows, free and convenient transportation and access for people, and safe and orderly flow of data.
By the middle of the century, a high-level free trade port with strong international influence will be fully established.
Lin said it is necessary to learn from the experiences of globally renowned free trade ports like Hong Kong, Singapore and Dubai. The island of Hainan will further work with the Guangdong-Hong Kong-Macao Greater Bay Area to boost prosperity.
"Hainan differs from Hong Kong in location and industry focus, playing a complementary role instead of competing with Hong Kong," Lin stressed. "We should give full play to Hainan's advantages like rich natural resources, unique geographical location and the vast domestic market and hinterland, focusing on the development of tourism, modern services and high-tech sectors."
Cheng Shi, chief economist and managing director of ICBC International, said Hainan would not overtake Hong Kong's status as an international financial center, and the two regions will be mutually complementary economically.
"Hong Kong's pillar industries are trade, finance, real estate, tourism and services while Hainan will mainly focus on developing emerging sectors such as high-tech industries," Cheng said.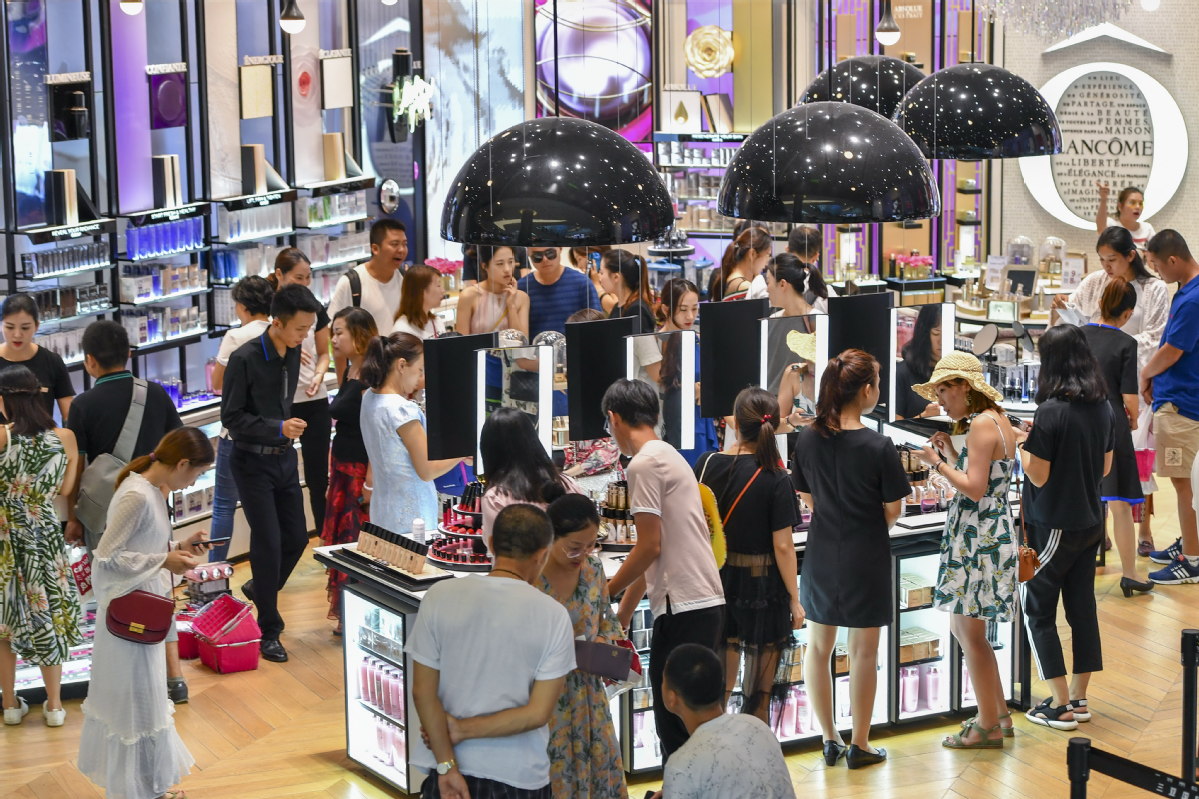 "Hong Kong's highly developed financial market will provide sufficient funding for Hainan's high-tech industries as well as talent for Hainan's tourism, consumption and modern services sectors. And Hainan will offer Hong Kong high-quality investment projects, financial assets and vast space of development."
Both Lin and Cheng spoke after President Xi Jinping underlined the importance of prioritizing integrated institutional reform and promoting the free and convenient flow of production factors in developing a high-quality and high-standard free trade port in Hainan province.
Xi, also general secretary of the Communist Party of China (CPC) Central Committee and chairman of the Central Military Commission, said in an instruction published on June 1 that building a free trade port in Hainan is a major strategic decision adopted by the CPC Central Committee.
He said the innovation of institutional integration would be prioritized to free people's minds to make bold innovations and ensure enduring progress.
Experts and entrepreneurs said the new move demonstrated the government's strong determination to open up wider to the outside world and further integrate itself into the world economy.
They believe the preferential policies, such as tailored taxation mechanism and negative list offered to Hainan free trade port will facilitate the free flow of production factors, which will help lure global investors and vitalize the economy.
"Owing to Hainan's unique geographical location, Hainan is set to be built into a key open gateway to the Pacific Ocean and the Indian Ocean trading routes, which will help fuel the growth of the entire nation," said Cui Weijie, director of the Institute of Industry Development and Strategy under the Chinese Academy of International Trade and Economic Cooperation.
Cui highlighted the cooperation with neighboring regions as well as the mainland market, saying the construction of the free trade port in Hainan will create new growth drivers amid a sluggish world economy.
Zhang Yansheng, chief research fellow with the China Center for International Economic Exchanges, said as free trade ports are regarded as the world's most open form of economic zones, the construction of Hainan free trade port will not only boost regional development, but help fuel the growth of the whole nation and even the countries and regions participating in the Belt and Road Initiative.
"The construction of the Hainan free trade port will give full play to China's ultra-large-scale market advantage and the domestic demand potential, creating a new pattern of opening-up and development," Zhang said.
"It demonstrates China's firm commitment to continuously promoting the facilitation of free trade and investment in the globe, which will help build an open global economy."
According to him, to build a high-quality and high-standard free trade port, Hainan needs to strengthen cooperation with key areas such as the land-sea corridor in western China as well as neighboring Asian countries, which will boost connectivity and create new growth poles.
"It should also work with countries and regions in the Indo-Pacific region to boost the high-quality development of the countries and regions participating in the Belt and Road Initiative," Zhang said.
Hainan has always been regarded as a highland for reforms and opening-up during the past decades. And the latest overall plan for Hainan free trade port has shown the government's bolder drive than the previous free trade zone in 2018, indicating the nation's serious resolve to further deepen reforms and opening-up.
Liu Cigui, Party chief of the island province, said Hainan has made considerable progress during the past few years, laying a solid foundation for the building of Hainan free trade port.
"Abiding by the new concepts of high-quality development, we have developed a pilot zone for comprehensively deepening reform and opening-up, a national pilot zone for ecological civilization, an international tourism consumption center and a supporting zone for major national strategies," Liu said.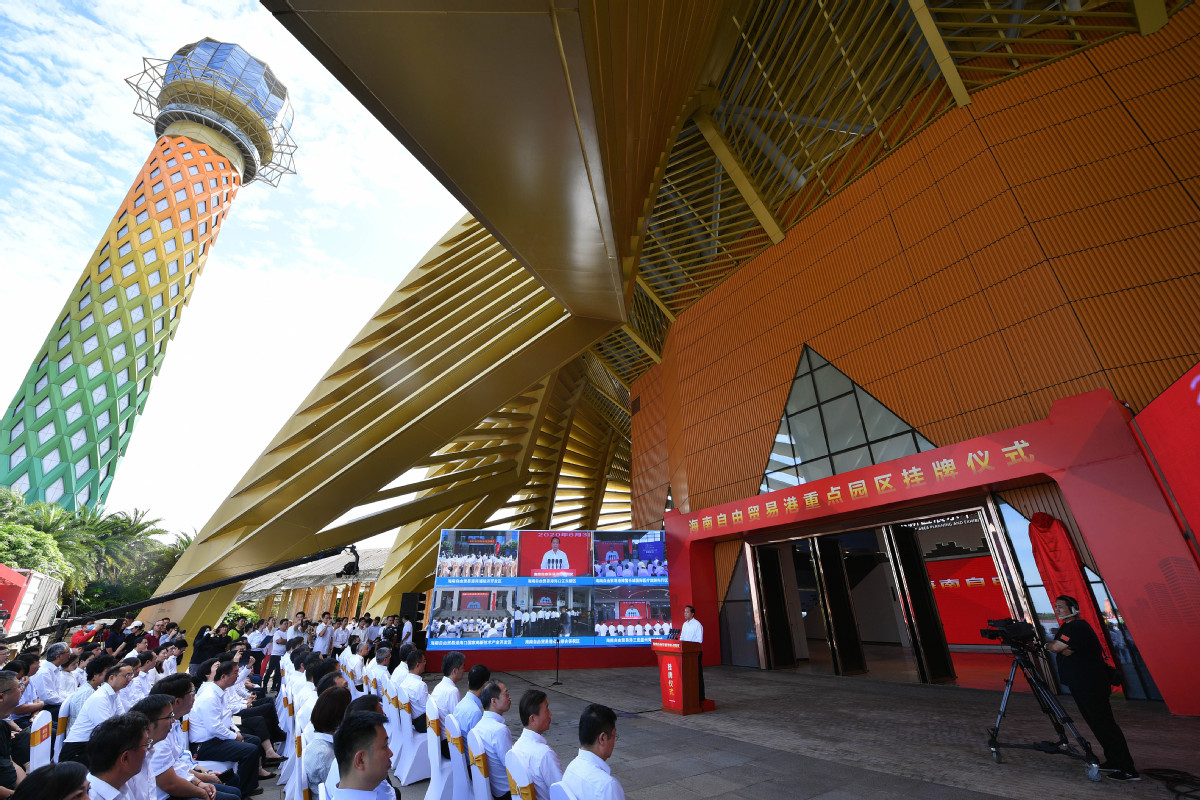 In accordance with World Bank standards, Hainan has rolled out 69 measures to optimize the business standards, such as one-stop service network and streamlining reviews and approvals. It has also opened the one-stop window for international investment and trade, cutting the time of import and export customs clearance by more than half.
Specifically, the province has witnessed its foreign capital in actual use doubled for two consecutive years, with 444,000 new market entities, up 66 percent from April 13, 2018, when Xi delivered a speech at a gathering to celebrate the 30th anniversary of the founding of Hainan province and the Hainan Special Economic Zone.
According to the evaluation by the Office of the State Council's Inter-Ministerial Joint Conference on Pilot Free Trade Zones, Hainan has accomplished more than 97 percent of its tasks, fully ready for implementing the new free trade port plan.
Liu said Hainan welcomes enterprises and talents worldwide to invest and start businesses on the island.
"We will implement key policies such as preferential treatment for business and personal income tax, upgraded offshore duty-free shopping policy, and zero tariffs on imported goods.
"We'll significantly widen the market access, improve the free trade account system, facilitate cross-border trade, investment and capital flow, and implement more convenient entry and exit management policies. With the most preferential conditions and the best services, we will foster a world-class environment to enable business, governed by law, to lure global companies and talent to invest and start business in Hainan," Liu said.
Vice-Minister of Finance Zou Jiayi said goods outside the imported taxable commodities catalog will be exempted from import duties after the island-wide customs clearance operation in 2025.
She said Hainan free trade port will establish a zero-tariff negative list and three positive lists, with focus on supporting high-tech, ecological and environmental protection and specialty industries. More efforts will also be made to gradually shorten the negative list and expand positive lists in the future.
Wu Bing, co-founder and president of aviation engineering company Bartini Technology (Hainan) Co Ltd, said the preferential policies will help boost the future development of aircraft, especially in the fields of assembly, production, maintenance and training.
"The industrial format of Hainan, such as tourism and medical treatment, is very suitable for the development of small aircraft, especially passenger drones," Wu said. "We've got strong support from the Hainan government."
Wu said Hainan is very suitable for developing and test-launching new products, which makes it a perfect place for companies to use the island as a launchpad for updated products bound for other markets.
"The current policies, if implemented swiftly, carefully, and with focus on the right elements, will allow us to shift focus from the mainland back to Hainan," said Yuval Golan, CEO of consulting firm Unique 1 Asia Limited.
"As Hainan transforms itself into an international free trade port, a crucial focus should be integrating Chinese and international arts and culture.
"Hainan should become a hub for entertainment, experimental art, museums, and music festivals. The new policies provide direct, specific details on how to support those industries.
"For example, zero tariff and duties, reduced VAT, seed funding, and more. Such industries will create a supporting ecosystem for creativity, diversity, innovation tech, and booming tourism," Golan said.
[disclaimer] the above article is reprinted from the Internet, which is intended to convey more information. It does not mean that this website agrees with its views and is responsible for its authenticity; if the copyright unit or individual of the manuscript is unwilling to issue it on the website, please contact us or call us within two weeks.andy steel structure.