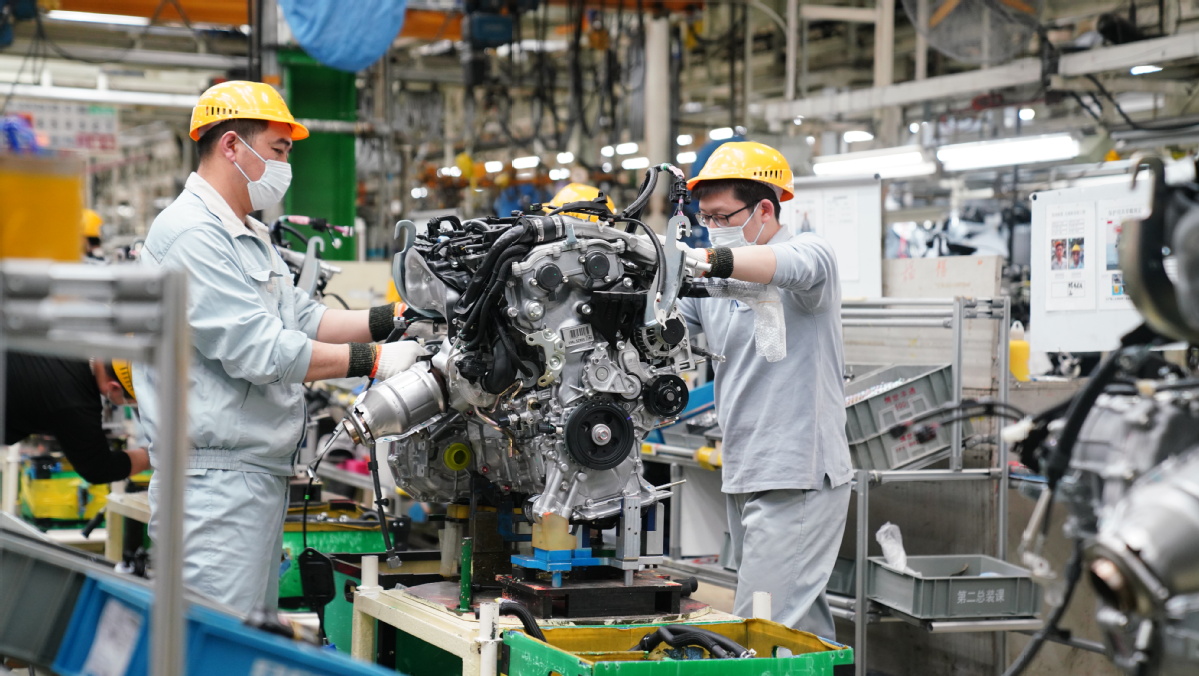 Employees work at the production line of Tianjin FAW Toyota Motor Co Ltd in Tianjin on Feb 18. [Photo/Xinhua]
Though the COVID-19 pandemic has had an impact on foreign-funded companies operating in China, the possible withdrawal of some United States and Japanese companies will not crash the country's economy as supportive government policies, market scale and an advanced industrial supply chain are sufficient.
Foreign enterprises have made contributions to China becoming the world's second-largest economy and the biggest destination for FDI as they have brought capital, technology, management expertise and equipment into the country. However, China's development hasn't depended solely on "charity" from US or Japanese firms. As long as the country is fully prepared and continues to create a high-level business environment for global companies, it certainly can cope with the possible distortive effects generated by some US and Japanese companies' withdrawing. Based on its developing strength, China has three trump cards that allow it to remain competitive in attracting global investment from a long-term perspective.
First of all, consider China's appealing domestic market.
Due to China's 400 million middle-income consumers, many US and Japanese companies will definitely regret it if they leave the Chinese market and its well-developed supply and industrial chains. The result for many of them is predicable-they will return to China again for sure.
After the novel coronavirus outbreak, China will offer more favorable policies to win over new foreign investment and try to maintain its current stock of foreign investment and design new growth points in areas such as 5G, extra-high voltage and the internet of things. Backed by these factors, the Chinese economy will continue to grow in the coming decades and China will become the world's largest consumer market. Therefore, we are fully confident about these facts and more companies from Europe, North America, Japan and South Korea will continue to value this fast-developing market.
There is also a growing tendency among manufacturers, including Chinese firms, to shift production lines to economies in Southeast Asia such as Vietnam, Indonesia and Myanmar in pursuit of lower labor costs. However, the novel coronavirus outbreak this year has also revealed how much these relocated facilities still depend on China for a number of production elements such as equipment, materials, skilled workers, power and spare parts, and many have been forced to partially shut down due to supplies of these essentials being cut off.
For instance, China had to dispatch cargo planes to ship materials to Myanmar to assist local garment factories resume production last month.
Apart from a complete industry chain, where companies can find almost anything for production of a wide range of products, China's business climate has improved in recent years and will further improve, with a slew of new laws and regulations as well as high-level international trade fairs and other exhibition events.
To further consolidate its position in the global supply chain, China needs to further highlight the role of the China International Import Expo in Shanghai. The event will serve as a benchmark for the post-epidemic recovery of the global economy. It will push more companies to either invest in, or expand their market presence in, China.
The second is China's continued efforts to create a more complete business environment.
In addition to market opportunities, corporate investment also values the business environment and whether foreign investors' rights and market access can be treated equally in a foreign country. China has been constantly improving its business and legal environment to facilitate the growth of global companies, as well as accelerating innovation and cutting administrative barriers in its pilot free trade zones across the country.
As foreign investors are keen to see improvements in the protection of intellectual property rights in China, the government must pay more attention to IPR protection. China should step up its efforts to eliminate illegal IPR activities, establish more IPR courts and increase punishments for violators. Any company that violates IPR must be severely punished, even to the point of causing bankruptcy. It is equally critical to improve government services. As 2020 is the first year for the implementation of China's Foreign Investment Law, the government should further cut the items on its negative lists in both FTZs and at the national level.
A negative list indicates areas where foreign investment is prohibited or restricted. When China released its first negative list in 2013, there were more than 190 measures to restrict and prohibit foreign investment in a number of industries. Now there are only 37 measures left on the list. For the next step, China should authorize more access to the services sector and allow more foreign companies to enter sectors such as pension services, financial and insurance industries without setting restrictions on the proportion of equity.
In 2019, China was ranked 31st in the World Bank Group's global business climate ranking, up from 46th in 2018 and 78th in 2017. The US-based multilateral lender also ranked China among the top 10 best improvers for a second consecutive year.
Eager to boost its economic growth vitality, Shanghai announced 24 new policies in mid-April to further improve the city's business environment and attract more foreign investors. The measures were introduced to implement the country's deepened opening-up policies, step up investment promotion, make business opportunities more accessible to foreign investors and better protect their legal rights, said the municipal government.
The third is China's open, stable and well-developed industrial and supply chains.
China must separately develop open, stable and safe industrial and supply chains in both international and domestic markets to prevent unexpected risks. If these two chains are successfully built, China will be able to become a driving force behind the recovery of the global economy.
Because the world has entered the era of globalization, multinationals will remain optimistic about China, and there won't be large-scale withdrawal of FDI from the market despite some US or Japanese companies' withdrawing parts of factories to either their home markets or to other parts of the world.
China has been recovering more steadily than other countries from the pandemic. The country will see more FDI inflows in sectors like medical products, pharmaceuticals and high-tech industries over the next several years.
Apart from China's improved business environment dominated by the market economy, the nation's comprehensive advantages based on efficiency, labor quality, resources and digital and physical infrastructure will continue to help the nation attract investment from global companies over the long term. Backed by its institutional advantages, impressive mobilization ability and industrial system, the country's epidemic prevention and control work fully demonstrates China's strength in overcoming difficulties. This will play a key role in attracting foreign investment in the future.
The author is former vice-minister of commerce and vice-chairman of Beijing-based China Center for International Economic Exchanges.
[disclaimer] the above article is reprinted from the Internet, which is intended to convey more information. It does not mean that this website agrees with its views and is responsible for its authenticity; if the copyright unit or individual of the manuscript is unwilling to issue it on the website, please contact us or call us within two weeks.