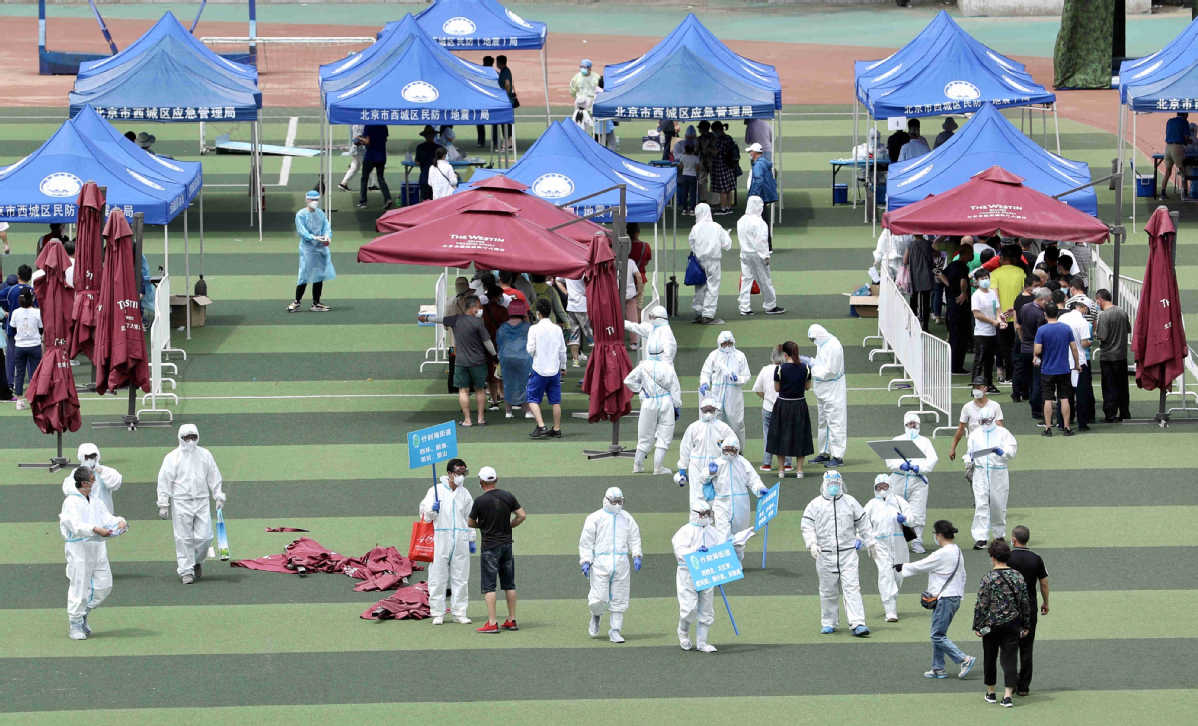 People line up for nucleic acid testing on June 15, 2020 at Guang'an Gymnasium in Xicheng District, Beijing. Beijing is organizing nucleic acid tests for 90,000 residents to curb a new cluster of local COVID-19 infections. [Photo by Zou Hong/chinadaily.com.cn]
Beijing has reported 106 confirmed cases of COVID-19 as of Monday at midnight since the city reported the first case in the latest outbreak on Thursday. Why did the outbreak happen in Beijing and what has the city has done after the outbreak began?
Question 1: Who is patient zero?
After 56 days, Beijing reported a new locally transmitted case – a 52-year-old man surnamed Tang in Xicheng district on Thursday.
Tang visited a local hospital on Wednesday for recurring fever and said he had not traveled outside Beijing in the past two weeks.
On Friday, six more confirmed cases were reported. Among them, two in Fengtai district were coworkers at a meat products research institute, and one surnamed Liu said he had traveled to Qingdao in East China's Shandong province in the past two weeks.
Epidemiological investigation found both Liu and Tang had been to Xinfadi, a major farm products wholesale market in Fengtai district. Tang went there on June 3 and Liu went there on June 5.
The Qingdao health commission said disease control experts in Qingdao had ruled out the possibility that Liu, who was on a business trip to Qingdao from May 29 to June 2, picked up the infection there.
Wu Zunyou, the chief epidemiologist at the Chinese Center for Disease Control and Prevention, said on Monday that Tang started having symptoms on June 6, and another patient reported on Saturday starting symptoms on June 5.
It was still unknown if other people had symptoms earlier than this, Wu said.
Xinfadi agricultural products wholesale market is closed on June 13. [Photo by Wu Xiaohui/chinadaily.com.cn]
Question 2: Is salmon the novel coronavirus carrier?
The novel coronavirus was found on cutting boards for imported salmon at Beijing's Xinfadi wholesale market, and since then many markets have stopped selling the animal products.
Wu Zunyou said that it cannot be concluded that salmon is the source of infection just because novel coronavirus was detected on cutting boards.
He said fish in their natural habitat cannot catch coronavirus; however, they can be contaminated by workers during capture or transportation.
Wu said the new outbreak could have two possible explanations. The first may be the influx of meat and seafood to the market from all over the country and around the world. Some of it may have been contaminated by workers during processing and transportation, and then the virus jumped from product to people.
The second possibility is person-to-person transmission. "The infected person who brought the virus into the market might be asymptomatic or have very mild symptoms, and the hustle and bustle of the market led to the cluster of new infections," he said.
"Our seafood products are typically stored and transported in cold containers, thus it is possible for the virus to be preserved for a long time and increase the likelihood of infecting people," he said.
According to the findings of a University College London research team, the novel coronavirus only infects mammals, and evidence showed that it can infect cats and dogs, but not fish, birds or reptiles.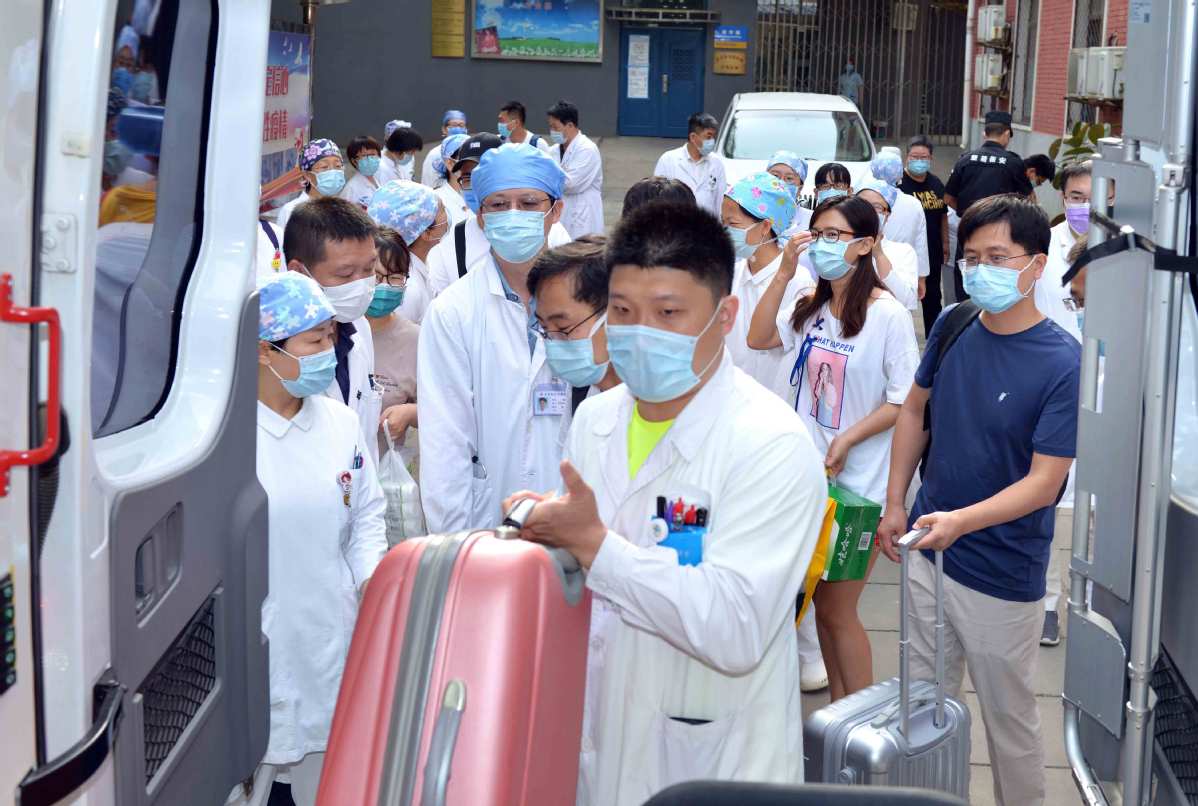 The medical team from Beijing Shijitan Hospital sets off to Beijing Ditan Hospital to help treat COVID-19 patients in Beijing on June 16, 2020. [Photo by Ruan Qianwei/for chinadaily.com.cn]
Question 3: Is the virus from Europe?
Zeng Guang, a senior researcher at the Chinese Center for Disease Control and Prevention, said on Sunday that the coronavirus strain in the latest outbreak is different from the ones found in China, and early data suggest it is a mutated variety from Europe.
Zeng stressed that people should take this finding with a grain of salt, as more testing is being conducted to confirm the origin of virus.
Preliminary analysis based on genome sequencing showed that the virus is imported, said Yang Peng, an expert from Beijing Center for Disease Prevention and Control.
The source of the virus is still under investigation and it is unknown how the virus came to Beijing, Yang said.
Wu said whole genome sequencing will help researchers to learn about the virus' mutations in different places and thus identify spread routes. For example, British Columbia, a Canadian province, announced recently that the virus spreading in the province is local, from the US and Europe, he said.
The virus in Beijing is a mutated variety from Europe, which does not prove it comes from European countries directly, but more information is needed, as so far there is no RNA sequence that's the same in the database, Wu said.
People line up for nucleic acid testing on Sunday at Beijing Youan Hospital, a few kilometers away from Xinfadi wholesale market, which is linked to the latest COVID-19 outbreak. CHEN HAO/FOR CHINA DAILY
Question 4: Why did it happen to Xinfadi?
Covering a total area of 112 hectares, the Xinfadi market provides 80 percent of Beijing's vegetables and fruits. Every day, about 10,000 people and 3,000 trucks arrive at the market.
In 2019, the market's trade volume reached 131.9 billion yuan ($18.65 billion), and 17.49 million tons of produce were traded there. Among more than 4,600 wholesale markets of farm produce across the country, Xinfadi has been the biggest for 17 years.
Wu said that before the new outbreak, Beijing had no local cases for more than 50 days, which means that there should be no virus locally. It needs to investigate all products and visitors to the situation clear.
Since the Wuhan outbreak, researchers have focused on animals and products to find the origin of the virus.
It was very important to find the animal source, which is crucial to controlling the spread of the virus, said Chen Jinping of the Guangdong Institute of Applied Biological Resources.
Many experts believe the new outbreak in Beijing will provide an opportunity to find the intermediate host of the virus.
Wang Liming, a professor from the College of Life Science of Zhejiang University, said few samples were collected from animals and products at Huanan Market in Wuhan before it was closed and disinfected, but Xinfadi provided the opportunity.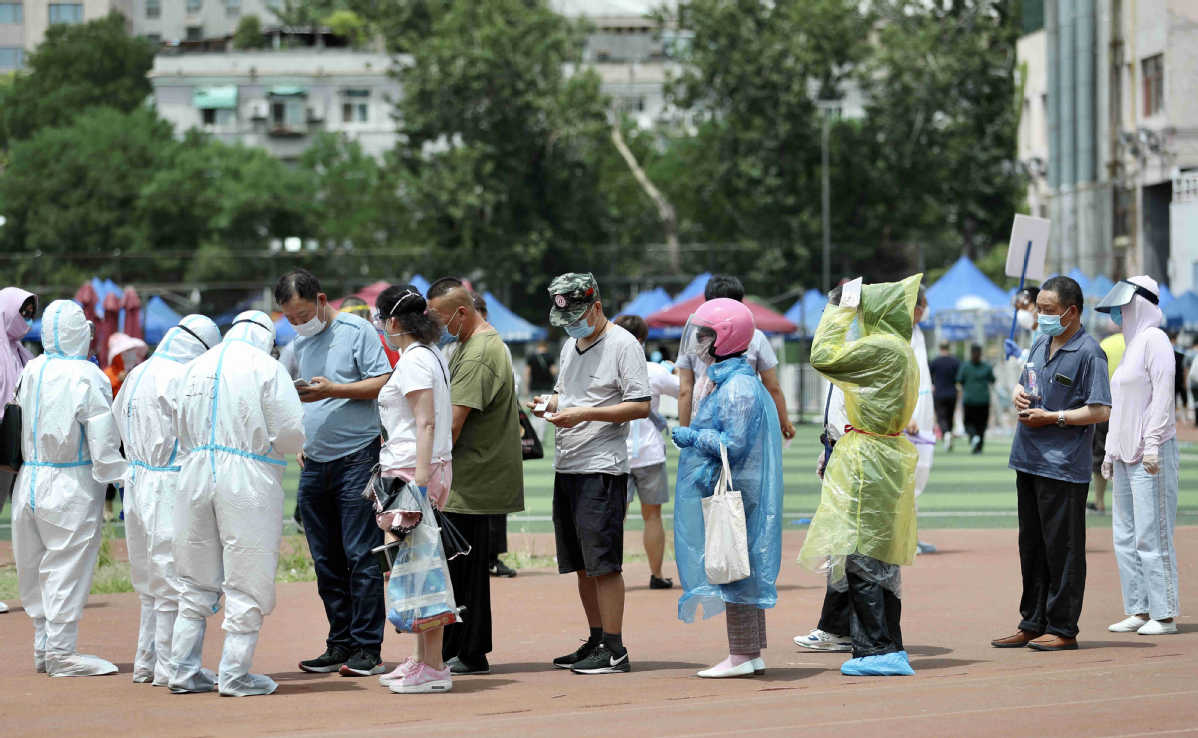 People line up for nucleic acid testing on June 15, 2020 at Guang'an Gymnasium in Xicheng District, Beijing. Beijing is organizing nucleic acid tests for 90,000 residents to curb a new cluster of local COVID-19 infections. [Photo by Zou Hong/chinadaily.com.cn]
Question 5: How many people should be tested?
More than 8,000 workers and tenants at the Xinfadi market have all received nucleic acid tests as of the early hours on Sunday, and they have been sent to centralized isolation points for medical observation, Beijing government official Xu Ying said.
The city has surveyed about 200,000 people who visited the market from May 30, and asked them to stay at home for observation, Xu said.
According to experts, anyone who visited the market or had close contacts with personnel at the market should receive tests, said Pang Xinghuo, deputy director of the Beijing Center for Disease Control and Prevention.
These people should report to their workplaces or communities if their situation changes and stay home, said Pang.
People who have no contact with personnel at the market and no symptoms do not need to have tests, but if they want to be tested, they can contact medical laboratories listed by the Beijing health authority.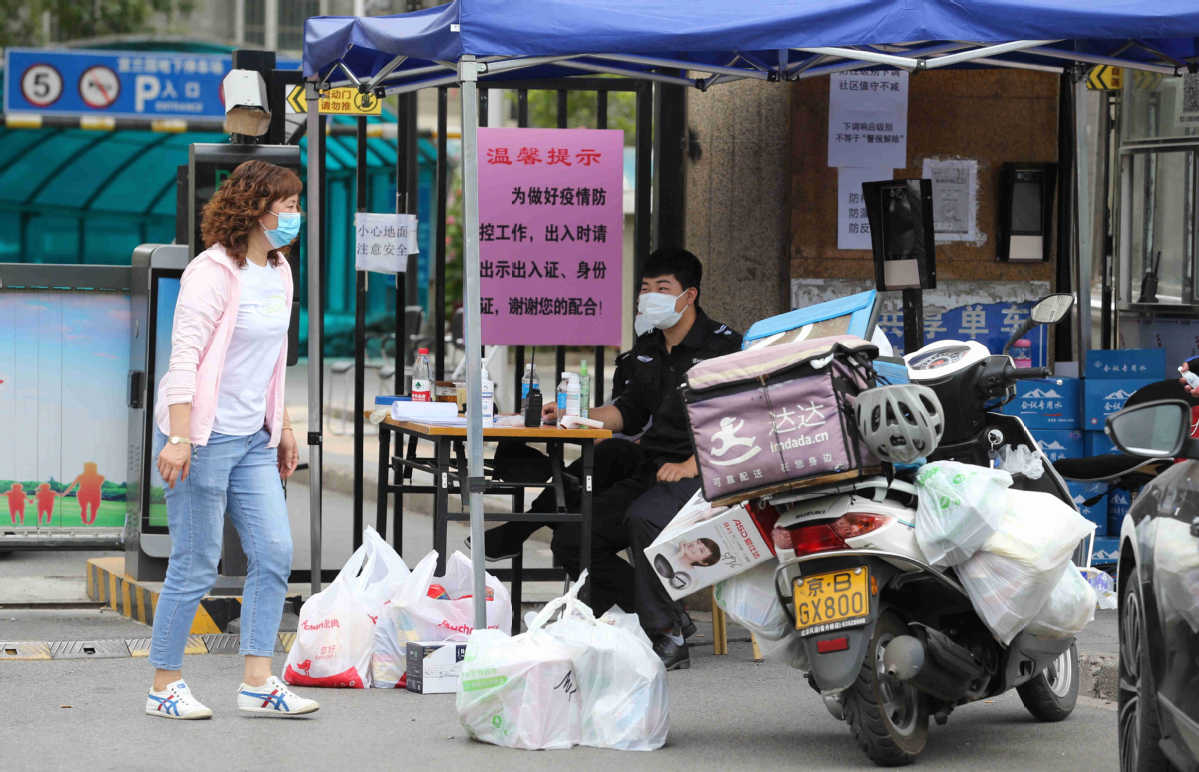 A resident comes out to collect daily necessities in a community near Xinfadi in Fengtai district, Beijing, June 15, 2020. [Photo by Zhang Wei/chinadaily.com.cn]
Question 6: Does the city need to be locked down?
Confirmed cases have been reported in many districts in Beijing and also in neighboring Hebei province.
All confirmed cases in the new outbreak were connected to Xinfadi, which shows that the outbreak was at an early stage, Zhang Wenhong, director of the Infectious Disease Department of Huashan Hospital in Shanghai, said on Sunday.
"As long as there is timely discovery, fast response and accurate control, sporadic outbreaks of the epidemic can be brought under control," he said.
Zeng said that the number of confirmed cases will increase in the coming days, but will be controlled soon, and Beijing will not be like Wuhan.
Beijing has carried out nucleic acid tests for a large population to find possibly infected people. On Sunday, Beijing tested 76,499 people and found only 59 positive results.
Wu said that this number shows that the spread has been on a small scale, and it is still at an early stage since Beijing has taken timely measures.
The next three days are very important for the city, because if the number does not increase a lot, the outbreak would be put under control, Wu said.
Wu said for Beijing, there is no need to level up the emergency response level as a whole, but some districts need to level up their response.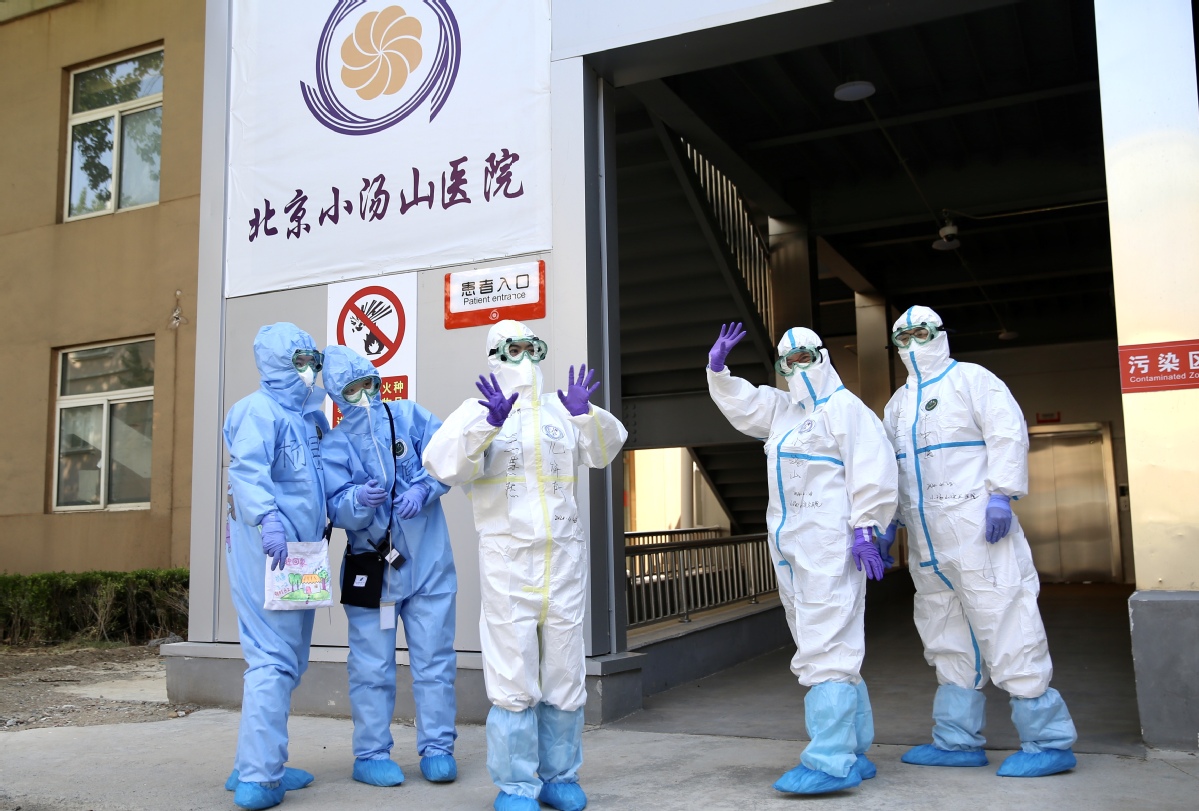 Medics wave goodbye to the cured COVID-19 patients at the Xiaotangshan Hospital in Beijing, on April 28, 2020. [Photo by Zou Hong/chinadaily.com.cn]
Question 7: Does Xiaotangshan Hospital need to reopen?
Beijing Xiaotangshan Hospital was built in 2003 to treat SARS-infected patients and started to receive COVID-19 patients on Jan 23. It discharged the last COVID-19 patient on April 28.
Wu said that there should be preparations that don't involve waiting to see if the outbreak expands.
"Our optimism is based on full preparations and full implementation of epidemic prevention measures, rather than blind optimism," he said.
Lei Haichao, Party chief of the Beijing Municipal Health Commission, said on May 17 that Beijing would keep the "3+2" medical treatment service system, involving Ditan Hospital, You'an Hospital, 302 Military Hospital, Xiaotangshan Hospital and China-Japan Friendship Hospital, during the COVID-19 pandemic.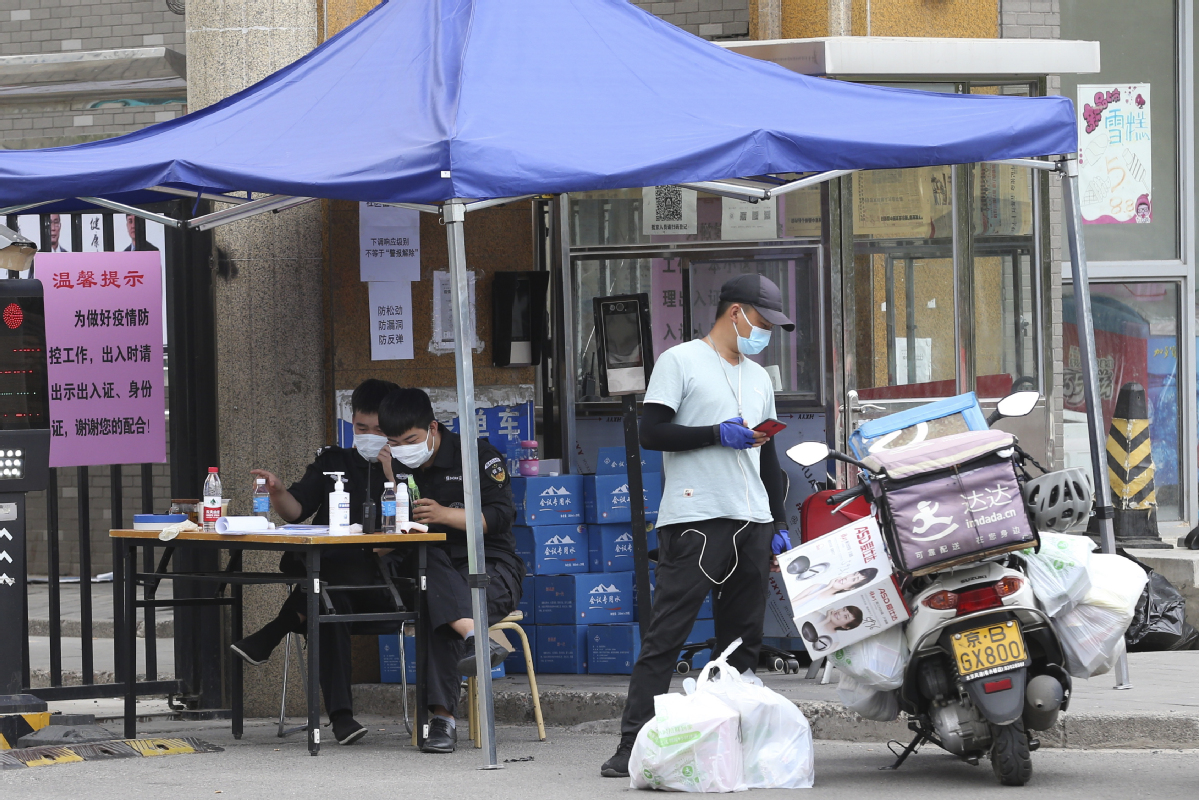 A delivery worker waits at the gate of a residential compound near the Xinfadi wholesale market in Beijing on Monday. Measures have been introduced to control access to 11 communities near the market, as the new COVID-19 cases in the city have been found to be linked with it. ZHANG WEI/CHINA DAILY
Question 8: Can deliverymen enter neighborhoods?
Xu said that because of the new outbreak, neighborhoods and villages have implemented emergency response measures. Personnel guard the entrances around the clock to check people's temperature and disinfect public places.
People living in the neighborhoods and villages show their pass cards, people returning to Beijing should fill in forms with their information, and outsiders should provide their health codes, with no abnormality, before entering.
Deliverymen and other service people have to provide their health codes to prove their health conditions, Xu said.
Beijing is large and some places are still safe, so there is no need to limit people visiting Beijing, Wu said. But visitors should pay attention to the places they will visit and not visit places with high risks, he said.
Wu said there is no need to panic as Beijing has moved swiftly to contain the outbreak.
"The know-how accumulated over the last few months, and with the use of advanced technologies like big data, have served us well in our contact tracing and diagnosis initiatives," he said.
"The valuable information we are collecting will be instrumental in Beijing's prevention efforts, and may even reveal new insights into the mysteries of the virus' mode of transmission," he added.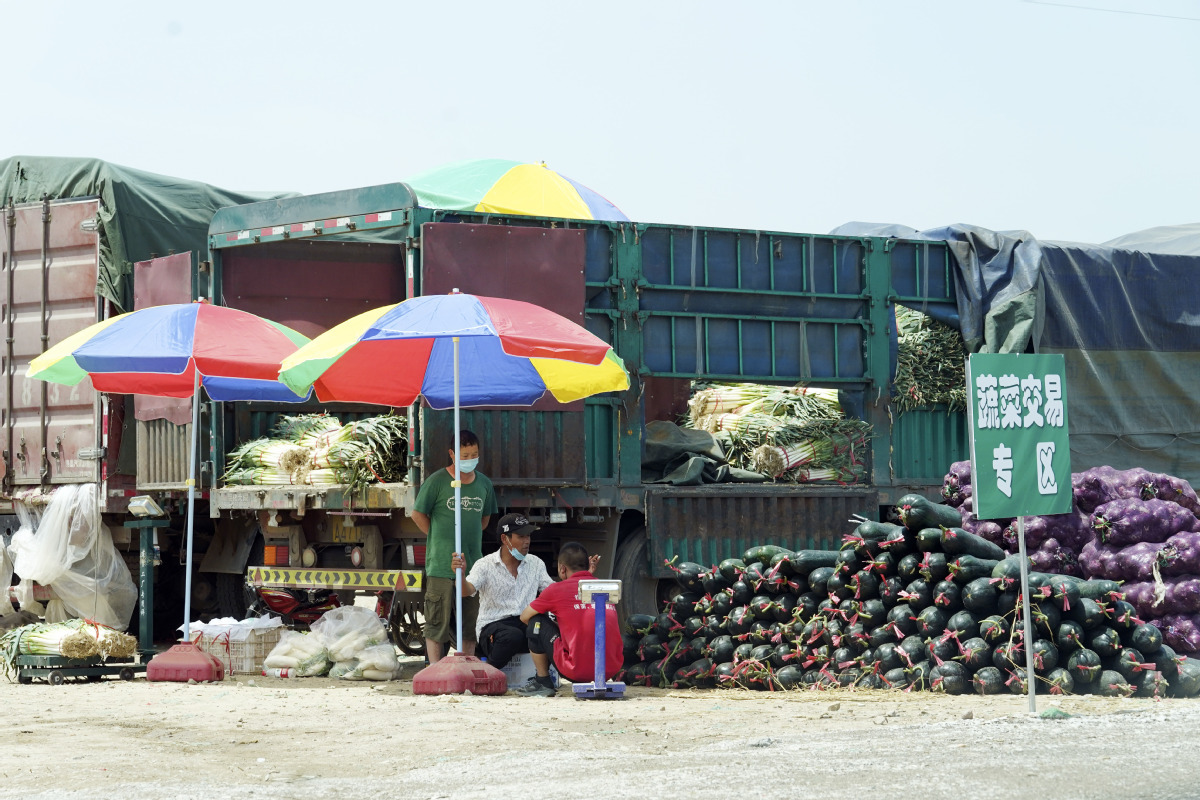 Vendors at a temporary vegetable and fruit trading area near the Xinfadi wholesale market in Beijing on June 16. [Photo by Feng Yongbin/chinadaily.com.cn]
Question 9: How will farm produce supplies to Beijing be maintained?
The overall supply of farm produce in Beijing was increased after the suspension of the Xinfadi market, said Wang Hongcun, an official with the Beijing Municipal Commerce Bureau on Monday.
"Though the control measures in the Xinfadi Agricultural Products Wholesale Market have temporarily affected distribution channels, commerce authorities are stepping up efforts to coordinate market resources, and the supply in Beijing can be guaranteed," he said.
An additional temporary food trade market covering an area of 3.33 hectares was set up, and six temporary trade markets have been set up for traders at the Xinfadi market, Wang said.
On Monday morning, a total of 1,800 tons of vegetables were traded in those six markets, nearly double the amount on Sunday, Wang said.
Moreover, he said, six other large wholesale markets across the city moved fast to increase their vegetable supplies.
Supermarket chains also responded quickly, Wang said, citing Jingkelong, which tripled its direct purchases from vegetable bases in Hebei and Shandong provinces, contributing to a stable and well-ordered food supply in the city.
The bureau also sent an information list of 494 major vegetable sellers in the city's seven big wholesale markets to secondary wholesale and retail markets for direct trade, Wang said. Also, he said a quick response mechanism has been established to monitor the supply and demand of food.
[disclaimer] the above article is reprinted from the Internet, which is intended to convey more information. It does not mean that this website agrees with its views and is responsible for its authenticity; if the copyright unit or individual of the manuscript is unwilling to issue it on the website, please contact us or call us within two weeks.andy steel structure.