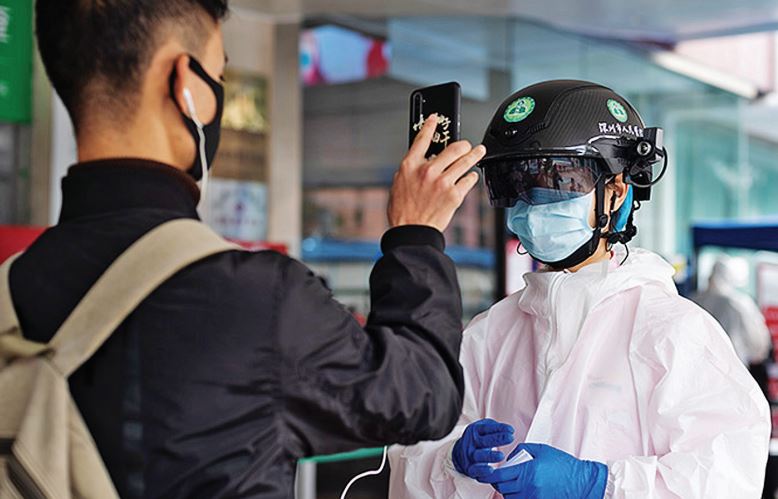 Fever-detecting helmets from China allow health officials to detect high temperatures. Photo provided to China Daily
"Hi, this is the health office," said the voice on the phone. "Can we kindly take a minute of your time to learn more about your health condition?"
It's not uncommon to receive such a call amid the COVID-19 outbreak, though for some the conversation has had a highly technological element.
Beginning in late March, some residents in South Korea have received such calls not from human beings, but from an artificial intelligence-enabled system.
Launched by the Chinese AI pioneer iFlytek and South Korean software company Hancom, the AI system is designed to help South Korea better track people who have had close contact with confirmed cases of the novel coronavirus.
"The system can improve the efficiency of screening potentially affected people, " said Wu Xiaoru, rotating president of iFlytek. "It can also be used to keep track of the health situation of discharged patients in order to reduce the burden on front-line medical workers."
The move is part of broader efforts by Chinese companies to leverage their technological prowess to help foreign nations in the global battle against the pandemic, as confirmed cases around the world rise dramatically.
By Tuesday, the pandemic had affected over 200 countries and regions, with the number of confirmed cases exceeding 719,000 and total deaths reaching 33,673, according to the World Health Organization.
From AI and 5G to cloud computing, Chinese technology companies are contributing to the world the experiences they have gathered in helping to contain the outbreak in China.
The AI-powered telephone system, for instance, played an active part in China's efforts to control the contagion. According to iFlytek, from Jan 21 to Feb 4, its AI-powered calling system benefited more than 7.67 million people on the Chinese mainland, including those in Hubei province, the region hit hardest by the epidemic, with the system making an average of 800,000 calls per day.
Chinese technology giant Huawei Technologies Co and its partners are also bringing innovative medical solutions to foreign countries. Huawei Cloud, its cloud computing unit, partnered with AI company Huiying Medical Technology to offer AI-enabled auxiliary diagnostic systems to hospitals in Ecuador.
Ecuadorian Vice-President Otto Sonnenholzner recently said in a post on social media that, thanks to the support of Huawei Cloud, Ecuador has become the first country in Latin America to have an AI-enabled auxiliary diagnostic system in two local hospitals.
Zheng Yelai, president of Huawei Cloud, said, "The AI-enabled system can help doctors make faster, more accurate decisions on whether patients are infected with the virus."
According to the company, it took only 14 hours for Huawei and Huiying to connect the system to a hospital in Ecuador. Hospitals in dozens of countries are contacting Huawei Cloud for possible cooperation to use the system.
Shi Yuxin, deputy head of the Shanghai Public Health Clinical Center, said in an earlier interview that computerized tomography imaging is an important reference for the diagnosis and treatment of novel coronavirus pneumonia.
AI-enabled systems can help classify the pneumonia caused by the virus according to its severity and calculate the burden on the lungs. Traditional quantitative analysis performed by humans usually requires up to six hours, but the AI system is able to perform the same task within a minute, Shi said.
In addition to offering cutting-edge technology and solutions, an increasing number of Chinese enterprises and residents are providing much-needed medical protective gear to foreign countries.
Jack Ma, founder of Chinese e-commerce giant Alibaba Group Holding, said, "At such a moment, only by sharing resources and experiences can we overcome the disaster."
The Jack Ma Foundation and the Alibaba Foundation have increased efforts to provide medical masks and protective suits to many European countries and the United States.
Africa's response to the outbreak also received a major boost when the two foundations donated more than 1.5 million laboratory diagnostic test kits and over 100 metric tons of infection prevention and control materials to the continent.
A number of Chinese tech companies have also launched platforms on which Chinese doctors can offer online medical advice to people overseas. The Hangzhou-based digital health company WeDoctor has launched a Chinese-English language platform, the Global Consultation and Prevention Center, in a bid to integrate medical resources from home and abroad.
Liao Jieyuan, founder and CEO of WeDoctor, said that for the first phase, the platform has invited nearly 7,000 medical professionals from China, many of whom have experience in the nation's fight against the novel coronavirus outbreak.
On WeDoctor's videoconferencing platform, Zhao Lei, a senior doctor from the infectious disease department at Wuhan Union Hospital, recently shared his experiences with about 60 US and Canadian healthcare professionals about treating COVID-19 patients.
"We have gone through the battle in Wuhan (the hardest-hit city in China)," Zhao said. "I want to share what we have learned, and help them gain confidence in winning their fight."
masi@chinadaily.com.cn

[disclaimer] the above article is reprinted from the Internet, which is intended to convey more information. It does not mean that this website agrees with its views and is responsible for its authenticity; if the copyright unit or individual of the manuscript is unwilling to issue it on the website, please contact us or call us within two weeks.