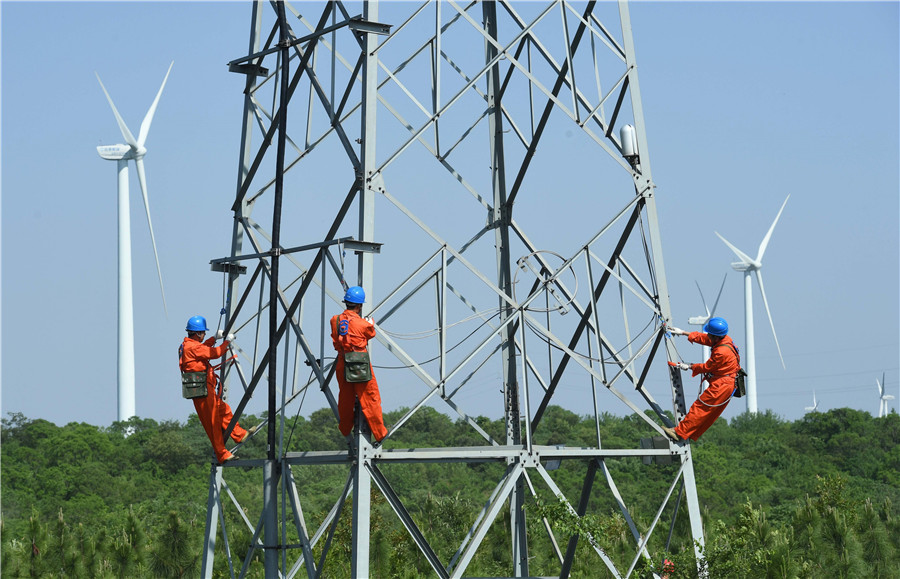 Workers check power transmission lines in Mingguang, Anhui province. [Photo by Song Weixing/For China Daily]
China has invited public opinion on allowing certain qualified market entities to get involved in oil and gas exploration and production and on further increasing the market share of non-fossil fuel, the National Energy Administration said on Friday.
According to the draft, the government will continuously develop domestic onshore and offshore oil and gas exploration and production. Oil and gas companies in the country are encouraged to adopt advanced technologies related to oil and gas exploration.
The government has also encouraged the economic and effective exploration and production of unconventional low-grade oil and gas resources, including tight oil, shale oil, shale gas and coal bed gas.
Under the premise of protective development, market entities that meet the entry requirements are also allowed in oil and gas exploration and production, it said.
Analysts said the establishment and improvement of the energy security reserve system will ensure the development of the country's strategic energy resources, improve the energy forecast, warning and emergency handling mechanism.
Li Li, research director at energy consulting company ICIS China, said the proposed energy rule will ensure the country's energy security, vitalize the industry by diversifying the scope of participants, and help pave the way for a greener energy mix of the country, unifying the understanding of industry and society while reducing misunderstandings and disagreements.
The rules will help form a more competitive environment, she said.
"While it takes years to figure out the basic principles, it's worth it."
According to the draft, the government will also encourage the prioritized utilization of renewable energy, foster safe and efficient development of nuclear energy, develop distributed energy according to local conditions, and push forward the replacement of fossil fuels with non-fossil fuels.
According to Wang Lu, Asian renewables, power and coal analyst at Sanford C. Bernstein, China has made it clear in the proposed energy rule that renewable energy will be accorded top priority.
"We believe the political economy's calculation is in favor of renewables on employment, industrial policy, energy independence, environmental concern and geopolitical influence," she said.
"Employment is fundamental to the consideration. Jobs in the renewables industry totaled 4.3 million in 2018, which already outnumbered the coal mining industry's 3.2 million."
Wang believed that renewables will continue to increase their market share in China's primary energy consumption.
Coal accounted for 58 percent of Chinese primary energy mix while non-fossil fuels, including nuclear, hydro, wind and solar, accounted for 15 percent in 2018.
[disclaimer] the above article is reprinted from the Internet, which is intended to convey more information. It does not mean that this website agrees with its views and is responsible for its authenticity; if the copyright unit or individual of the manuscript is unwilling to issue it on the website, please contact us or call us within two weeks.