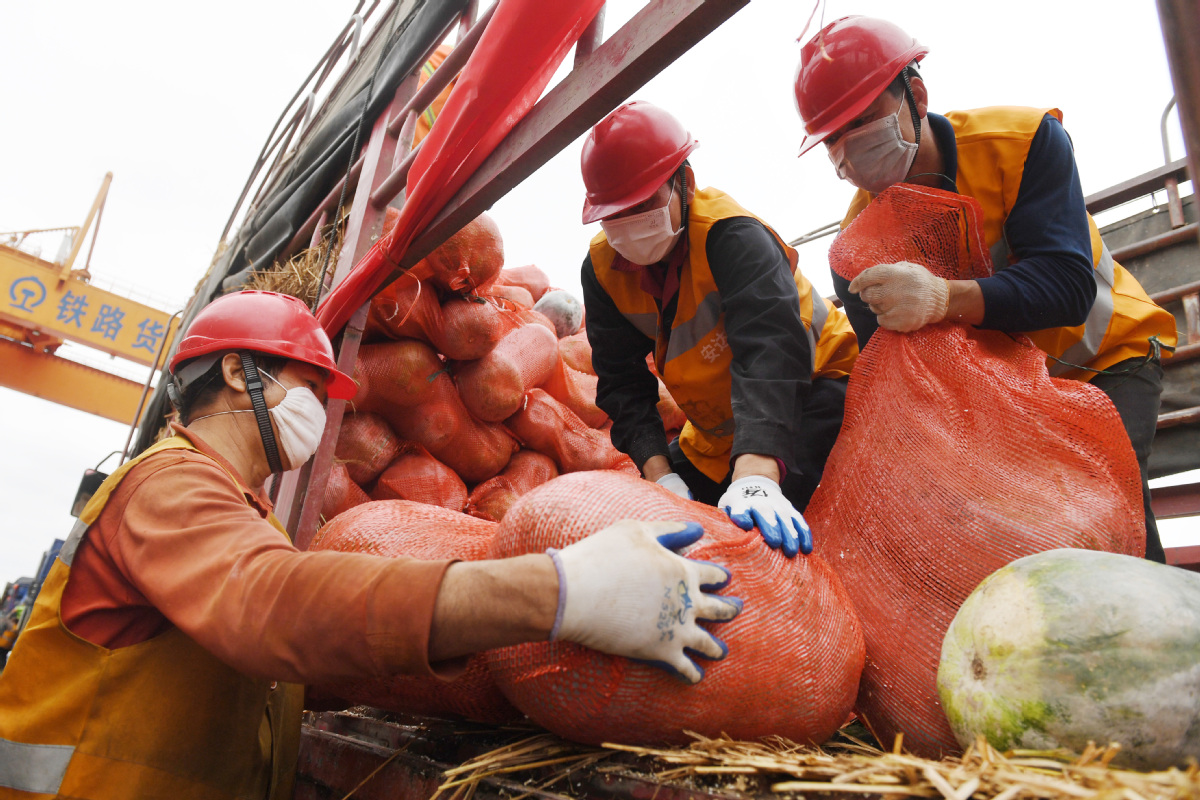 Workers load winter melons for Hubei at Nanning Railway Station, Guangxi. [Photo/Xinhua]
Different areas ensure supplies reach stricken province
Editor's note: Novel coronavirus pneumonia is posing a worldwide threat. Here, we take a look at how China is playing its role in the global fight against the outbreak by mobilizing a vast amount of resources. This is the seventh part of a series titled "United Actions".
The Art of War, a military treatise written in the 5th century BC by strategist Sun Tzu, includes this sentence, "Armies without baggage and grain will perish."
In the battle against novel coronavirus pneumonia, China has mobilized a vast amount of resources to guarantee that sufficient supplies are available in Hubei province.
Food is being sent from across the country to Wuhan, the provincial capital and former epicenter of the outbreak, in answer to a call by the central government to ensure that the city's 11 million residents can obtain daily necessities.
Since Jan 13, vegetables have topped the list of produce transported to Hubei by trucks and vans.
Before that date, construction materials, coal and minerals and fast-delivery packages were the top three categories on the list, but supplies of fruit and vegetables have risen significantly since then, according to freight service provider Manbang Group.
Some 300 metric tons of garlic and the same quantity of other vegetables have been donated to Hubei by Lanling county in Shandong province.
Wang Shujian, vice-governor of Shandong, said: "We have enough vegetables growing in the fields here. Hubei, you can feel assured."
The central government designated a total of eight provinces and municipalities to supply Hubei with eight types of food: meat, vegetables, eggs, milk, rice, flour, edible oil and instant foods.
Cui Xinjian, a farmer in Cuilingxi, a village in Shandong, has sent Hubei cucumbers and tomatoes grown in two greenhouses.
"I only go to my greenhouses when I need to pick the vegetables. At other times, I water them, adjust the lighting and ventilate them using an app on my phone called Intelligent Agriculture," he said, adding that this helps to protect him from the virus.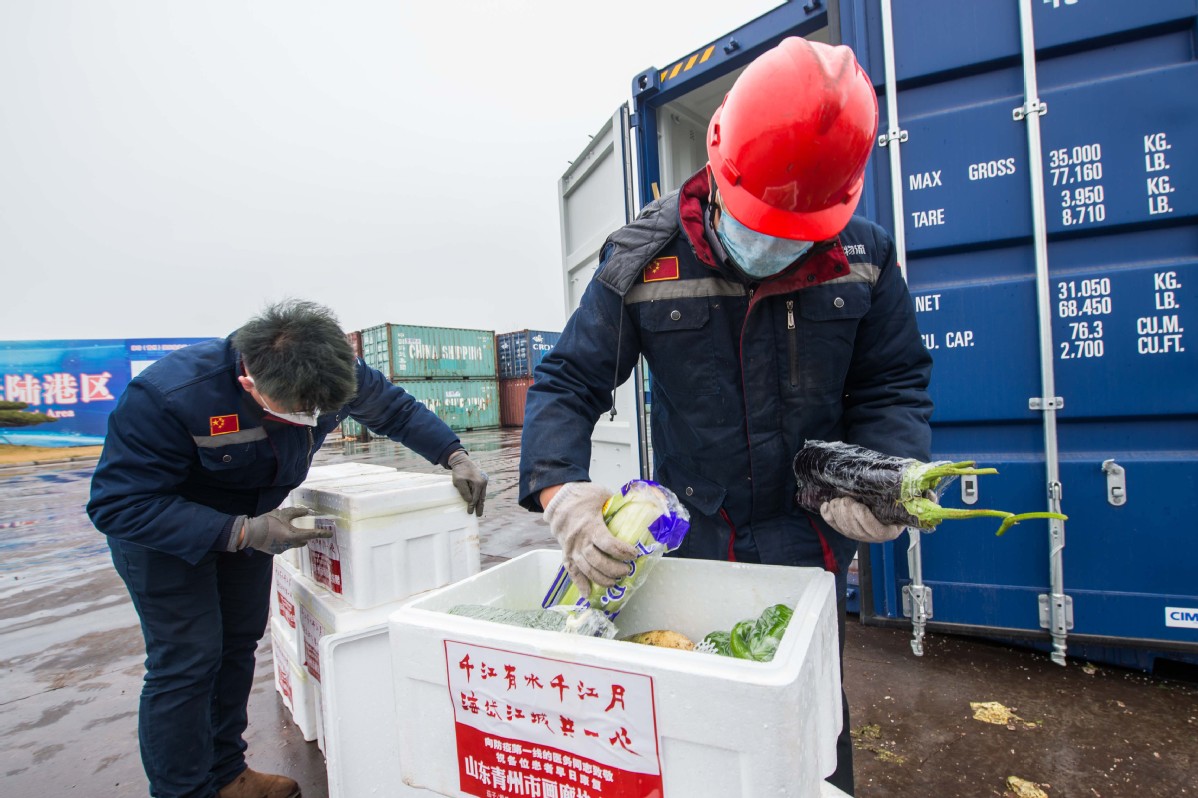 Workers pack fresh vegetables in Weifang, Shandong province, for delivery to Wuhan, Hubei province. [Photo by Wang Jilin/For China Daily]
Shouguang, a county-level city in Weifang, Shandong, is producing a rich variety of vegetables amid the outbreak thanks to the wide use of technology.
One of the country's major vegetable production bases, it provides one-third of those consumed in Beijing, while Lanling, known as the "home of garlic", provides half the vegetables consumed in Shanghai.
Vegetables have been sent to Wuhan from Shouguang since Jan 28.
Qiao Risheng, the deputy mayor of Shouguang, is impressed by the quick and efficient response from local farmers and the owners of vegetable businesses in selecting the first produce donated to Wuhan.
After receiving orders for vegetables to be sent to the city on Jan 27, the Shouguang government mobilized markets, agricultural parks and farmers to select fresh supplies and to complete quality inspection, packaging and loading overnight. Next day, the vegetables were sent to Wuhan by 15 trucks.
"We spent 16 hours packaging 300 tons of vegetables, a task that usually takes 48 hours," Qiao said.
"When we asked for volunteers prepared to drive for nearly 20 hours to transport the vegetables, many drivers offered their services. They felt they had to help Wuhan out."
Intelligent management systems have been used widely during the outbreak to save labor.
Zhang Haibo, who is in charge of a tomato greenhouse at a modern agricultural park in Tianliu, a town in Shouguang, said, "For this greenhouse, I only need one or two people to tend the tomatoes, which can substantially avoid cross-infection."
Shandong, which lies some 1,000 kilometers east of Wuhan, has activated emergency plans to increase supplies of fresh vegetables to support demand in Hubei and elsewhere in the country.
As the nation's largest production and trading area for vegetables, Shandong has long supplied major cities, especially in autumn and winter, thanks to greenhouses, which are used widely throughout the province.
Between Spring Festival and March 3, Shandong sent 7,060 tons of green vegetables to Hubei, and it has also transported 107 tons of pork and 2,498 tons of poultry to the province.
Shandong produces 47,000 tons of flour, 20,000 tons of edible vegetable oil, 52,000 tons of vegetables and 9,300 tons of eggs every day, according to the provincial Agricultural and Rural Affairs Department.
It also has 92,000 tons of pork stocks and a poultry inventory of 412,000 tons, sufficient to meet demand.
According to the Ministry of Transport, from Jan 27 to Feb 28, more than 541,300 tons of daily necessities and 1.18 million tons of other commodities, such as coal and petrol, were transported to Hubei from around the country.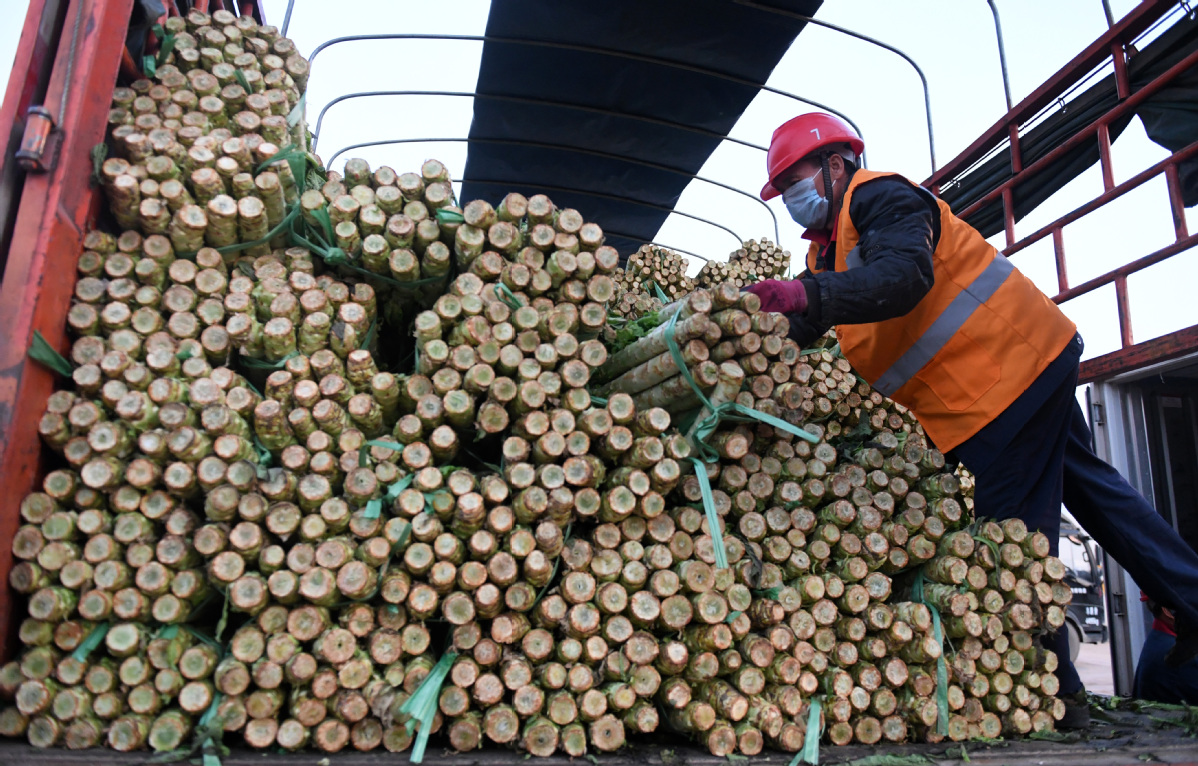 Vegetables bound for Hubei are delivered to a freight train in Nanning. [Photo/Xinhua]
Henan province and Chongqing municipality, which both neighbor Hubei, have spared no effort in providing support.
By Feb 3, Henan, a major production center for biscuits, instant noodles, sausages and frozen dumplings, had donated more than 110,000 boxes of instant food to Hubei.
Wholesale markets in Henan and Chongqing are sending about 10,000 tons of vegetables to Wuhan every day, according to the Ministry of Commerce.
A wide variety of food, including rice from Jilin province, beef from Xinjiang Uygur autonomous region, milk from Inner Mongolia autonomous region, seafood from Dalian, Liaoning province, and fruit from Yunnan province and Guangxi Zhuang autonomous region are being transported to Hubei.
Since last month, supplies of fresh fruit and vegetables have been sent to the province from Guangxi-a key production area for such produce-by two weekly rail freight services.
Jiang Liansheng, head of the Department of Commerce in Guangxi, said,"We have regular discussions with our counterparts in the Hubei provincial government in order to work out the type and amount of supplies that are needed."
All agricultural produce that is transported must pass pesticide residue detection tests and be given a certificate guaranteeing quality, Jiang said.
"Fruit and vegetables are picked two days before the train leaves, in order to make sure the produce is fresh. We also insist on cold-chain transportation and ensure that all our produce can be traced."
As of March 11, the Guangxi government had sent 13 freight trains to Hubei, carrying a total of 2,600 tons of daily necessities. Some 2,500 tons of the supplies were donated by 170 companies, agricultural cooperatives and individuals from 13 cities in Guangxi.
On Feb 7, a freight train left Guilin, Guangxi, for Xianning, Hubei, carrying 200 tons of fruit and vegetables donated by local companies and agricultural cooperatives for distribution to designated hospitals and welfare organizations.
With the help of the Guilin government, it took workers just three days to gather the supplies together and to complete all the quality tests.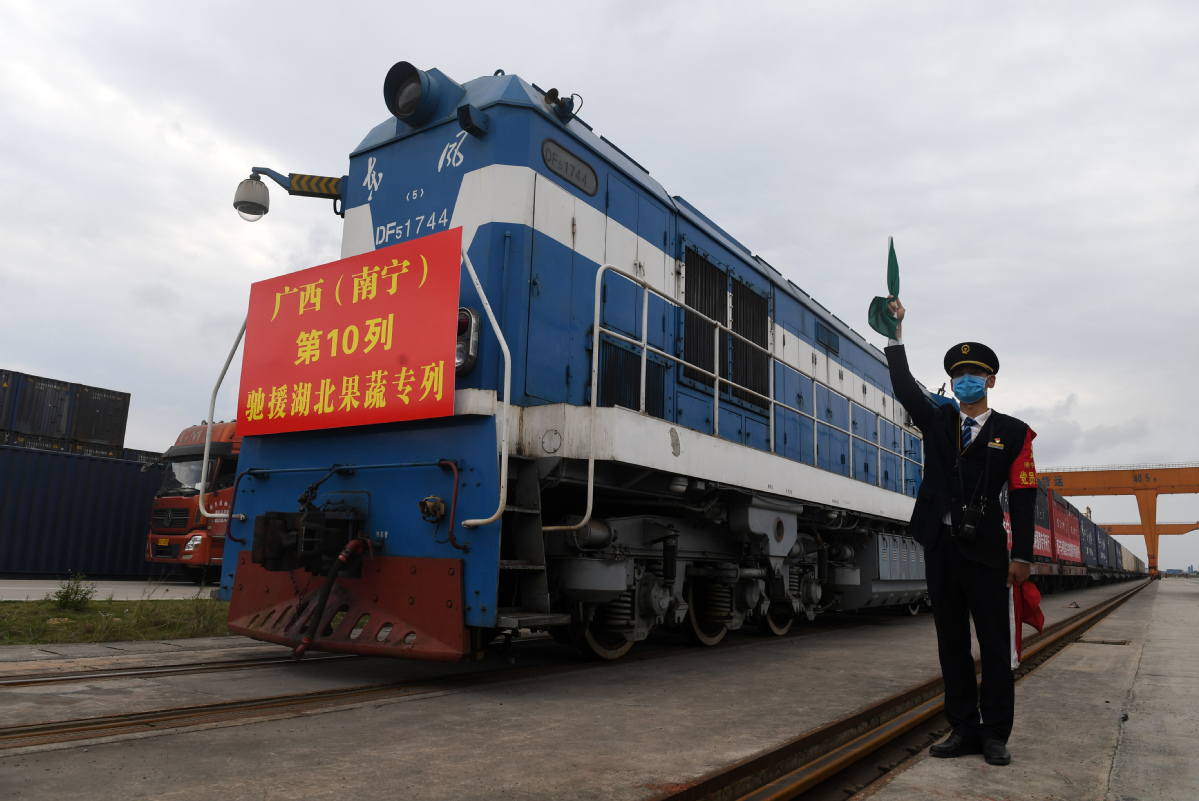 A freight train leaves Nanning, Guangxi, for Xianning, Hubei, carrying 178 tons of fruit and vegetables. [Photo/Xinhua]
Wei Xinye, general manager of a company in Yongfu county, Guilin, that produces fruit for use as a traditional medicine to treat coughs and moisten the lungs, donated 50,000 pieces of fruit.
"We had already sent 100,000 pieces to Hubei by truck. We hope our products can ease the suffering of medics and patients in the province and bring a little sweetness to their lives," Wei said.
Qin Jibing, president of the Lipu Orange Plantation Association in Guangxi, raised money to buy 50 tons of oranges from farmers.
"In this way, we can gather a large amount of oranges in a very short time and send them for quality testing all together. We want to make sure that people in Hubei who are infected with the virus can have the best fruit," said Qin, who plans to make more donations.
China is the world's largest producer of vegetables, with an annual output of more than 700 million tons. But amid the outbreak, transporting them to Hubei has been a challenge.
To ensure supplies reach the province smoothly from elsewhere in the country, five transportation stations have been set up around Wuhan.
Cao Guangjing, deputy governor of Hubei, said at a news conference late last month that goods transported to the city are unloaded at the stations and distributed to districts by logistics service providers.
More than 3,500 supermarkets and stores have been operating in Hubei during the lockdown, with group purchase and delivery services provided to residents.
Before the lockdown was imposed in Wuhan, more than 400 medium-and small-sized agricultural markets were open in the city as the main channels for vegetable sales, but most have since closed due to quarantine measures.
Three State-owned enterprises operating more than 1,100 stores have stepped in to fill the gap and have remained open for business, despite a shortage of workers and protective equipment.
In addition, the two largest agricultural trade markets in Wuhan-Baishazhou and Sijimei-are ensuring an abundant supply of vegetables for stores and supermarkets.
Qi Xin in Zhengzhou contributed to this story.
[disclaimer] the above article is reprinted from the Internet, which is intended to convey more information. It does not mean that this website agrees with its views and is responsible for its authenticity; if the copyright unit or individual of the manuscript is unwilling to issue it on the website, please contact us or call us within two weeks.