From July 7 to 10, a total of 10.71 million candidates are expected to sit this year's annual college entrance exam, or gaokao, up 400,000 from last year. Due to this year's COVID-19 epidemic, rigorous measures have been put in place to ensure safety and fairness. Let's take a look.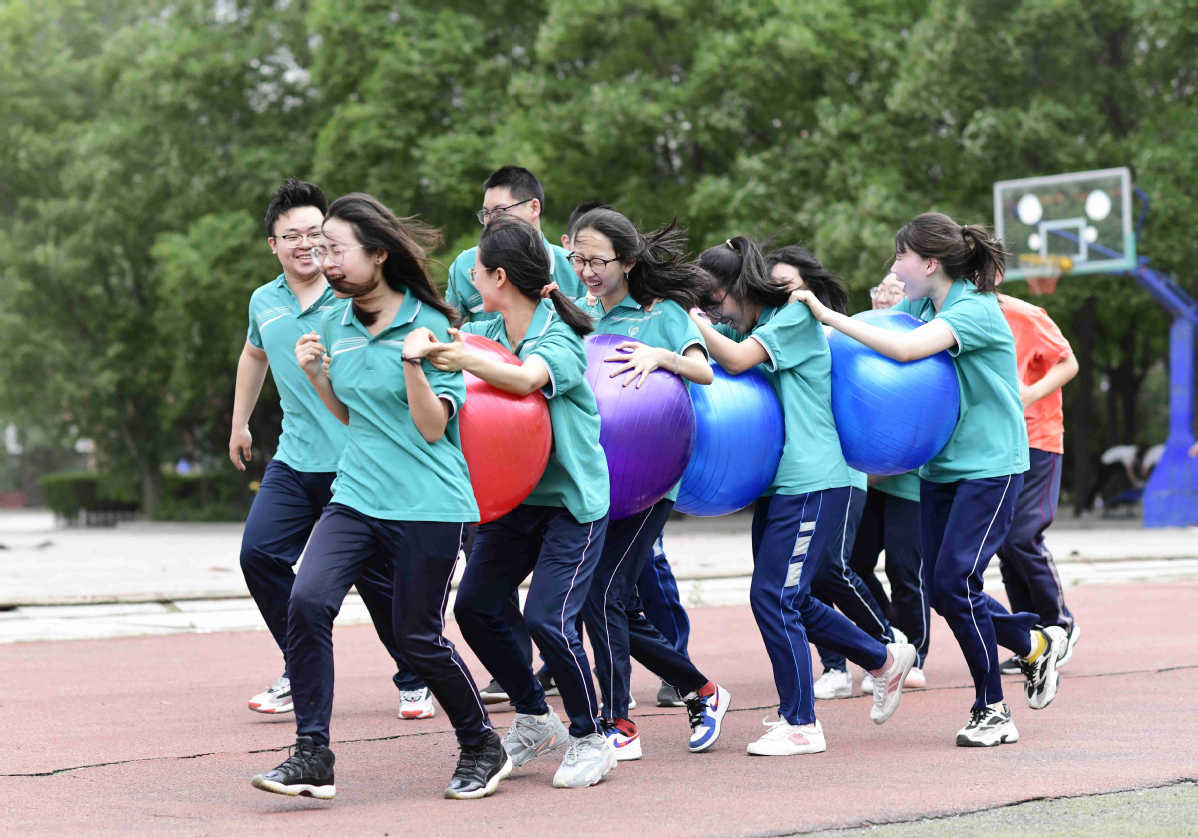 Students take part in games during a break from preparing for next month's national college entrance exam. Their school, No 18 Middle School in Hohhot, capital of the Inner Mongolia autonomous region, organized the games on June 4 to relieve pressure from studying for the high-stakes examinations. [Photo by Wang Zheng/For China Daily]
Air conditions at test sites:
* The standard test rooms can use either the split air conditioners or central air conditioning, while the quarantine test rooms must only use the split air conditioners.
* Test rooms without air-conditioning facilities can use natural ventilation, electric fans and other methods to improve ventilation. Doors and windows should not be shut completely when using electric fans and ice cubes to cool down the rooms.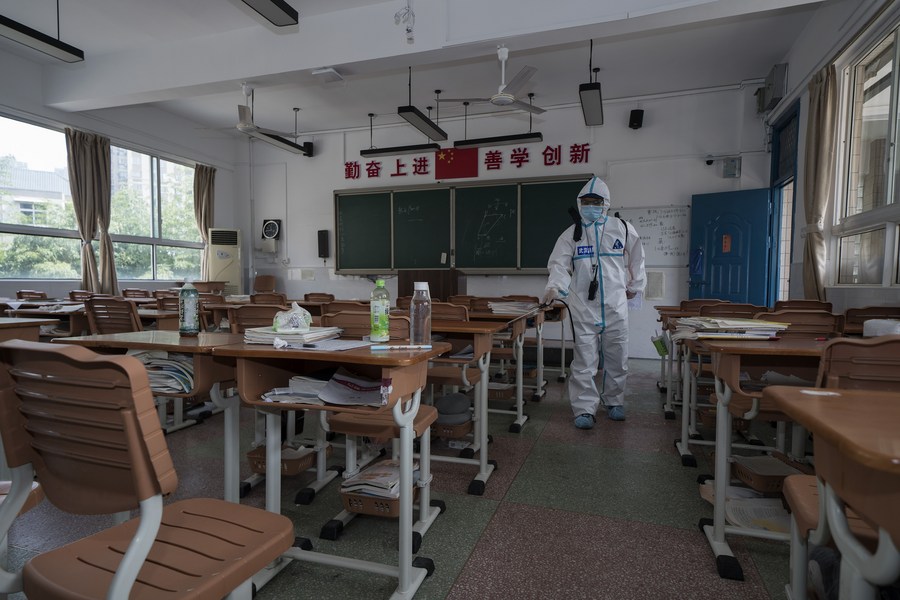 Prevention and disinfection at test sites:
* Schools that have had confirmed infections cannot be used as test centers and all test centers should carry out strict sanitization and sterilization before the exam.
* All the examinees and staff members should undergo 14-day health monitoring and temperature checks before the exam.
* They will have their body temperatures checked at the entrance and will only be allowed into test sites if their temperature is below 37.3 degrees Celsius.
* In order to avoid mistaking normal body temperature for a fever affected by the hot weather, special rooms will be set up for temperature recheck of those who show fever.
* For students showing symptoms like coughing, fever or other respiratory symptoms before or at the site of the exam, sufficient advice and evaluation from health departments, disease control agencies and medical institutions will be provided to them so as to decide whether they can continue the test or not.
Back-up test rooms for those who show symptoms on-site
* Every 10 standard test rooms must come with a back-up room (or quarantine test room) in case students need to sit separately. And at least three of these rooms will be set up at each testing site.
* Each quarantine test room arranged for students that show symptoms of fever and cough during the exam should only have one student there.
* When there are not enough quarantine test rooms, up to four students will be allowed to sit at four corners of the test rooms.
* If any student shows symptoms during the test, they will be quickly transferred to quarantine test rooms, and offered extra time lost during this period.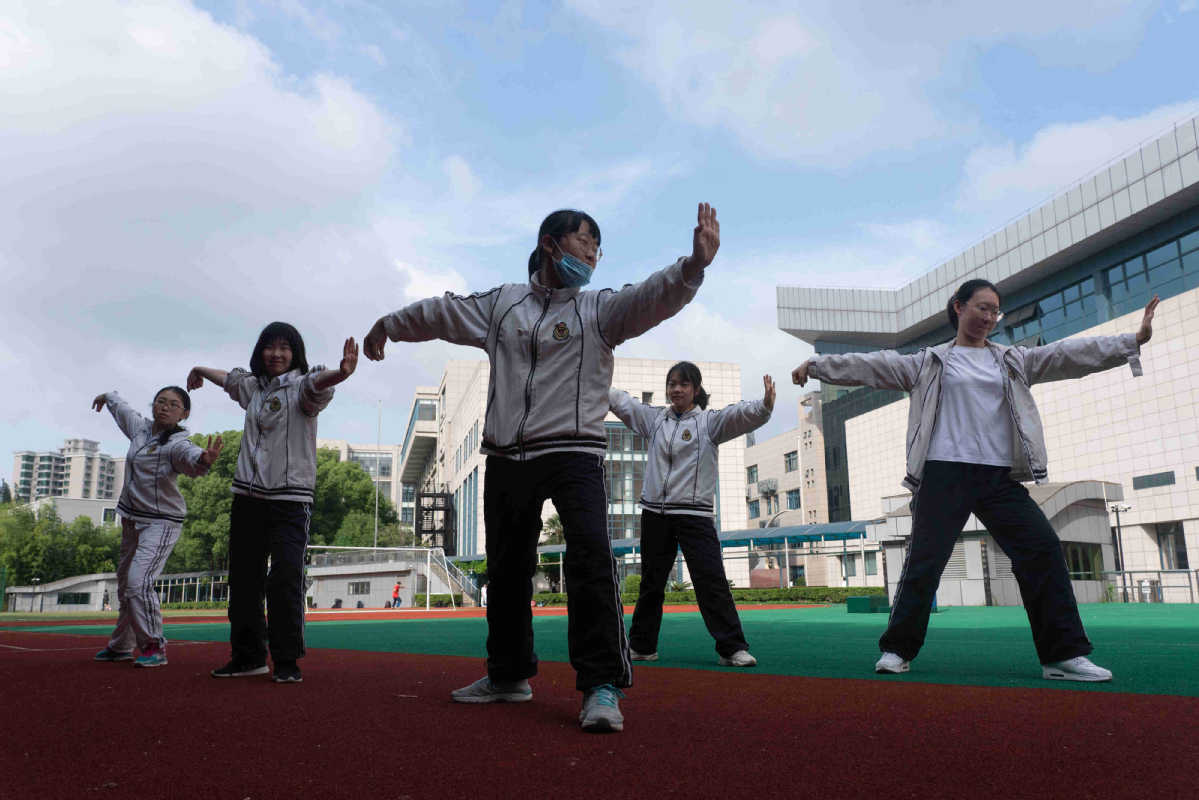 Students take a physical education course at Shanghai Foreign Language School Affiliated to Shanghai International Studies University on June 8, 2020. [Photo by Gao Erqiang/China Daily]
Is wearing a face mask required during the test?
* Students from medium- and high-risk areas as well as all test personnel will be required to wear masks throughout the duration of the tests.
* Students from low-risk regions should wear masks before they enter the test centers and they can decide whether to wear them during the exam.
* Those attending the exam in quarantine test rooms must wear face masks throughout the duration of the test no matter whether they are from low-, medium- or high-risk areas.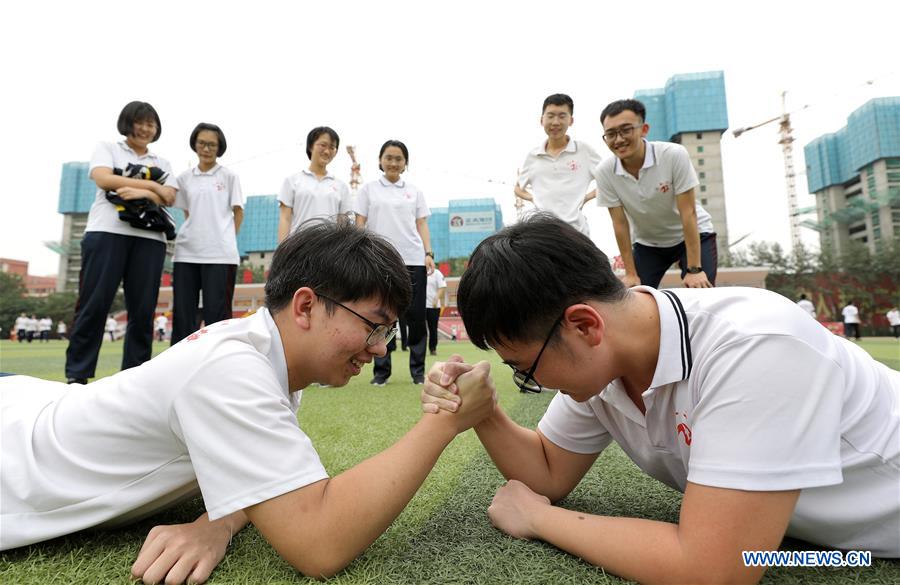 Graduating students take part in a hand wrestling game to help themselves relax in the run-up to the National College Entrance Exam (NCEE) in Hengshui No 2 High School in Hengshui, Hebei province, on June 9, 2020. [Photo/Xinhua]
Personal protection and prevention
* Students should monitor their health before taking the exam, and have their protective and disinfection materials (including face masks, gloves, paper tissues and quick-drying hand sanitizer) prepared in advance.
* Wearing a mask is not mandatory for students riding private cars or on foot or by bicycle to the test sites; those who travel by public transport are required to wear masks, and are recommended to wear disposable gloves and maintain a safe social distance.
A police officer directs traffic at a high school in Dexing city, Jiangxi province, on July 6, 2020. [Photo/Sipa.com]
Traffic management
As this year's gaokao falls on weekdays, students could face the heavy traffic pressure. Local police departments will provide access conveniences for students (especially when they are stuck in traffic or forget to bring their ID card and exam admission ticket) to help ease traffic congestion so students do not arrive late to their testing sites.
[disclaimer] the above article is reprinted from the Internet, which is intended to convey more information. It does not mean that this website agrees with its views and is responsible for its authenticity; if the copyright unit or individual of the manuscript is unwilling to issue it on the website, please contact us or call us within two weeks.andy steel structure.