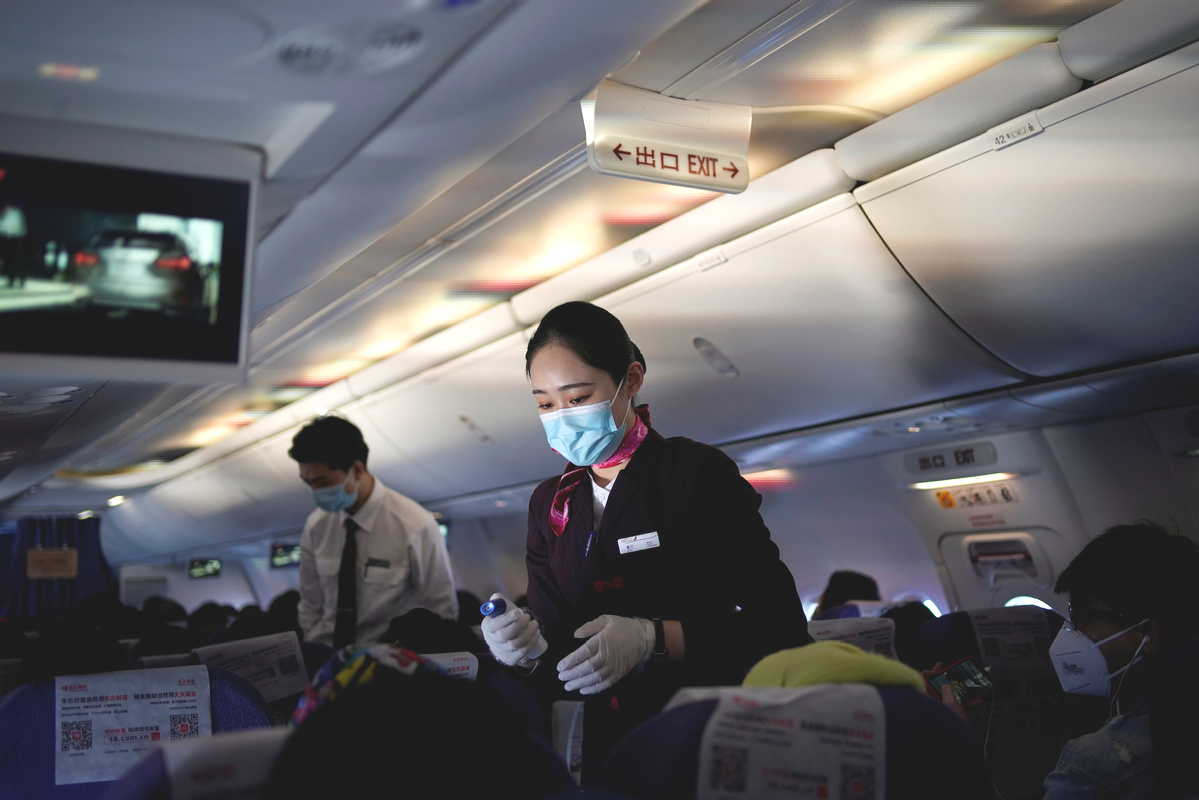 A flight attendant wearing a face mask to prevent the spread of COVID-19 takes body temperature measurements of passengers with a thermometer on a Shanghai Airlines flight in Shanghai, on March 25, 2020. [Photo/Agencies]
Mandatory testing of all foreign arrivals routine as domestic numbers plummet
Health officials and experts are calling for people to remain vigilant against the novel coronavirus and are tightening controls on inbound arrivals and asymptomatic cases as the country still faces the risk of imported infections and the threat of asymptomatic carriers.
The Chinese mainland added 44 imported cases and one domestic case associated with an asymptomatic individual on Saturday, according to the National Health Commission. There were 54 new cases on Friday-all related to overseas travel-and 55 new cases on Thursday, one of which was transmitted locally.
As of Saturday, the number of imported infections nationwide had risen to 693 from 42 countries as the virus continues to rage around the world. Meanwhile, domestic spread of the virus has been basically contained, according to health officials.
Commission spokesman Mi Feng said on Sunday that seven countries made up 83.4 percent of all imported cases on the Chinese mainland.
"It is possible that another round of infection spread will occur as a result," Mi said, adding that sporadic domestic infections also pose risks.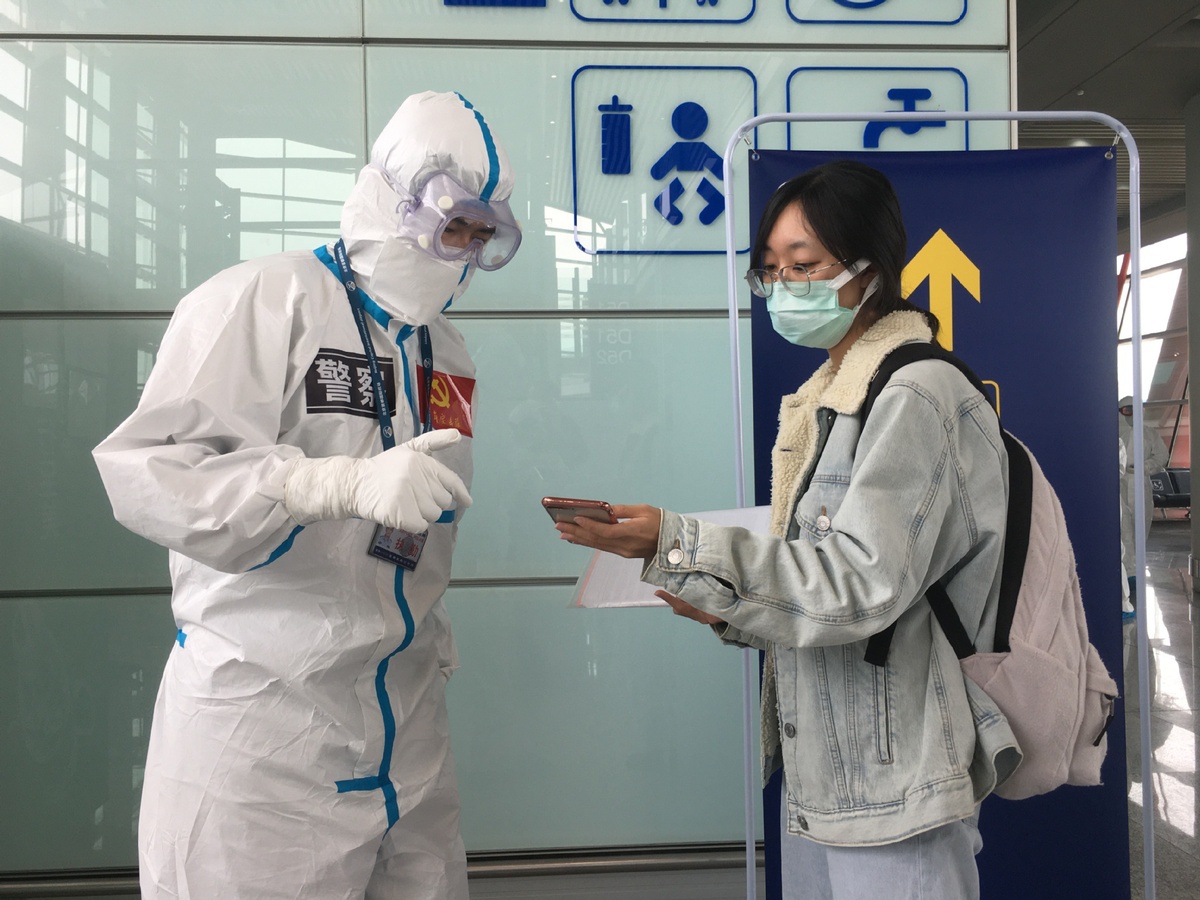 Staff in protective suits talks with a passenger at the Beijing Capital International Airport in Beijing, China, March 18, 2020. [Photo/Xinhua]
Vigilance required
Li Lanjuan, a senior adviser to the commission, also said last week that she's been deeply worried that the influx of infected travelers might trigger a second wave of infections in China. "We're confronted with a grim task ahead that is set to test whether we are able to tightly and strictly seal off our line of defense and avert a resurgence of the virus," she said in an interview.
In working to minimize the risk of a widening pandemic, authorities in China have already taken several measures to ramp up monitoring of returnees, reduce international flights and restrict entry for foreign nationals.
If the comprehensive response mechanism that entails proactive and prompt screening and quarantine can continue to be forcefully implemented, the chance of a fresh outbreak in China is slim, according to Zhong Nanshan, a renowned respiratory disease expert and epidemiologist.
"Based on the society-wide approach, new infections will be limited to a very small group, which will not amount to an outbreak. The prerequisite is to stay alert and actively test and isolate cases as some infected arrivals from abroad are highly contagious," Zhong told China Central Television on Friday.
Zhang Wenhong, leader of the Shanghai team of experts in the treatment of COVID-19 cases, also said that the main task of epidemic control for China at the moment is to curb the virus' spread from overseas. He said the task is "much easier compared with bringing the Wuhan situation under control in late January".
Zhang said there is no need for the public to be overly worried that the resumption of production in the country might trigger a reoccurrence of the epidemic.
"People don't need to be overly concerned as the country's fever clinic system and public health monitoring network still work at their highest capacity," he said during a live broadcast during which experts from home and abroad shared their experiences fighting the epidemic in different countries on Sunday.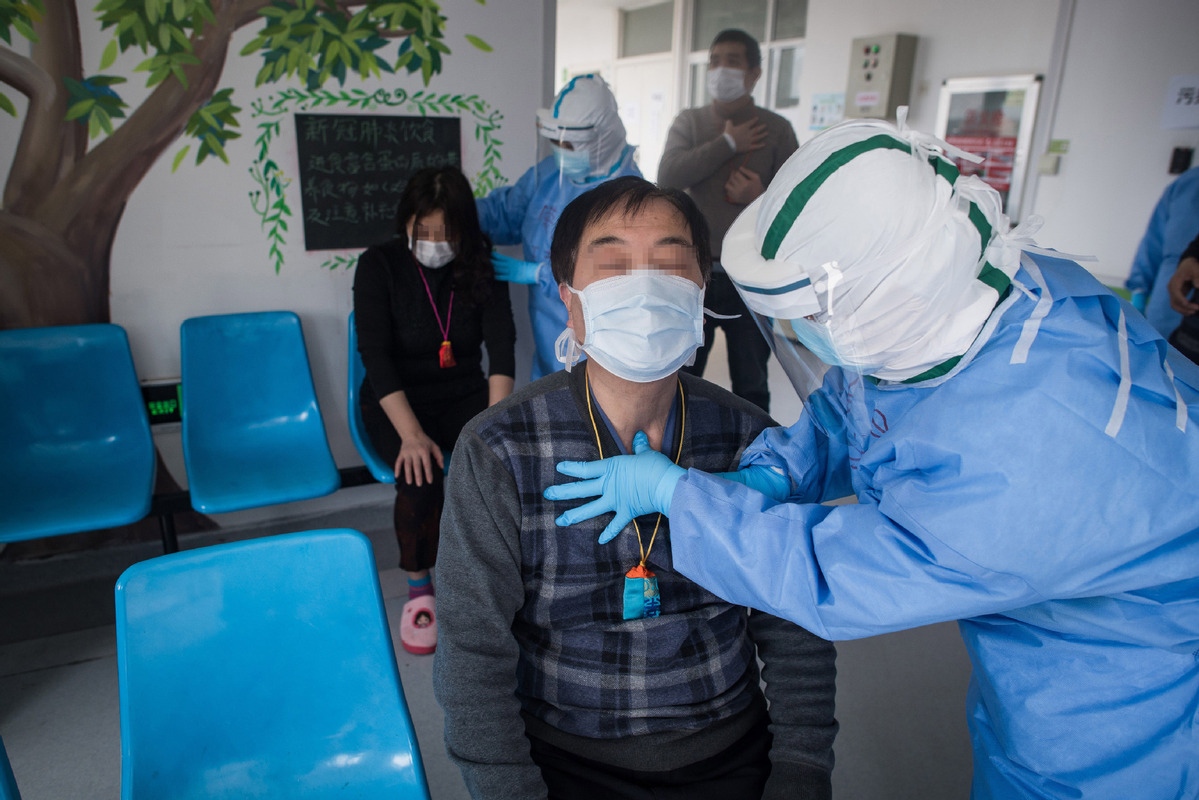 A medical worker teaches a patient who contracted the novel coronavirus pneumonia to do acupressure massage to help him recover at the Wuhan pulmonary hospital in Wuhan, Hubei province, March 19, 2020. [Photo/Xinhua
Asymptomatic group
By contrast, one development that is causing greater concern has been asymptomatic groups testing positive for the virus while exhibiting no symptoms.
The locally transmitted case added on Saturday has illustrated the danger of these carriers. The female patient in Luoyang, Henan province, is believed to have come into contact with a doctor on March 21, and the two then shared a vehicle and dined together. The doctor tested positive for the virus during an organized health check on Wednesday and was classified as an asymptomatic case, according to the provincial health commission.
Both Chinese and World Health Organization experts have said that many asymptomatic individuals are detected when placed under medical observation as close contacts of confirmed cases.
Even though scientists are still working on pinning down the true proportion of asymptomatic individuals, Zhong Nanshan said the epidemic's curve and the current mortality rate suggested that the number of undetected, symptom-free individuals is unlikely to be large in China.
However, Zhong, and the many other health experts, are not downplaying the challenge.
Zhou Wenting in Shanghai contributed to this story.
[disclaimer] the above article is reprinted from the Internet, which is intended to convey more information. It does not mean that this website agrees with its views and is responsible for its authenticity; if the copyright unit or individual of the manuscript is unwilling to issue it on the website, please contact us or call us within two weeks.