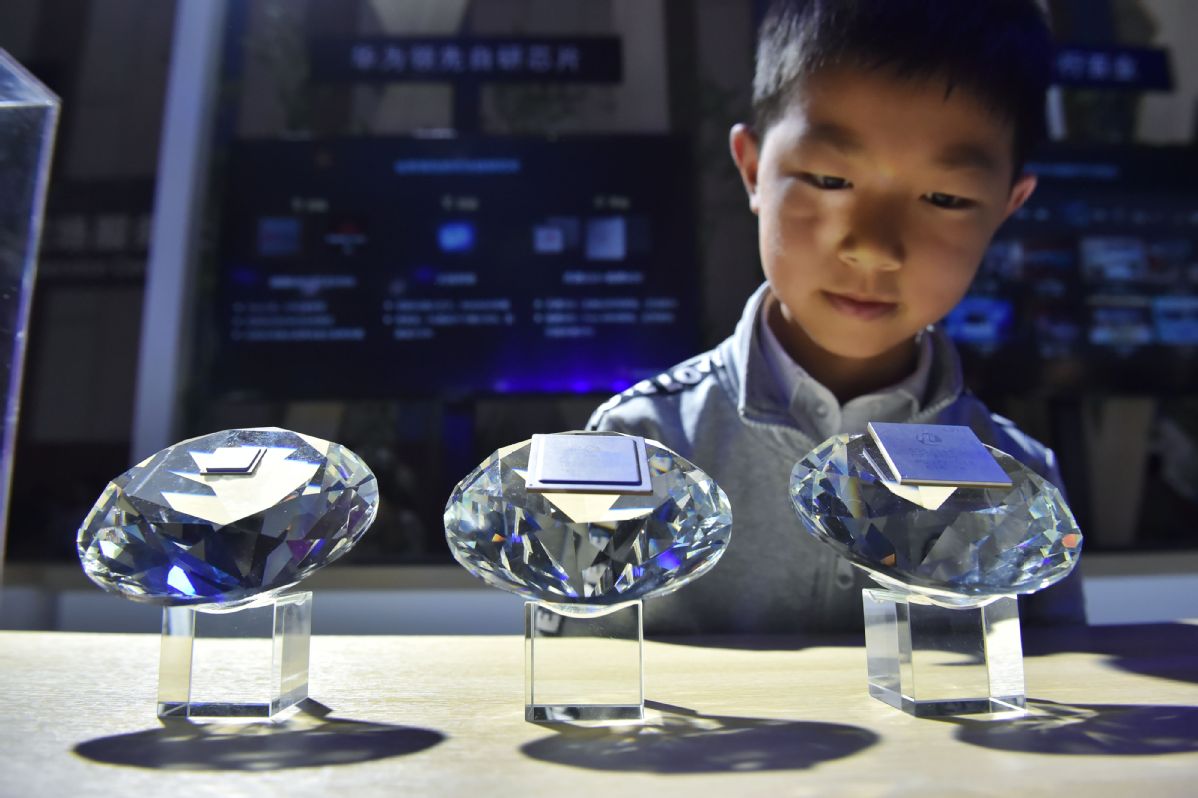 HiSilicon, the semiconductor arm of Huawei Technologies Co, became the first Chinese mainland company to enter the Top 10 global chip rankings by taking the 10th position among global firms during the first quarter of the year, a new report said.
HiSilicon moved up by five places to the 10th position in just a year, market research company IC Insights said in its latest report.
Between January and March this year, HiSilicon notched up sales of $2.67 billion, up by 54 percent on a yearly basis, despite US government restrictions and the COVID-19 pandemic, the report said.
The strong results came close on the heels of HiSilicon surpassing US chip giant Qualcomm Inc in smartphone processor shipments on the Chinese mainland for the first time amid coronavirus-linked disruptions that have harmed most of the major players, according to Chinese research firm CINNO.
The achievement highlights Huawei's resilience amid challenges and the company's technological advances, said Xiang Ligang, director-general of the Information Consumption Alliance, a telecom industry association.
The progress has also come about due to Huawei's efforts to reduce reliance on US tech companies after Washington put the company on an Entity List last May, restricting it from purchasing components and technologies from US companies, Xiang said.
"Huawei is beefing up its in-house chip research and development capabilities and diversifying its suppliers," Xiang said.
During the first quarter of this year, HiSilicon shipped 22.21 million smartphone processors, marking a slight increase from the 22.17 million units it shipped in the first quarter of last year, according to CINNO data.
HiSilicon was the only major company that did not see a year-on-year decline during the quarter as the COVID-19 pandemic disrupted supply chains and production, CINNO said.
As a result, the Huawei unit's market share surged to 43.9 percent, from 36.5 percent a quarter ago, beating Qualcomm, the longtime market leader, which took the second place with a market share of 32.8 percent.
Despite the progress, HiSilicon is still well behind Intel, Samsung, SK Hynix, Micron and the others in the global top 10 rankings in terms of semiconductor sales.
Also, Huawei is facing new challenges as Washington is reportedly planning new rules which would require foreign companies using US chipmaking equipment to obtain a license before supplying chips to Huawei-a move that would directly affect Taiwan Semiconductor Manufacturing Co, or TSMC.
TSMC is an important chip manufacturing partner of Huawei. Data from the IC Insights show that HiSilicon represented 14 percent of TSMC's sales last year, up from holding only a 5-percent share in 2017.
In response, Huawei is reportedly shifting production of HiSilicon-designed chips away from TSMC to Shanghai-based Semiconductor Manufacturing International Corp, or SMIC.
SMIC is planning to list on China's sci-tech innovation board, known the STAR Market, as it aims to raise more money to develop next-generation chipmaking technologies amid competition with TSMC.
SMIC said on Tuesday that it would float 1.69 billion new shares on the Shanghai market, which could end up raising more than $3 billion, according to estimates by Bloomberg.
[disclaimer] the above article is reprinted from the Internet, which is intended to convey more information. It does not mean that this website agrees with its views and is responsible for its authenticity; if the copyright unit or individual of the manuscript is unwilling to issue it on the website, please contact us or call us within two weeks.andy steel structure.