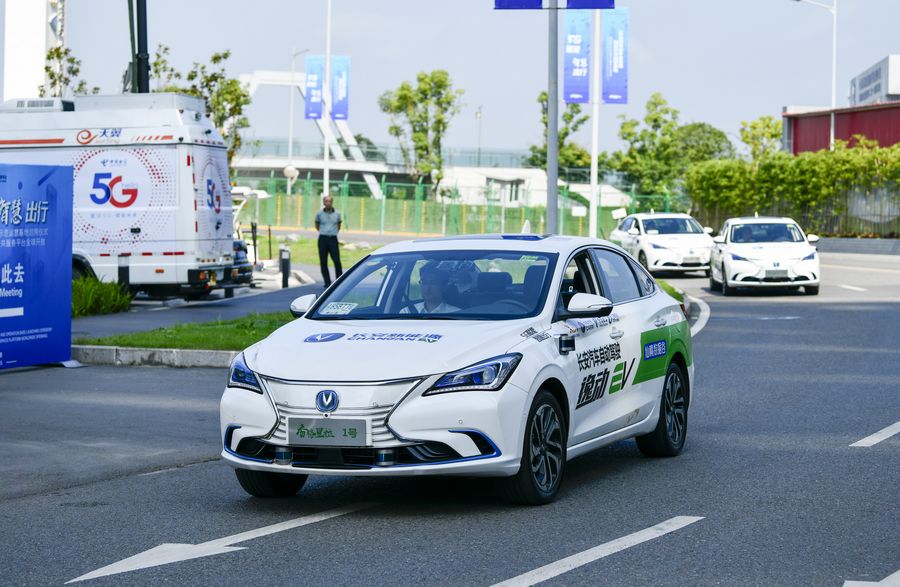 A Level 4 (L4) self-driving Changan Automobile takes a driving drill in a pilot zone for 5G-based autonomous driving in Southwest China's Chongqing municipality, July 26, 2019. [Photo/Xinhua]
Huawei said it has set up a "5G automobile ecosphere", aimed at accelerating 5G's commercial use in auto industry, the Securities Times reported on Monday.
According to the paper, the "5G automobile ecosphere" is a result of cooperation between Huawei and 18 automakers, including the First Automobile Group, Chang'an Automobile, Dongfeng Motor Corporation, SAIC Motor Corporation, Guangzhou Automobile Group, BYD Auto, Great Wall Motors, Chery Holdings and JAC Motors.
The paper said the "ecosphere" can possibly be expanded in the future, where Huawei takes the 18 automakers as the first batch partners.
As a leading player in the 5G field, the "5G automobile ecosphere" is a meaningful attempt that Huawei manages to enlarge its advantage in the 5G field, and exploits car-to-internet market by providing automakers with vehicle-mounted 5G module MH5000 and car-carried terminal T-Box and services, said the paper.
Huawei shows greater ambition in self-driving. The "5G automobile ecosphere" will probably first benefit self-driving where 5G's low latency meets imperative technical requirement in self-driving. "The ultimate goal of ours is to achieve thorough self-driving," Huawei's Rotating Board of Director, Xu Zhijun said last year. "We can accomplish everything that Tesla is now doing."
The "5G automobile ecosphere" is one step of Huawei's "1+8+N" strategy, as 1 refers to smartphone, 8 refers to car-mounted computer, smart speaker, earphone, watch/wrist band, tablet, big screen, PC and AR/VR. N stands for other devices of Internet of Things.
[disclaimer] the above article is reprinted from the Internet, which is intended to convey more information. It does not mean that this website agrees with its views and is responsible for its authenticity; if the copyright unit or individual of the manuscript is unwilling to issue it on the website, please contact us or call us within two weeks.andy steel structure.