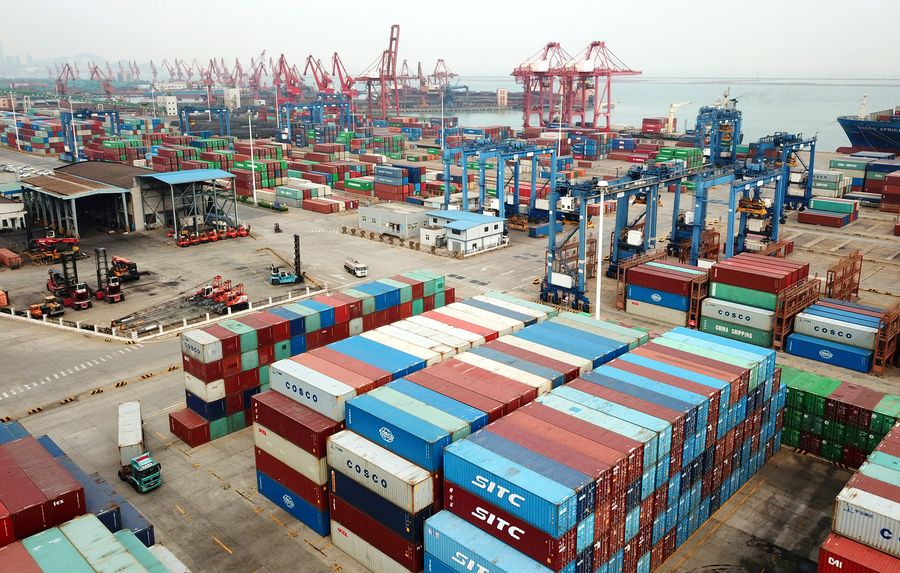 Photo taken on April 14, 2020 shows containers at the Lianyungang Port in Lianyungang, East China's Jiangsu province. [Photo/Xinhua]
China will further stabilize foreign trade while fully evaluating the uncertainties related to the COVID-19 outbreak, as the trade volume between January and April dropped 4.9 percent on a yearly basis, officials said.
Gao Feng, a spokesman for the Ministry of Commerce, said on Thursday that although the decline in foreign trade narrowed in April, the sector still faces relatively great downward pressure.
China will fully evaluate the "difficulties, risks, and uncertainties" brought by the contagion, and further stabilize its foreign trade, Gao said at a news conference.
The ministry will focus on supporting enterprises to explore the international market, helping them better deliver the order backlog and obtain new orders, he added.
During the first four months of this year, China's foreign trade volume totaled 9.07 trillion yuan ($1.28 trillion), down 4.9 percent year-on-year, according to a General Administration of Customs release on Thursday.
In April, foreign trade inched down 0.7 percent year-on-year to 2.5 trillion yuan. Exports climbed 8.2 percent year-on-year to 1.41 trillion yuan in April, compared with a drop of 3.5 percent in March. Imports fell 10.2 percent year-on-year to 1.09 trillion yuan last month.
Chen Li, an analyst at Chuancai Securities, said the rebound of export data in April exceeded market expectations. The growth was aided partly by the gradual resumption of work and production in the domestic market, Chen said.
"But on the demand side, the overseas pandemic situation may still exert an influence on China's exports," Chen said. "It will take some time for overseas orders to be restored."
Wei Jianguo, vice-chairman of the China Center for International Economic Exchanges, said despite the unexpected public health crisis, China's foreign trade still has great potential.
"Foreign trade is likely to make a recovery in the second quarter and pick up steadily in the third quarter," Wei said.
As both general trade and processing trade-China's two main types of trade-have been hit hard, enhanced efforts need to be made to develop cross-border e-commerce, he said.
Since the start of the novel coronavirus outbreak, China has rolled out a wide range of policies and measures to aid exporters in resuming production. The government introduced incentives to give firms financial support, help employees return to the workplace and reduce operational costs.
Ni Yuefeng, head of the General Administration of Customs, told Xinhua News Agency on April 30 that China will further expand its policy package to counter the impact of COVID-19 and boost the long-term and stable growth of foreign trade.
Between January and April, China's trade with the Association of Southeast Asian Nations, the nation's largest trading partner, grew 5.7 percent year-on-year to 1.35 trillion yuan.
[disclaimer] the above article is reprinted from the Internet, which is intended to convey more information. It does not mean that this website agrees with its views and is responsible for its authenticity; if the copyright unit or individual of the manuscript is unwilling to issue it on the website, please contact us or call us within two weeks.andy steel structure.