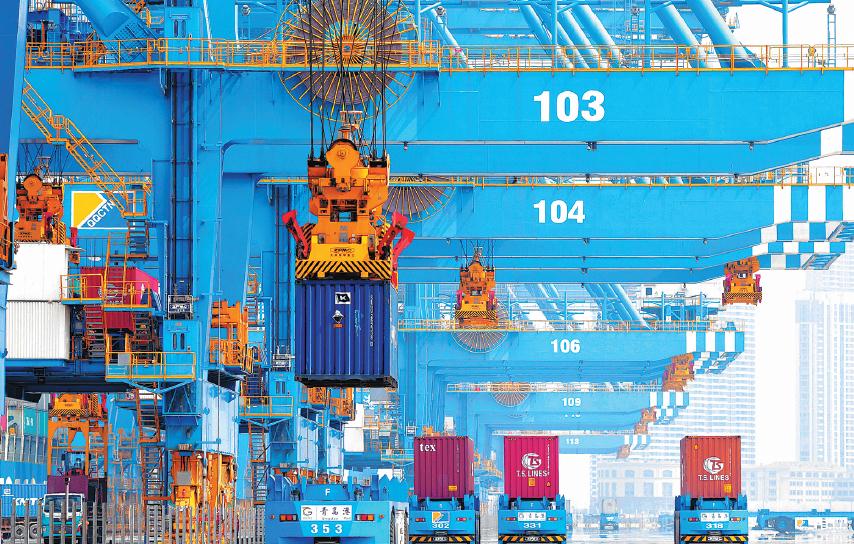 Containers are unloaded at Qingdao Port in Shandong province last month. [Photo by Yu Fangping / For China Daily]
Daily costs reduced in bid to get through outbreak
Jason Pan, who has worked in the foreign-trade business for two decades, has not received any overseas orders since early last month, in what is usually a busy time for the sector.
As a result of the novel coronavirus pandemic, Pan said that orders this year have fallen by 50 percent to 60 percent, compared with the same period last year.
"But the most challenging situation is yet to come, probably in May and June, when there is a time lag of about one to two months from receiving an order to delivery," said Pan, 42, who is based in Ningbo, Zhejiang province. Zhejiang is one of the country's major centers of foreign trade.
Pan has not experienced such a severe situation during his career. Since graduating from university, he has worked in a foreign-trade business that deals in daily-use plastic items. The annual import and export value of his company stands at $5 million to $10 million, with major customers based in the Netherlands, Spain, the United States, Australia and Canada.
Pan experienced the 2008-09 financial crisis, but the novel coronavirus outbreak has been far more challenging.
"I feel that the impact it has had on my business has been 10 times greater than during the financial crisis, which had no major effect on financially stable small and medium-sized enterprises. But this time, it's a real crisis for us," he said.
Pan's friends in the industry all report similar stories. He said the entire foreign-trade sector, apart from healthcare and food businesses, is facing an extremely difficult time, with overseas orders being canceled.
Anne Ruan, who runs the Ningbo Orange Packaging Co, a paper products business in Zhejiang, whose output includes items for use at parties, saw overseas orders valued at $2 million canceled in the first quarter. Before the pandemic, her company's annual exports were worth about $10 million.
"My clients told me that parties had been strictly forbidden due to the COVID-19 outbreak, so they have had to cancel or postpone orders, and many of my overseas customers have asked for payment to be deferred," Ruan said.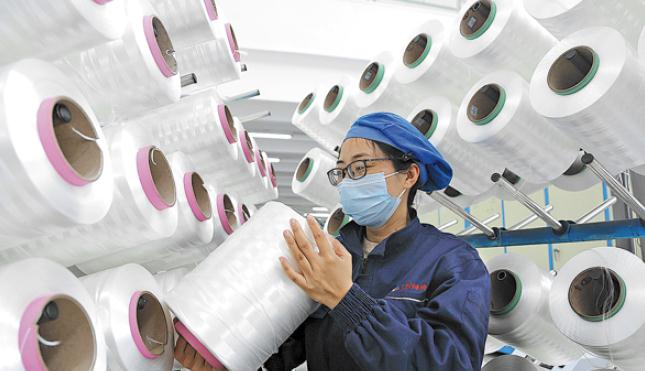 Production resumes at a new materials factory in Lianyungang, Jiangsu province, this month. [Photo by Wang Chun / For China Daily]
China's foreign trade volume totaled 6.57 trillion yuan ($931 billion) in the first quarter of this year, down by 6.4 percent year-on-year. The country's exports dropped by 11.4 percent to 3.33 trillion yuan, while imports declined by 0.7 percent to 3.24 trillion yuan, according to the General Administration of Customs.
However, Bill Gao, a businessman based in Beijing, has received more overseas orders, as lockdown measures enforced in other countries have led to sharp falls in production capacity.
Gao imports and exports a type of metal for use in automatic dish washers-an extremely small but niche market. There are only three such producers worldwide-in China, the United Kingdom and Hungary.
"Since production resumed in China, and with the UK factory still closed, my orders have risen by nearly 50 percent compared with the same period last year," Gao said.
He has his problems, however. Raw materials are sourced from India, but a supply shortage caused by lockdowns at some local factories has resulted in prices surging. Transportation charges have also nearly tripled due to the pandemic.
"Since the contract price is set long beforehand, profit margins have been squeezed significantly due to soaring costs," Gao said.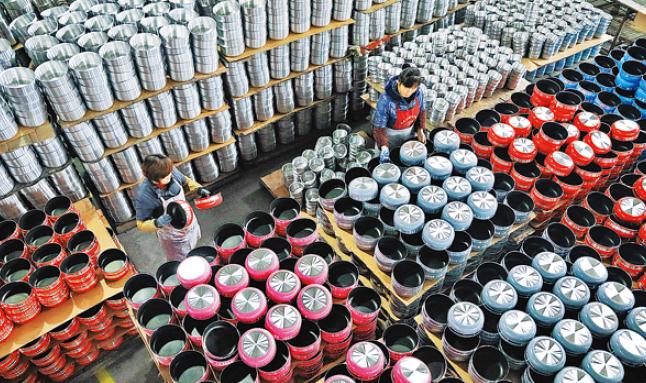 Workers at a factory in Hangzhou, Zhejiang province, check the quality of woks for export to African countries.[Photo by Hu Jianhuan / For China Daily]
Three strategies
Pan said there are three key tactics that foreign-trade companies can adopt during such a difficult time: take a wait-and-see approach; explore the domestic market; and switch to face masks business.
"We are now taking the wait-and-see approach. Although this is a little passive, we don't have a better option at this stage," he added.
Like Pan's company, most small and medium-sized foreign-trade businesses are hoping to survive the pandemic by cutting daily costs.
"We can hang in there for some time, but two of my suppliers (manufacturers of export products) have decided to close their businesses," Pan said, adding that the monthly costs for small and medium-sized manufacturers are about 300,000 yuan.
Zhang Dabing, chairman of Jiangsu Aomeili Industrial Co, which is based in Yangzhou, Jiangsu province and exports hardware products, said the company incurred a loss of between $1 million and $1.5 million last month due to canceled overseas orders. On average, it is experiencing losses of $400,000 on orders valued at $1 million, due to the high cost of raw materials.
A number of manufacturers in coastal areas have cut jobs or reduced salaries to see them through the health crisis, Pan said.
Since the trade dispute between the US and China arose, some companies have been striving to explore the domestic market. However, making such a transformation is not easy.
Pan said: "Take our products for example. They are tailor-made and only used in the European and US markets. Asking our suppliers to totally change their product lines is not practical.
"Adapting to the domestic market is also challenging, as the resources and rules are different. Moreover, competition in the domestic e-commerce market is fierce-you have to have very competitive products or brand images to stand out, otherwise you may just lose money."
Compared with Pan, Ruan has had an easier time tapping the domestic market, as there is local demand for her paper products. Since last year, she has also been trying to introduce more overseas products into China, giving her more leeway to deal with economic problems resulting from the outbreak.
"I introduced waffles from the Netherlands last year and opened an online flagship store on JD and another two online shops on Taobao. The product has been well-received and we also plan to open an online store on Tmall, probably next month," Ruan said. "We estimate that our emerging domestic trade will offset most of the impact resulting from the pandemic."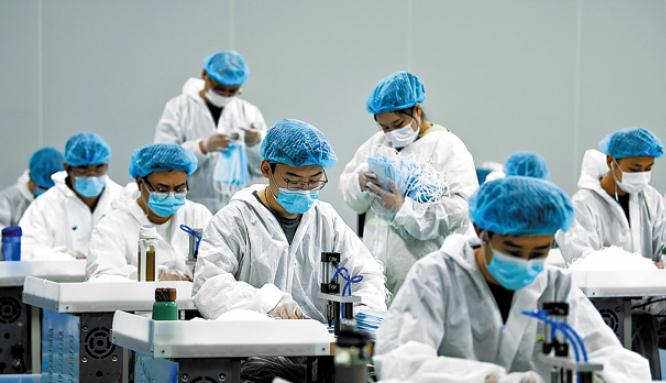 Employees at a plant in Nanchang, Jiangxi province, produce face masks for export to Japan. [Photo by Hu Guolin / For China Daily]
Face mask business
For Pan, switching to face masks business looked to be the easiest option, due to the export prospects. However, after spending more than one month on due diligence work involving this business, he finally gave up.
"Almost everyone I know is doing such business and almost every factory I know is switching to producing face mask machines … The target is quite clear-to make a quick profit for two to three months," Pan said. "Many of my competitors have switched to this business, but I think it's a crazy game and I see huge potential risks."
The face mask industry, which used to be relatively small, has become key since the outbreak emerged. Machines to make the masks, which used to cost between 100,000 yuan and 200,000 yuan each, are now priced at between 1 million yuan and 1.5 million yuan.
"Even though you pay in advance, you will probably find that the machine you have ordered has been sold to another buyer for a higher price," Pan said.
The price of the drums used to print "KN95" on masks has also risen from 2,000 yuan before the outbreak to about 50,000 yuan, he said. "All the foreign-trade rules we used to follow are now redundant."
Pan said that unless a potential buyer is prepared to stand outside the main gate at a face mask factory all day, he or she is highly unlikely to obtain masks, even though payment has been made in advance.
"Despite being a regular customer at the plant, you can probably only obtain one-tenth of the order you have placed… To ensure full delivery of the masks they need, overseas buyers will find more suppliers and order far more masks than they really require."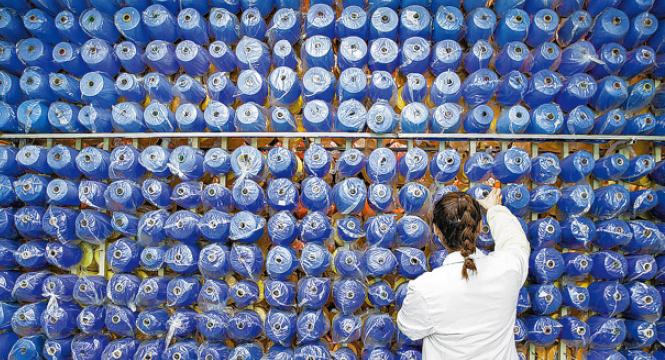 A textile factory in Hai'an, Jiangsu, restarts output.[Photo by Xiang Zhonglin / For China Daily]
Cooperation urged
To survive the outbreak, Pan is looking to expand his business to more individual overseas customers through international e-commerce platforms such as Amazon and eBay. His is just one of the thousands of small and medium-sized foreign-trade companies battling the pandemic.
Employment, working hours and global trade are all taking a massive hit as the outbreak disrupts economic activity and life worldwide, according to major international organizations.
In its annual Trade Statistics and Outlook Report, the World Trade Organization said global trade is expected to fall by between 13 percent and 32 percent this year. It said the decline would likely be worse than the trade slump caused by the global financial crisis of 2008-09, with North America and Asia expected to suffer the most.
Meanwhile, according to a recent report released by the International Labour Organization, 6 percent to 7 percent of working hours will be lost to the novel coronavirus in the second quarter of this year, equivalent to 195 million full-time jobs.
WTO Director-General Roberto Azevedo said: "The immediate goal is to bring the pandemic under control and mitigate the economic damage to people, companies and countries. But policymakers must start planning for the aftermath."
In China, a series of government measures has eased the pressure on foreign-trade companies, such as staging the 127th China Import and Export Fair, also known as the Canton Fair, online in mid-to late June. It will be the first time that the event has been staged in cyberspace in its 63-year history.
An integral part of the world economy, China is striving to maintain stability in global industrial and supply chains, with the majority of factories and companies resuming normal business operations.
The country is also continuing to secure international goods channels, such as China-Europe rail freight services, and improving cargo links to stabilize global supply chains and help restore exporters' earnings, according to Li Xingqian, director-general of the Ministry of Commerce's Department of Foreign Trade.
Wei Jianguo, vice-chairman of the China Center for International Economic Exchanges, said it is time for the country to highlight the roles played by the processing trade and cross-border e-commerce businesses to ease pressure on importers and exporters.
"It is equally important to further tap consumption potential in the domestic market to help Chinese exporters seek new growth points," Wei said.
Azevedo said, "If countries work together, we will see a much faster recovery than if each country acts alone."
With the global economy on track to shrink by 3 percent this year due to the pandemic, the International Monetary Fund and the World Bank Group have highlighted the importance of keeping trade open for a global recovery.
IMF chief economist Gita Gopinath said during a virtual news conference in Washington: "The world needs a healthy recovery. It needs a strong recovery, and that will not come about if the world de-globalizes, because that would severely reduce productivity in the world-and that's the last thing we want at this time."
[disclaimer] the above article is reprinted from the Internet, which is intended to convey more information. It does not mean that this website agrees with its views and is responsible for its authenticity; if the copyright unit or individual of the manuscript is unwilling to issue it on the website, please contact us or call us within two weeks.andy steel structure.