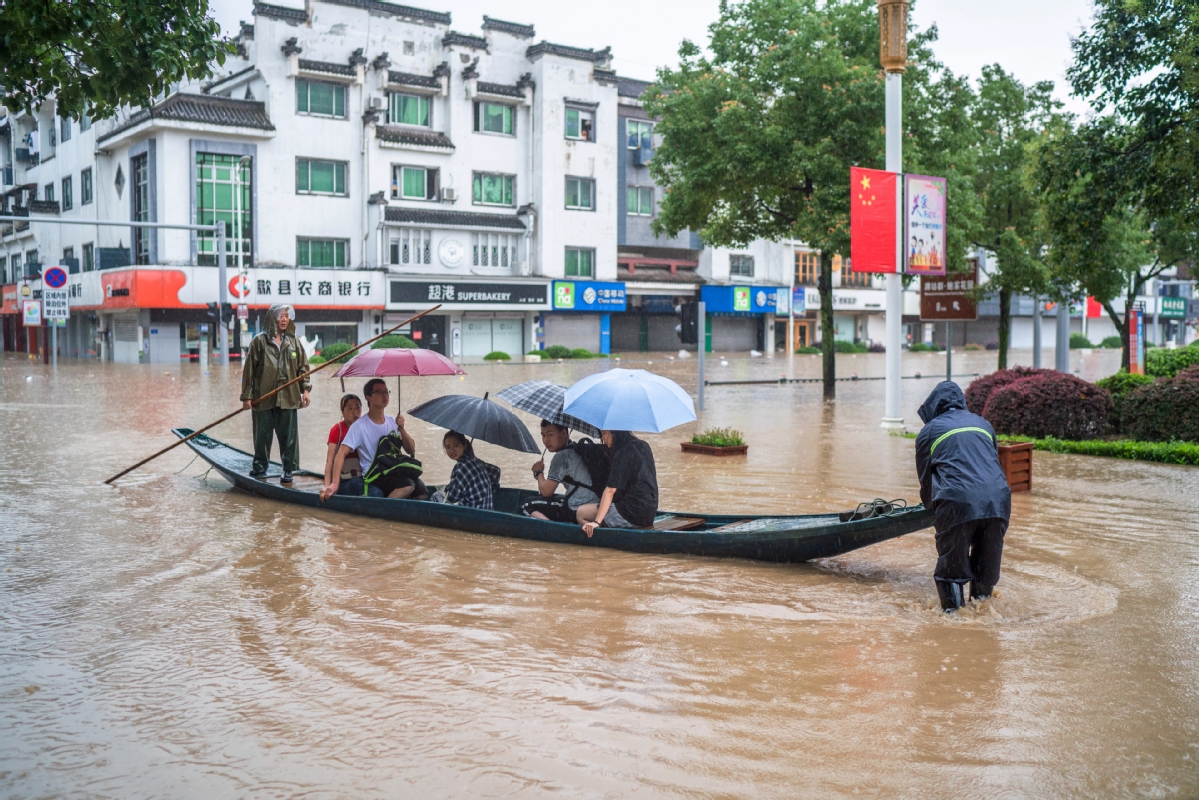 As if the stress of preparing for the national college entrance exam, or gaokao, was not enough, flooded roads in parts of eastern China on Tuesday made it impossible for thousands of students to get to their testing sites.
The government of Shexian county in Anhui province said on Tuesday that the downpour, which began before dawn, was the heaviest in 50 years.
A student in the county told China Youth Daily that a bus had been sent to collect some students, but "half of the vehicle's body was underwater and it couldn't move".
Videos from local residents showed many roads in the county blocked by floodwaters. Some students tried to press ahead in boats offered by rescuers.
The county has 2,769 students aiming to take this year's gaokao, but only around 500 had arrived at the examination sites by 10 am, according to Wang Tianping, head of the county's education bureau.
Because a gaokao score can determine what college a student may attend, examinees carry their family's hopes for the future.
The county was forced to cancel the first day's two exams-for Chinese language and mathematics-as most local students failed to reach the two examination sites on time because of flooding.
Large parts of seven provinces and two municipalities along the Yangtze River have had heavy rainfall since July 4, according to the National Meteorological Center.
Rain was heaviest in Hubei province, with more than 600 millimeters. Some areas in neighboring Anhui, Hunan and Guizhou provinces saw between 250 and 480 millimeters of precipitation.
The student interviewed by China Youth Daily, who was not named, said the rain had come unexpectedly, and she and her parents had received no warning.
"It has been quite rainy this season, so we and the school didn't regard it as a big deal. I can't blame the school," she said.
She said that it had rained all night and she woke up early in the morning only to find her community was badly flooded. She and some other students were trapped in a bus on a flooded road until after 10 am, when she received a WeChat message that the Chinese language exam, scheduled to begin at 9 am, had been canceled and would be rescheduled.
Meanwhile, the attempt to move the students by bus failed.
An announcement from the local government, at around 10 am, conveyed the message that the first exam had been canceled, but said the other three would go ahead as scheduled.
Then, shortly before 2 pm, an announcement from the provincial education authorities said the mathematics exam had also been canceled because the waters had not receded. The two canceled exams are scheduled to take place on Thursday, the authorities said around 10 pm on Tuesday.
Wang said the students had been provided with psychological counseling to alleviate their stress at the most important moment of their education to date.
To guarantee that the second day's exams would go forward, the authorities said they had prepared a backup site and would decide whether to switch to that location early on Wednesday.
The National Meteorological Center issued an orange alert-the second-highest of the four-tier alert system-for rainstorms along the middle and lower reaches of the Yangtze River, with heavy downpours expected to hit the region from 8 pm on Tuesday to 8 pm on Wednesday.
Meanwhile, exams went ahead smoothly on Tuesday in Wuhan, Hubei, which was also affected by torrential rain. Teams of more than 2,000 rescuers and some 500 disaster relief vehicles were sent to assist the students. At a news conference it was announced that no students were late for their exams.
Previously, the annual gaokao has taken place on June 7 and 8, but the Ministry of Education decided to delay the exam this year due to the COVID-19 pandemic.
Liu Kun in Wuhan contributed to this story.
[disclaimer] the above article is reprinted from the Internet, which is intended to convey more information. It does not mean that this website agrees with its views and is responsible for its authenticity; if the copyright unit or individual of the manuscript is unwilling to issue it on the website, please contact us or call us within two weeks.andy steel structure.