What kind of jobs can countryside fields create for college graduates? How do the young people regard the work in the rural areas? It has been found that more university students are seeing agriculture as their ideal life.
Qiu Minghui has recently been recruiting new hires for her farmyard in Pudong's Hangtou Town. The diploma requirement in her new hire announcement is junior college and above. "This is not a rash decision." As she has noticed, working in the countryside has become more attractive to college students. Now her farmyard has three undergraduate students and five junior college graduates.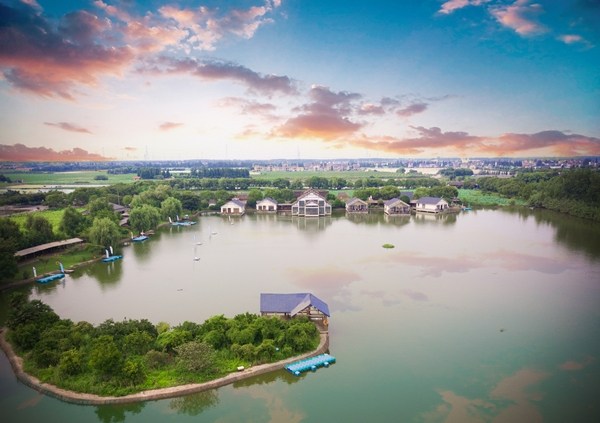 (A fun farmyard in Jinshan district)
Many youngsters choose to work in the farm fields because of their feelings for the countryside and agriculture. However, instead of continuing traditional methods of farming, they have brought a lot of new ideas to the rural areas. No matter whether it is planting or marketing, they have new thoughts on agricultural development.
Gao Binlei chose to grow a rice paddy when he quit his job and went to the countryside. As a rookie, he thought it would be easy to grow rice. One year later, after understanding the basic habits of the crop and the market situation, he wanted to make a change.
There will be no market if he only grows rice; nor can he bring any change to the countryside if he is stuck in traditional agriculture. After rethinking, Gao made up his mind to grow more varieties, and expand his customer sources, so as to improve the marketability of agricultural products. After careful selection, he introduced some melons and fruits to the agricultural cooperative, so that farmers are kept busy all the year round and can earn enough income.
When asked how they view the occupation of farming, many young people like Gao replied: farming is a new profession, and farmers can have their own career. Some have a clear roadmap for their career development. As they said, apart from growing agriproducts, farmyards can be also a place for parent-kid events and teambuilding activities. They are combining the primary industry with the tertiary industry.
[disclaimer] the above article is reprinted from the Internet, which is intended to convey more information. It does not mean that this website agrees with its views and is responsible for its authenticity; if the copyright unit or individual of the manuscript is unwilling to issue it on the website, please contact us or call us within two weeks.andy steel structure.