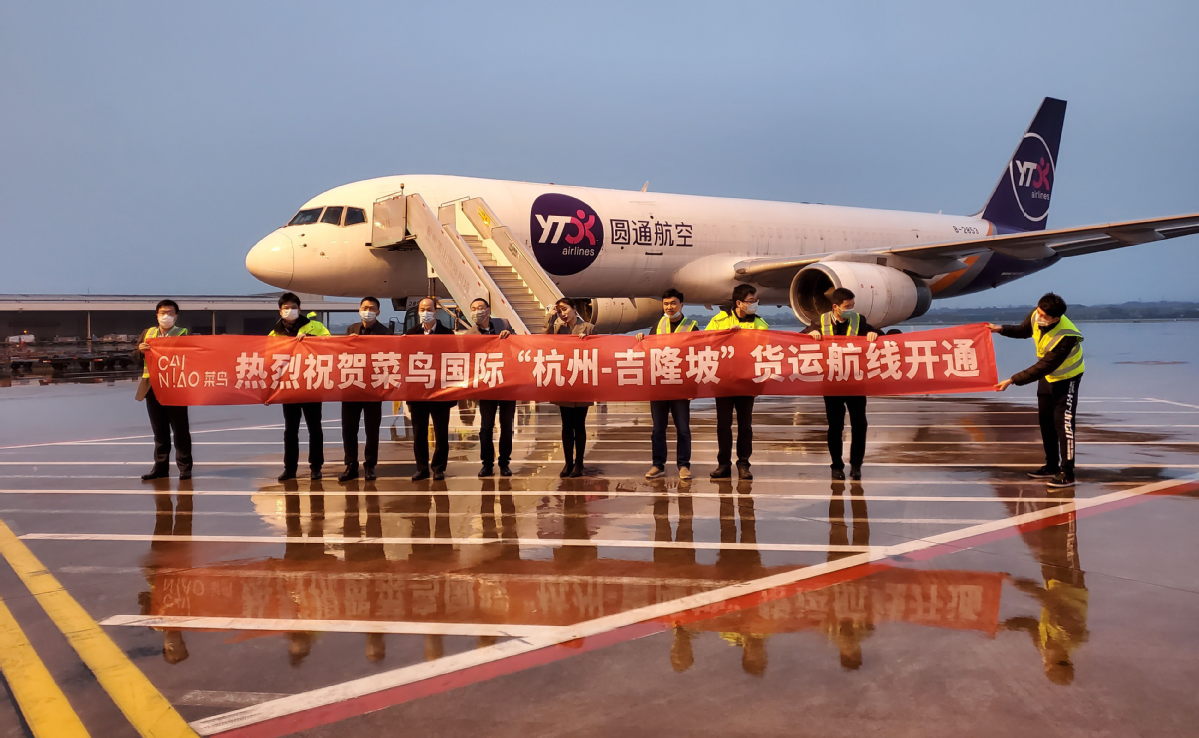 Cainiao, Alibaba's logistics arm, launches a flight from Hangzhou, capital of Zhejiang province, to Kuala Lumpur, to transport goods sold through AliExpress, Alibaba's business-to-customer site selling to overseas markets, on March 31. [Photo by Niu Jing/for China Daily]
Pandemic prompting companies to upgrade technology, shift market focus
Export-oriented goods producers, original equipment manufacturers as well as parts and materials suppliers that have long been a thriving part of China's economy have begun to find new ways to shift their market focus due to disruptions in global trade amid the COVID-19 pandemic.
As many countries have declared states of emergency, shut down ports and canceled events, many Chinese companies are struggling with plummeting export orders, bloated inventories and rising logistical costs caused by disruptions to sea and air travel.
"We were asked by our overseas clients about our situation in February when China fought fiercely against the contagion, then we started to ask our foreign customers' conditions in March since many countries in Europe and North America reported soaring novel coronavirus cases," said Yuan Qin, founder of Yangzhou Rongjia Headwear Co in Zhejiang province.
Due to many sporting activities being postponed or canceled in Europe and other parts of the world, the firm received several order cancellations beginning last month for its athletic headwear from well-known football clubs in Spain and Australia.
Under the new circumstances, many domestic firms have cast off their previous role as OEMs to gradually build their own brands to upgrade business, as well as take steps to leverage existing e-commerce platforms to participate in online events, sales and transactions to secure orders and market share, said Zhang Xiaoqiang, vice-chairman of the Beijing-based China Center for International Economic Exchanges.
To better deal with the new situation, Zhang said domestic companies need to explore demand, effectively manage inputs and steadily increase supply capacity to ensure their global presence.
Ningbo Bode High-tech Co Ltd, a manufacturer of high-end precision cables, has been well prepared for the outbreak-hit global market, said Wan Linhui, the company's president.
Wan said Bode, with three global manufacturing bases, has a 40 percent market share for its key wire products worldwide, which means if Bode fails to supply enough products to its clients, precision machines around the world would be in a very difficult situation.
When the novel coronavirus began to spread in China in late December, Wan realized the importance of gearing up for the resumption of production and the export business in advance. The company published a guidebook on how to prevent the spread of the virus for its workers and prepared sufficient anti-epidemic supplies.
"We even kept truck drivers on call to transport our products once ports resumed operations," he added.
Since it received a green light to resume production by the local government in early February, the Zhejiang province-based company can now produce 100,000 kilometers of wire products a day.
With the global outbreak of the novel coronavirus in late February, many precision wire manufacturers overseas suspended or slashed production. Urgent orders from around the world began flooding into Bode.
Nanda Lau, head of the Shanghai office of global law firm Herbert Smith Freehills, said the impact of the crisis may be felt by different areas of the business at various stages. Chinese companies should plan ahead amid evolving situations.
With many governments across the globe introducing various relief policies for industries, Lau suggested Chinese companies monitor these developments closely for aspects that may be relevant to them.
"Measures such as offering support for necessary supply procurements, special funds, tax exemptions and deferrals, force majeure proof and social insurance deferrals may be made available to enterprises to help restore their earnings ability," she said, adding that Chinese companies should also use this situation as an opportunity to review their business plans and accelerate business transformation by upgrading technology and adopting digitization.
AliExpress, Alibaba's business-to-customer site selling to the overseas market, has come up with an initiative to directly bridge domestic manufacturers with overseas customer requirements.
The move, in tandem with a string of local governments in China, aims to launch online investment platforms and use livestreaming events to promote domestic offerings and seize opportunities overseas.
Wang Mingqiang, general manager of AliExpress, said backed by its digital infrastructure, the company has partnered with local governments to bolster exports and create new business opportunities for small and medium-sized enterprises, to help export-oriented companies turn crisis into opportunity.
Bai Ming, a senior research fellow at the Chinese Academy of International Trade and Economic Cooperation, said as the global supply chain is vital for the world economy, it is also critical for China to supply anti-contagion medical materials to countries in need to help them resume production and fight the pandemic.
"China is not only the biggest exporter of manufactured goods, but also a major exporter of intermediates used by factories across the world. It is also a key supplier of materials or components for sectors including autos, shipbuilding, electronics, machinery and textiles," Bai said.
"Despite the majority of manufacturers having resumed production across China, it will not work if businesses overseas are closed. All countries should come together and contain the virus as soon as possible before it causes more damage to the global industrial and supply chains," said Cai Jin, vice-president of Beijing-based China Federation of Logistics and Purchasing.
To ease companies' financial and operational pressure in the area of logistics, China has temporarily lowered transportation costs for importers and exporters as part of efforts to fast-track production resumption and keep the foreign trade sector afloat.
[disclaimer] the above article is reprinted from the Internet, which is intended to convey more information. It does not mean that this website agrees with its views and is responsible for its authenticity; if the copyright unit or individual of the manuscript is unwilling to issue it on the website, please contact us or call us within two weeks.