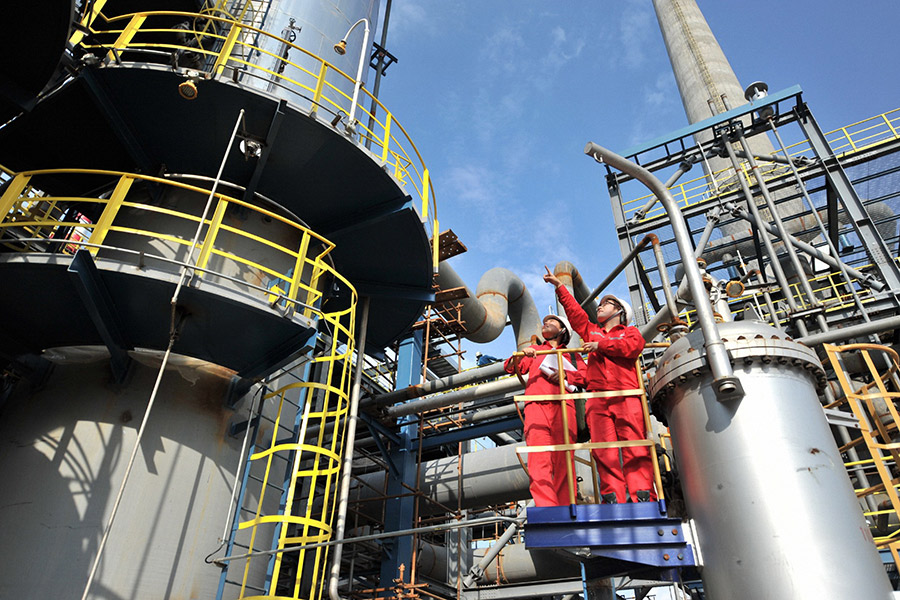 Sinopec employees check natural gas equipment in Guangyuan, Sichuan province. [Photo by Hu Qingming/for China Daily]
China has issued a guideline on stepping up construction of natural gas storage infrastructure to improve the gas storage capacity in the country.
The move aims to strengthen overall planning and improve the industrial standard of natural gas storage construction through planning layout, operation models, mechanism and policy support, according to the guideline jointly issued by the National Development and Reform Commission and four ministries.
Overall planning will prevent random gas storage facility construction by local governments, and an independent operation model will attract more market entities and enable companies to profit based on marketization, it said.
It will also provide land, financial, tax and investment supporting policies to encourage more companies to invest.
According to the commission, natural gas prices in the country rapidly fluctuate, as China lacks gas storage facilities. While consumers might see a price rise at the beginning, they will also be free from losses caused by the insufficient gas supply with sufficient storage construction, as companies can store more gas during the off-season to ensure energy supply during peak consumption periods.
The commission said the impact on gas consumers should stay within a reasonable range and it would enforce guidance to ensure a stable gas price.

[disclaimer] the above article is reprinted from the Internet, which is intended to convey more information. It does not mean that this website agrees with its views and is responsible for its authenticity; if the copyright unit or individual of the manuscript is unwilling to issue it on the website, please contact us or call us within two weeks.