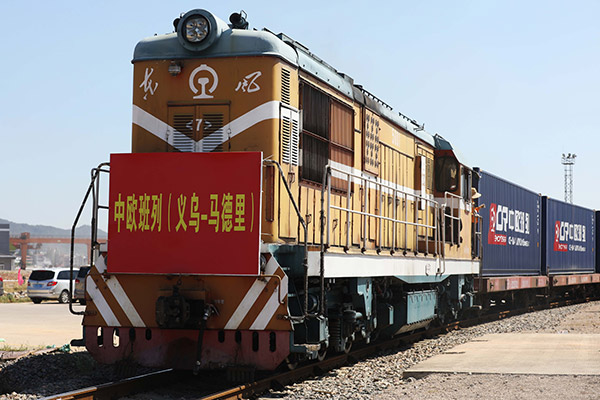 A freight train, which travels between Yiwu, Zhejiang province, and Madrid, in Spain, is parked in Yiwu. [Photo by Zhu Xingxin / China Daily]
China called for the European Union to remove unreasonable market access thresholds and avoid overregulation of Chinese companies investing in the bloc, experts said on Wednesday.
Officials made the remark after the Academy of the China Council for the Promotion of International Trade released a survey-based report regarding the EU's business environment in 2019 and 2020. The survey was done among Chinese companies operating in the EU.
The officials urged EU nations to stop all forms of discriminatory behavior and shore up the confidence of Chinese and global firms in their markets.
Though the EU and China committed to equitable and mutually beneficial cooperation in bilateral trade and investment in the Joint Statement of the 21st China-EU Summit released in April 2019, the survey found that many EU member states have continued to tighten review for foreign investment, misuse trade remedy measures, discriminate against foreign investment in 5G and other fields and disrupt business operations.
Lu Ming, vice-dean of the academy, said that as the whole world seeks ways to mitigate the economic losses caused by the COVID-19 pandemic, the EU should give consideration to the sound development of both its present and long-term economic ties with China, and in the meantime push for opening markets to ensure the stability and safety of the global supply chains.
The European Commission listed China as "an economic competitor" and "a systemic rival" in its strategic outlook report on EUChina relations released in March of last year, in which it put forward 10 actions seeking to "rebalance" its relations with China.
The trade academy's report said that only 24 percent of China's corporate respondents chose the EU as their primary investment destination in 2019, far lower than the 78.63 percent in 2018.
The academy surveyed 163 Chinese companies operating in the EU, including Huawei Technology Co and China Railway Rolling Stock Corp, including field visits at home and abroad to gain a full and accurate picture of their views. It also sent 500 questionnaires to Chinese businesses that have operations in the EU and received 268 valid responses.
It is not surprising for major global economic powers like the EU to remain relatively conservative in regulating foreign companies when their market share in certain sectors is being taken by rivals from other countries, said Jiang Hao, global partner of consultancy Roland Berger.
"Therefore, it is fairly necessary for both sides to enhance communication to resolve key issues, and further make their markets more transparent to let each other understand their values and aspirations," he added, suggesting the two sides develop more third-party markets to enrich forms of cooperation in the post-epidemic era.
Bilateral business ties have been enhanced as China and the EU have maintained exchanges of information and experience in combating COVID-19 and cooperated in diagnosis and treatment, drug and vaccine research and development since February, said Zhao Ping, director of the international trade research department at the academy.
"Those joint measures will be helpful for the EU to abandon prejudice and further deepen economic and trade cooperation with China," Zhao said.
China-EU relations maintained solid and steady development momentum in 2019, officials said. The two sides concluded negotiations on geographic labeling of product origins, and signed two agreements on aviation cooperation. Smooth progress also has been made on the Belt and Road Initiative and the EU's regional connectivity efforts, according to the Ministry of Commerce.
Bilateral trade volume amounted to 4.86 trillion yuan ($686 billion) in 2019, up by 8 percent year-on-year.
With the United Kingdom having formally left the EU at the end of January and with its trade volume no longer part of the bloc's, the Association of Southeast Asian Nations replaced the EU as China's largest trading partner in the first quarter of 2020, the General Administration of Customs announced last week.
[disclaimer] the above article is reprinted from the Internet, which is intended to convey more information. It does not mean that this website agrees with its views and is responsible for its authenticity; if the copyright unit or individual of the manuscript is unwilling to issue it on the website, please contact us or call us within two weeks.