Agreement on money still appears unlikely
Editor's note: The world faces huge challenges during the COVID-19 outbreak, and maybe even greater ones when it is over. Here, in the 14th part of a series titled "One World, One Fight", we look at how countries can work together to fight the virus and meet the challenges when the pandemic ends.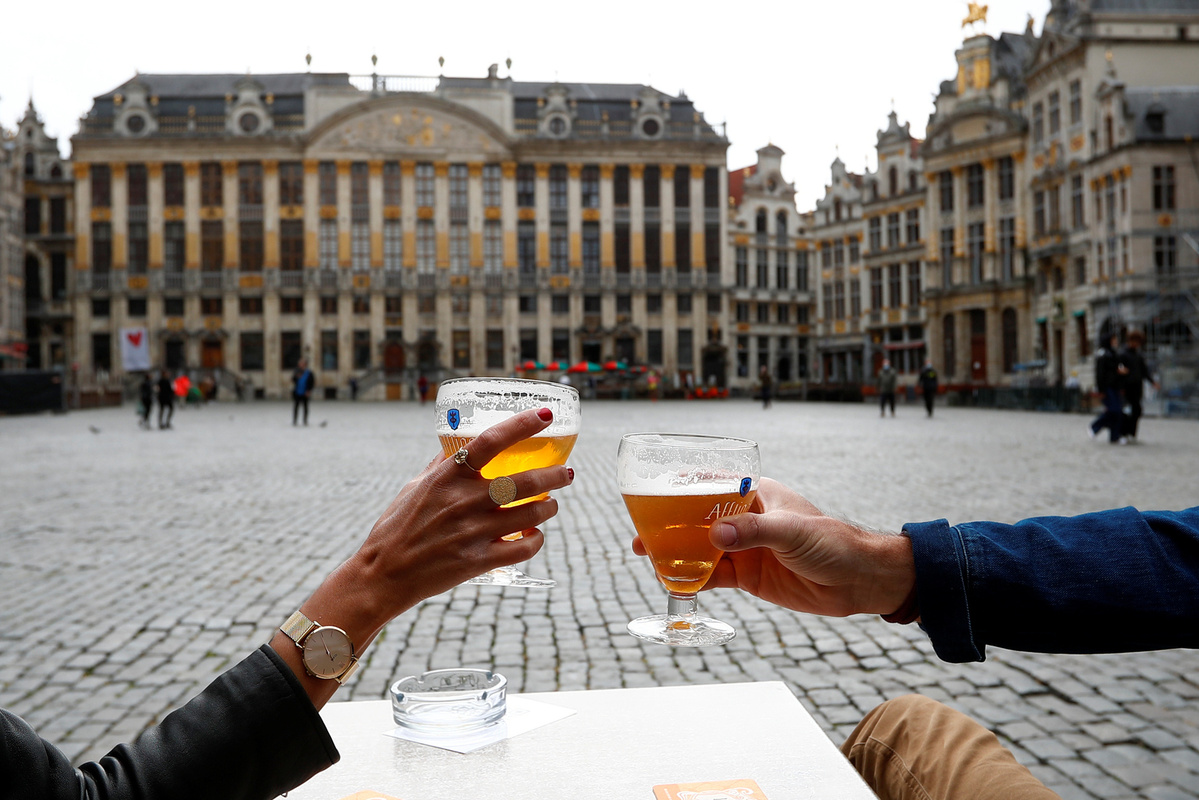 A couple is having beers on Brussels Grand Place square as restaurants and bars reopen after weeks of lockdown restrictions following the coronavirus disease (COVID-19) outbreak, in Brussels, Belgium, on June 8, 2020. [Photo/Agencies]
The Grand Place in the heart of Brussels is Belgium's best-known and most photographed attraction, often swarming with tourists.
However, during the lockdown imposed since mid-March to prevent the spread of COVID-19, the square has been deserted, with all businesses closed and grass growing between the cobblestones.
On June 8, the Belgian government relaxed its measures, allowing restaurants, bars and shops to reopen, but still requiring social distancing of 1.5 meters. People were also urged to wear face masks.
On Saturday, many were enjoying the perfect weather-eating, drinking and chatting at outdoor tables in the square. Some sat on a cobblestoned sidewalk, while a few just lay on the ground looking up at white clouds in the blue sky.
But huge crowds of tourists were absent, including a rising number of tour groups from China in recent years.
Ilaria Maselli, vice-president of the board of directors at Visit Brussels, the city's tourism agency, said it is still hard to say how the recovery will take shape, such as the number of businesses reopening and how many others will file for bankruptcy. "Maybe we should talk again in at least a month to see some numbers," she said on Friday.
On June 8, Maselli went to a bar to have coffee with a friend to experience the city reopening.
During the lockdown, she cycled through some bar and restaurant areas. "The weather was fantastic then, but nobody was sitting outside. It really broke my heart," she said.
Maselli is worried about long-term uncertainty for the tourism industry, which she said employs 10 percent to 12 percent of the city's workforce. "We don't know what tourism will look like in the next few years," she said.
Paul Dujardin, CEO of BOZAR, Brussels' top arts and culture center, suggested that more efforts be made to encourage local tourism, as "there will be fewer Chinese coming to Brussels".
Chinese visitors are the eighth-largest major source of international tourists to Belgium, trailing several European Union neighbors and the United States.
To stimulate domestic tourism and economic recovery, the Belgian government is giving every resident 10 free train tickets for trips nationwide, effective from next month to the end of this year.
Other measures include a sales tax cut for the hospitality industry and a program to give workers tax deductible vouchers worth 300 euros ($338) to spend in restaurants and at cultural venues.
Hard-hit sector
Tourism, which is vital for many EU member states, has been among the sectors hit hardest by the pandemic. In 2018, it directly contributed 3.9 percent to GDP in the EU and 5.1 percent of the total workforce, or about 11.9 million jobs.
Thierry Breton, the European Commissioner for Internal Market, said in late April that the pandemic would result in losses for the tourism and travel industry of between 275 billion euros and 400 billion euros.
In its spring forecast released early last month, the European Commission predicted that EU economies would shrink by 7.4 percent this year in the worst recession in the bloc's history, compared with a 4.3 percent contraction in 2009 as a result of the global financial crisis. The commission has forecast a significant rebound next year.
Paolo Gentiloni, the European Commissioner for Economy, warned that "both the depth of the recession and the strength of the recovery will be uneven" for member states.
A former Italian prime minister, Gentiloni said disruption caused by the pandemic has resulted in a series of shocks to demand, supply, industrial output, investment, trade and capital flows. He warned that the recovery would be long and hard, and would not be seen in most EU member states until 2022 at the earliest.
The EU forecast that only Germany, Austria, Croatia, Slovakia and Poland are expected to see their level of economic activity in the final quarter of last year return by the end of next year. In contrast, the level of output in Italy, Spain and the Netherlands is forecast to remain more than 2 percent below that seen at the end of last year, Gentiloni said.
Latest data released early this month show that nearly 400,000 people in the EU lost their jobs in April despite aggressive government furlough programs to help many stay in work.
Gloomy headlines in recent weeks include: German airline Lufthansa stating last week it would cut 22,000 jobs; Irish budget airline Ryanair announcing a reduction of some 3,000 jobs, or 15 percent of its workforce globally; French carmaker Renault axing 15,000 positions worldwide; and European multinational plane maker Airbus stating it could cut up to 10,000 jobs.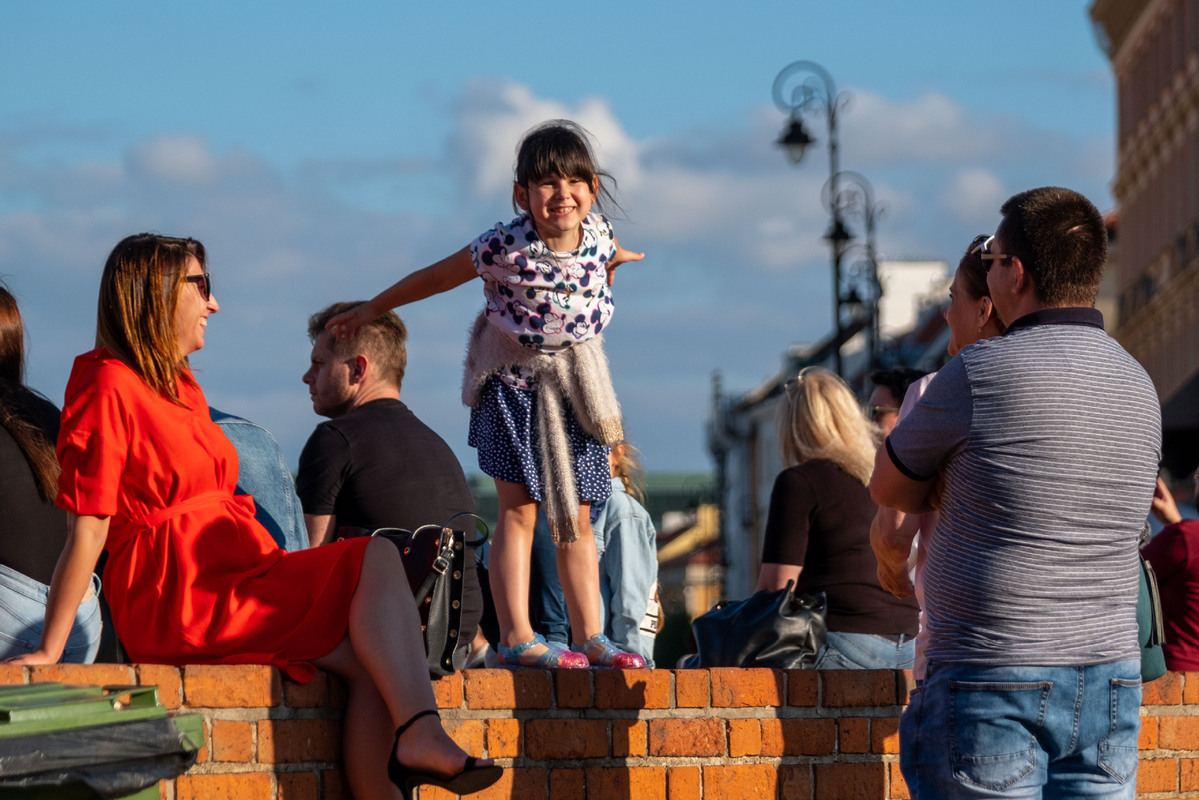 Warsaw, the Polish capital, reopens to visitors from other EU countries on Saturday. [Photo/Xinhua]
On May 27, the European Commission rolled out its proposal for a massive recovery fund to help member states survive and thrive after the pandemic.
The Next Generation EU recovery fund will involve borrowing 750 billion euros from the financial market. With an additional 1.1 trillion euros from the 2021-27 multiannual financial framework, or the EU's long-term budget, the bloc's total financial firepower will stand at 1.85 trillion euros.
Announcing the deal, European Commission President Ursula von der Leyen said, "The plan turns the immense challenge we face into an opportunity, not only by supporting the recovery but also by investing in our future." She was referring to the EU's Green Deal, which aims to make the continent the first carbon neutral area in the world by 2050.
"This is Europe's moment. Our willingness to act must live up to the challenges we are all facing. With Next Generation EU, we are providing an ambitious answer," said von der Leyen, a former German defense minister who took up her position on Dec 1.
Under the plan, Next Generation EU will raise money by temporarily lifting the bloc's "own resources "ceiling to 2 percent of its gross national income, allowing the commission to borrow 750 billion euros on the financial market.
Of that total, 500 billion euros will be distributed in grants to countries hit hardest by COVID-19, such as Italy and Spain, while 250 billion euros will go to member states as loans.
Leaders from the 27 EU member countries will discuss the recovery plan and the long-term budget at a videoconference on Friday, but an agreement, which is required for the recovery fund to go ahead, still appears unlikely.
European Council President Charles Michel said that "discussions will be very difficult and very complex".
The political journalism outlet Politico quoted him on Friday as telling leaders of the European Parliament: "I sense a huge political difficulty. There is no real coming together at the moment."
Michel has urged EU leaders to reach a quick agreement, stating: "Our citizens and businesses have been heavily impacted by the pandemic. They need targeted relief without delay."
The European Council said it hoped Friday's videoconference would "serve as a thorough preparation for a summit at a later date which, if possible, will be a physical meeting".
One major disagreement appears to be with the so-called Frugal Four, comprising the Netherlands, Denmark, Austria and Sweden. These countries want more money to be distributed as loans, rather than grants, while nations such as Italy and Spain have called for a larger proportion of grants.
On Saturday, von der Leyen again appealed for support from EU leaders during a national consultation meeting hosted by Italian Prime Minister Giuseppe Conte.
"Today, we know that we can only defeat this crisis if we do it together. Solidarity is not just the most ethical choice. It is the only effective way to deal with a crisis of this magnitude," she said.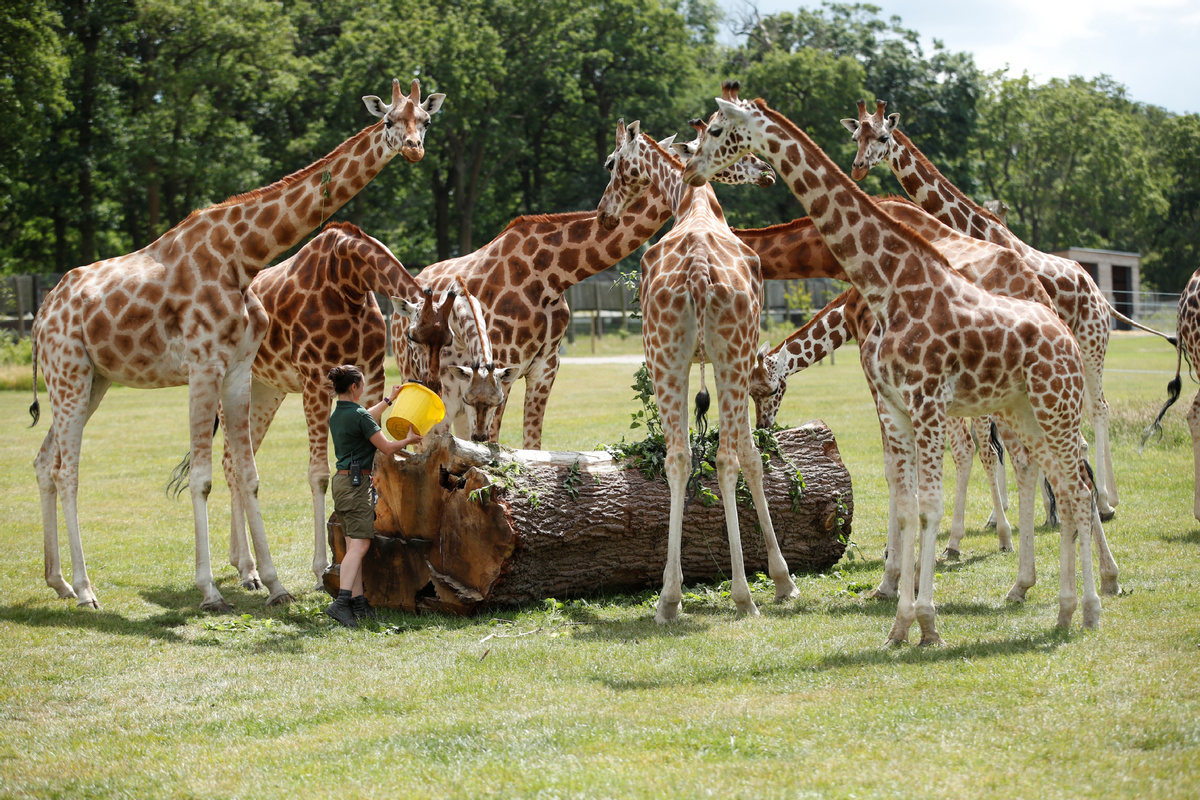 Giraffes are fed on Sunday by a keeper at Woburn Safari Park in southern England as the venue prepared to reopen the following day. [Photo/Agencies]
Gentiloni, the European Commissioner for Economy, has repeatedly warned of an uneven recovery possibly leading to splits among EU member states, posing a threat to the single market and the eurozone.
"That is why it is so important that the Next Generation EU proposal seeks to avoid distortions in the single market, and divergences, especially in the euro area," he told a news conference on Thursday.
Italy is expected to be the largest beneficiary of the recovery fund, receiving 172.7 billion euros out of the total of 750 billion euros. This allocation would comprise 81 billion euros in grants and 91 billion euros in loans.
Spain and Poland will follow, receiving 140 billion euros and 53 billion euros, respectively.
Zsolt Darvas, a senior fellow at Bruegel, a think tank based in Brussels, said that because of the hurdles in designing, approving and implementing EU programs, less than 25 percent of the grants planned under the recovery fund is expected to be spent in the next two and a half years, when such needs will be greatest.
"Well-functioning financial markets can help bridge the gap between urgent spending needs and late-arriving EU disbursements, but more effort is needed to frontload EU payments," he posted on the Bruegel website on June 10.
In a post on the Politico website last week, Eoin Drea, a senior research officer at the Wilfried Martens Center for European Studies in Brussels, stated that the European Commission is right in saying that the economic devastation caused by the coronavirus crisis requires an EU-level response.
"But the scramble toward a more centralized, more deeply integrated EU risks setting the bloc up for failure," he warned.
One important aspect of EU recovery is reopening internal borders for member states, which rushed to close them in mid-March when the pandemic hit Italy and spread across Europe.
Most EU states belong to the 26-member Schengen Area, a passport-free zone set up in 1990 under the Schengen Agreement, which was signed on June 14, 1985.
On Thursday, the European Commission said it was recommending that Schengen Area states lift internal border controls by Monday this week and was calling on EU countries to open frontiers to travelers from outside the bloc from July 1.
European Commissioner for Home Affairs, Ylva Johansson, said, "International travel is key for tourism and business, and for family and friends reconnecting.
"While we will all have to remain careful, the time has come to make concrete preparations for lifting restrictions with countries whose health situation is similar to the EU's and for resuming visa operations."
On Thursday, the latest risk assessment by the European Center for Disease Prevention and Control showed that Poland and Sweden are the only EU countries where COVID-19 has yet to reach its peak.
Italy, the EU nation worst-hit by the disease in recent months, opened its borders on June 3 to citizens from the EU, the Schengen Area and the United Kingdom. Travelers from these countries do not have to undergo quarantine unless they have visited other nations in the two weeks before arriving in Italy.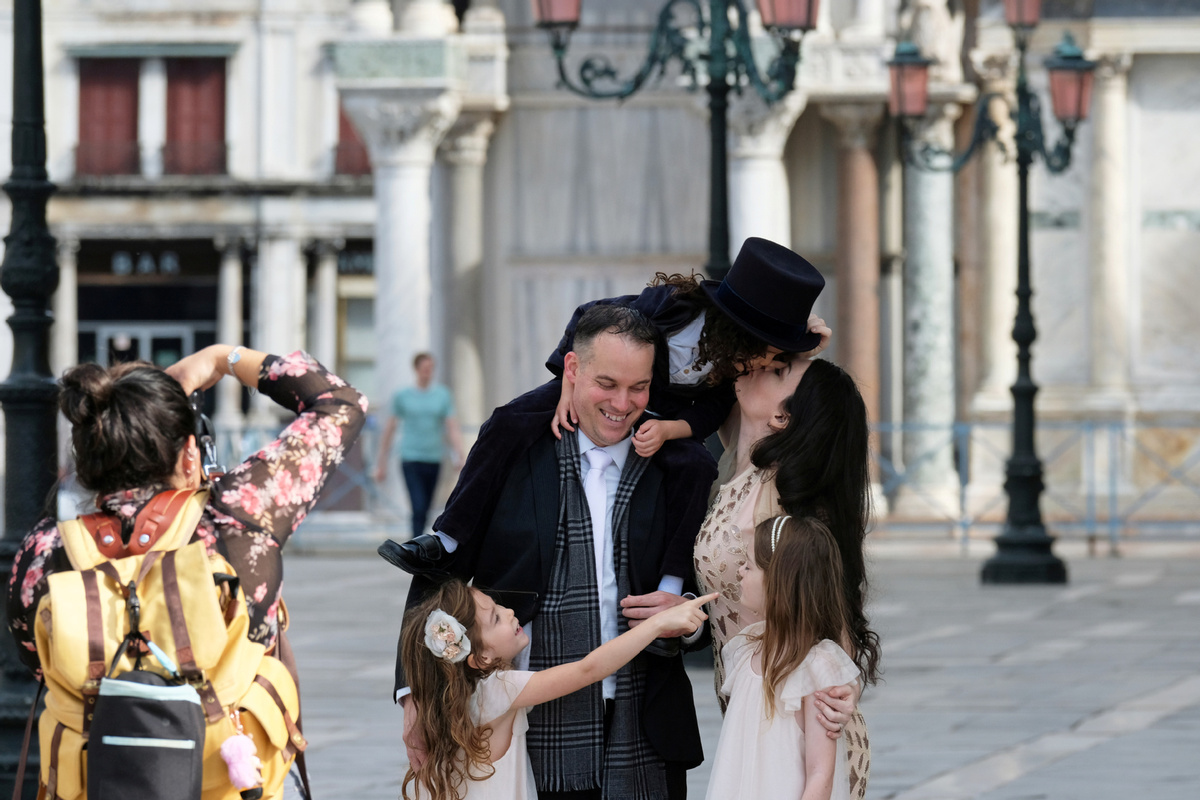 Tourists visit St. Mark's Square in Venice, Italy, on Sunday. [Photo/Agencies]
Several EU countries, including Belgium, Germany and France, announced they would lift restrictions on travel and quarantine with other EU and Schengen Area states from Monday this week.
During the weekend, France said travelers from the UK would have to submit to a 14-day quarantine period, a reciprocal move to measures imposed in the UK on arrivals from the EU and elsewhere. France plans to gradually reopen to travelers from non-Schengen areas from July 1.
Austrian Minister of Foreign Affairs Alexander Schallenberg announced the lifting of travel restrictions on 31 European nations from June 16. Arrivals from the UK, Sweden, Spain and Portugal must present a negative COVID-19 test and remain in quarantine for 14 days.
On June 4, Austria opened its borders with neighbors Germany, Switzerland, Hungary and the Czech Republic.
However, some EU member states are not ready to open their borders yet.
On Sunday, Spanish Prime Minister Pedro Sanchez said his country would reopen to arrivals from Schengen Area countries from June 21, but the border with Portugal would remain closed until July 1.
Spain is among the nations worst-hit by COVID-19, with a quarter of a million confirmed cases and more than 27,000 deaths. But the numbers have fallen, with 500 new cases and no deaths recorded on Saturday.
Greece is also reopening its borders in stages to mass tourism, starting this week. The country will also allow international arrivals at all its airports and sea ports from July 1.
Greece, which was visited by 33 million people last year, is expecting a huge drop in arrivals this year.
"We don't know the real impact on GDP," local newspaper Kathimerini quoted Greek Prime Minister Kyriakos Mitsotakis as telling foreign media on Saturday at the end of a visit to the island of Santorini, one of the country's top tourist attractions.
Tourism accounts for about 30 percent of the Greek economy and some 20 percent of jobs in the country. Greece's GDP is expected to shrink by 9.7 percent this year and rebound by 7.9 percent next year. Unemployment is forecast to reach 19.9 percent this year, according to the European Commission.
As of Monday, Greece had reported 3,112 confirmed COVID-19 cases and 183 deaths from the disease.
"A lot will depend on whether people feel comfortable to travel and whether we can project Greece as a safe destination," Mitsotakis said.
[disclaimer] the above article is reprinted from the Internet, which is intended to convey more information. It does not mean that this website agrees with its views and is responsible for its authenticity; if the copyright unit or individual of the manuscript is unwilling to issue it on the website, please contact us or call us within two weeks.andy steel structure.