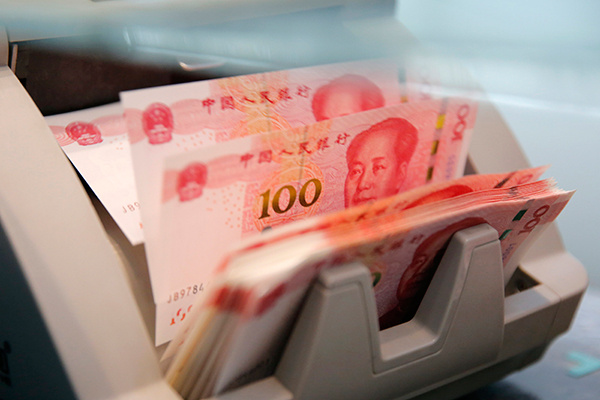 Chinese 100 yuan banknotes are seen in a counting machine at a bank in Beijing, March 30, 2016. [Photo/Agencies]
China's economy is staging a strong comeback after cratering in the first quarter, while the global outlook is darkening due to financial turmoil. More efforts will be needed to contain the novel coronavirus pandemic and respond to its economic fallout, economists said.
The latest predictions by economists around the world pointed to a global recession in 2020, as the shutting down of business to curb the spread of the virus is causing serious economic and financial damage. Moody's said on Tuesday that the global economy is expected to suffer, with real GDP falling by 0.4 percent this year.
After a conference call held by G20 finance ministers and central bank governors on Monday, International Monetary Fund Managing Director Kristalina Georgieva predicted negative global growth this year before a recovery in 2021, saying more "bold efforts" will be needed, especially on the fiscal front, to temper the impact.
Global central banks and governments are rapidly ramping up their response to economic and financial stress. The US Federal Reserve unveiled unprecedented measures before the market opened on Monday, vowing to buy unlimited amounts of Treasury bonds and mortgage-backed securities to keep borrowing costs at rock-bottom levels, which was called "infinite quantitative easing".
Previously, the Fed had cut the policy rate to nearly zero, lowered the cash amount that banks must hold in reserve and said it would provide substantial liquidity to credit markets through various types of credit facilities that had been used only in the 2008 financial crisis.
"The Fed's unexpected moves, the most aggressive monetary easing programs in the history of central banking, showed the urgency to buoy investors, which is necessary for the market, although more time is needed to see whether buying an infinite quantity of Treasurys will lead to a sustained rebound for global markets. The credit crush will last if the global economy further retreats," said Ming Ming, a senior analyst at CITIC Securities.
The Fed's new actions failed to boost US stocks immediately. The Dow Jones Industrial Average closed down 582.05 points, or 3.04 percent, at 18,591.93 on Monday. The S&P lost 67.52 points, or 2.93 percent.
But it caused stocks to rise in Asia, including A shares. China's CSI 300 index of the Shanghai-and Shenzhen-listed stocks added 2.69 percent at the close on Tuesday. The benchmark Shanghai Composite Index rose 2.34 percent, after a drop of 3.11 percent a day earlier. The renminbi appreciated against the US dollar as the US dollar index dropped.
"Asia appears past the worst of the virus, and while there is still considerable economic fallout to come, the region's economy should be able to eke out a small gain in GDP this year," said Mark Zandi, chief economist at Moody's.
"The plateauing of the number of new infections in China will allow for a normalization of economic activity over the second quarter, with factory output likely picking up more quickly than activity in the services sector," said Madhavi Bokil, a vice-president and senior researcher at Moody's Investors Service.
Chen Yulu, vice-governor of China's central bank, said on Sunday that the economy is returning to its potential growth rate, with significant improvement expected in the April-to-June period.
The government's ability to quickly and effectively lock down infected populations has allowed China to restart production more quickly and to limit the damage to longer-term growth prospects, said economists.
Chinese policymakers have responded to the negative economic impact and accelerated production resumption. Measures include cutting the amount of cash that banks have to set aside as reserves, in a move that will pump 550 billion yuan ($78 billion) into the economy, and offering 800 billion yuan of relending and rediscounting financing to commercial banks to increase loans. Also included is providing discretionary fiscal supports that include more government spending and tax cuts.
Additional actions will be taken if necessary to help China's economy rebound, including boosting fixed-asset investment and consumption, officials said.
[disclaimer] the above article is reprinted from the Internet, which is intended to convey more information. It does not mean that this website agrees with its views and is responsible for its authenticity; if the copyright unit or individual of the manuscript is unwilling to issue it on the website, please contact us or call us within two weeks.