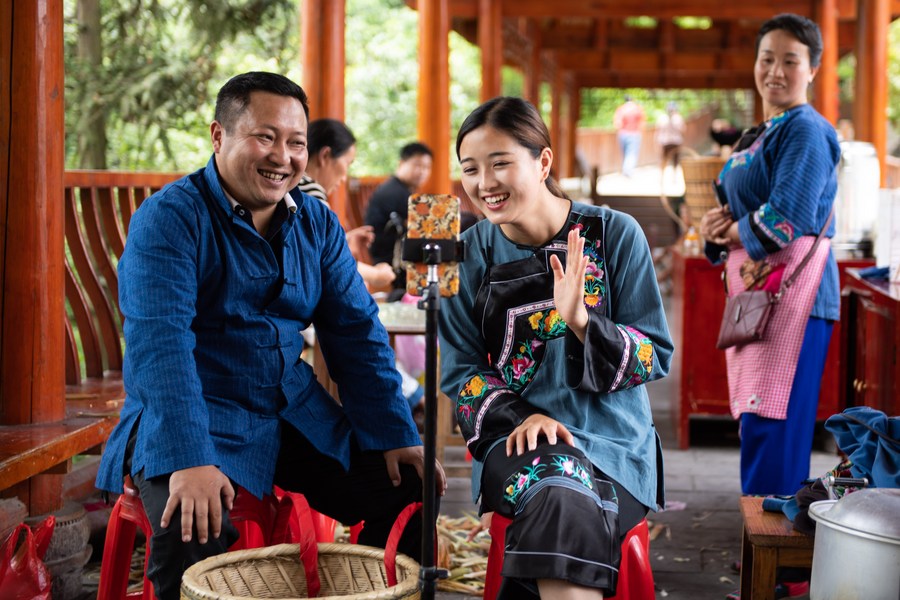 Promotions to help boost sales of farm products to benefit poor rural residents
Domestic consumer spending, an increasingly strong engine for China's economic growth, is expected to help boost rural income and contribute to the country's historic victory over absolute poverty by the end of the year.
A host of events will be held nationwide in September to tap urban wallets to bolster the sales of farm produce from poorer central and western regions, poverty relief official Hong Tianyun said on Friday.
It will be the latest move by central authorities to address the lackluster sales of agricultural products amid disruption of supply chains caused by the COVID-19 outbreak earlier this year and severe flooding in some southern provinces this summer.
The monthlong sales promotion campaign will kick off with a ceremony and consists of five special campaigns to raise awareness of e-platforms and brick-and-mortar venues where such products are available, according to Hong, deputy head of the State Council Leading Group Office of Poverty Alleviation and Development, the top anti-poverty agency and a major organizer of the events.
The events signify that "the poverty relief effort through consumption has entered a new stage", he said at a news conference held by the State Council Information Office in Beijing.
The event's theme is very much to the point: "To involve tens of thousands of enterprises and hundreds of millions of Chinese consumers" in the sweeping campaign to eliminate absolute poverty before 2021, the centenary of the Communist Party of China.
The Party has also pledged to build China into a "moderately prosperous society in all respects" by year's end.
Liu Hongyu, who runs an olive oil production company in Longnan, Gansu province, said the promotion campaign will help boost small and medium-sized businesses like hers, which cannot afford commercials on State television. Her company has helped more than 21,000 farmers shake off poverty and generated over 970 million yuan ($141.3 million) in rural income.
China has ramped up efforts to boost rural income by tapping the growing interest in organic food among urban residents since 2015.
To facilitate the effort, the central authorities have urged local governments to identify items whose production involves poor farmers. The central government has also moved to facilitate sales: Last year authorities launched fupin832.com, a website designed to assist government purchases of such products as part of a joint assistance program.
E-commerce giants such as Taobao, Suning.com, JD.com and Pinduoduo.com have also contributed by opening special sales channels.
The relief-through-consumption strategy has gotten an intensified push this year as China nears victory in the anti-poverty fight. It gained new significance after the pandemic and floods.
The State Council, China's Cabinet, in January released a guideline calling for wealthier provinces to establish trading ties with their counterparts in central and western regions to purchase poverty-relief products, foster rural industries and generate jobs for the impoverished.
Central and western provinces have identified more than 76,000 such products, whose sales have reached more than 100 billion yuan, according to the anti-poverty office.
52 counties still have poverty label
Although remarkable achievements have been made, China still has 52 counties retaining the poverty label. Now, both the government and society are gearing up to help.
To offset the impact of COVID-19, the government is paying more attention to the creation of jobs for the poor in the 52 counties. By the end of July, about 2.9 million poor people in those counties had worked outside their home villages for better pay, official data shows.
The figure represented an increase of 112 percent over the same period last year, said Li Fujun, deputy chief of the State Council Leading Group Office of Poverty Alleviation and Development.
Li said dozens of reporters soon will go on field trips to the 52 counties in seven provincial-level regions-Sichuan, Gansu, Guizhou and Yunnan provinces and the Ningxia Hui, Guangxi Zhuang and Xinjiang Uygur autonomous regions-to take a look at local poverty alleviation work.
Huang Zhiling in Zhaojue, Sichuan province, contributed to this story.
[disclaimer] the above article is reprinted from the Internet, which is intended to convey more information. It does not mean that this website agrees with its views and is responsible for its authenticity; if the copyright unit or individual of the manuscript is unwilling to issue it on the website, please contact us or call us within two weeks.andy steel structure.