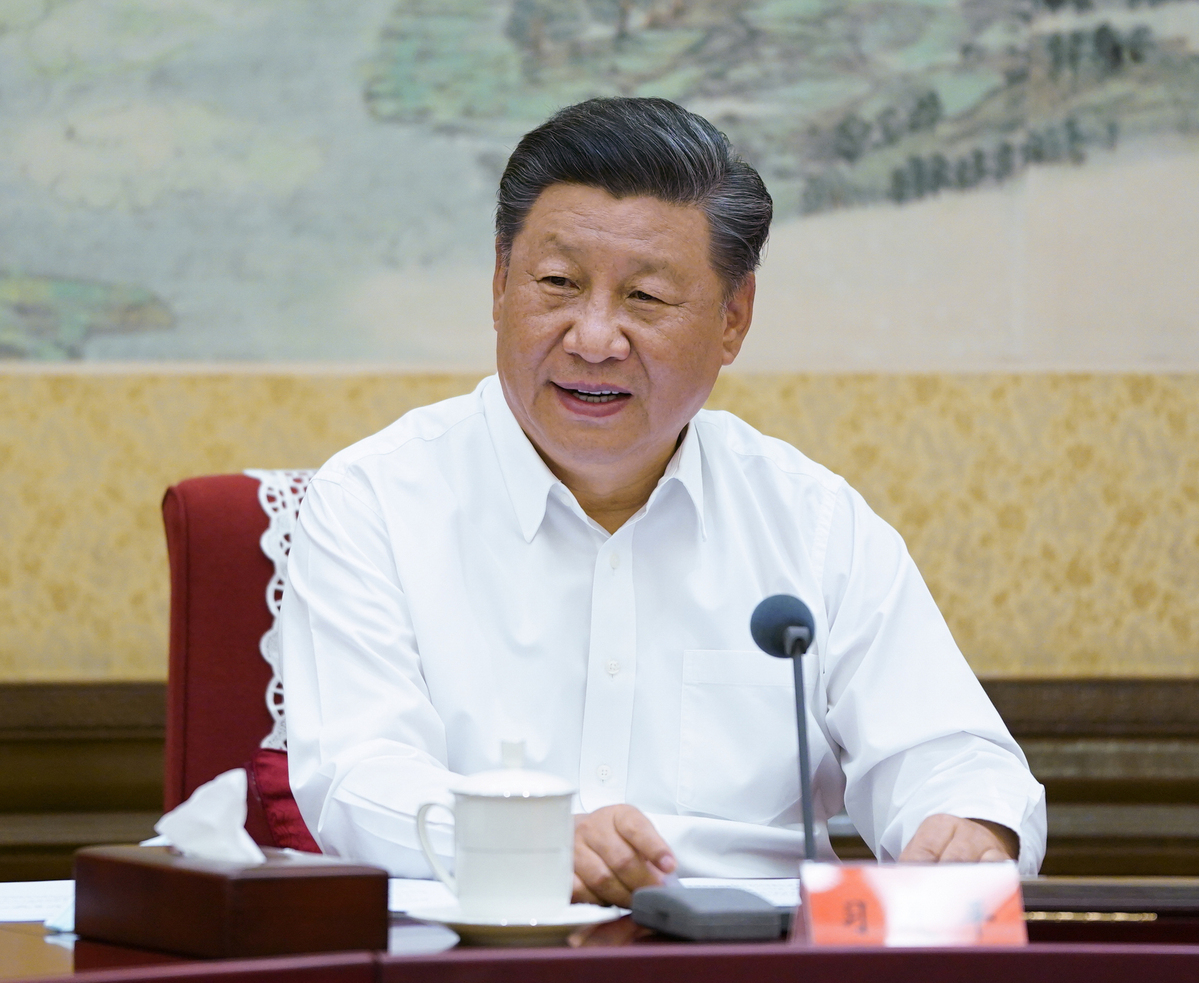 Spurred by new development pattern, country to become magnet for imports
China will have even closer connections with the rest of the world as its status in the global economy keeps rising, President Xi Jinping said on Monday, reiterating that the country will provide a broader market for other countries.
Xi, who is also general secretary of the Communist Party of China Central Committee, spoke at a symposium attended by experts in social and economic fields who offered their suggestions and opinions about China's 14th Five-Year Plan (2021-25).
China will become a huge magnet for international commodities and resources, Xi said after hearing the experts' suggestions, as he spoke about the country's new development pattern, which responds to grave and complex international and domestic circumstances.
He said that, based on changes in the circumstances, the country has adopted a new development pattern with the domestic economic cycle as the mainstay and the domestic and international economic cycles complementing each other. The strategic choice helps reshape China's strength in international cooperation and competition, Xi said.
He underscored the importance of expanding domestic demand by adhering to the strategic direction of upholding supply-side reforms to better balance supply and demand in the domestic market.
The new development pattern is by no means a closed domestic economic cycle, but rather an open "dual circulation" with domestic and international markets boosting each other, Xi stressed.
He underlined the need to work out a new plan for China's economic and social development in order to make its higher-quality growth become much fairer and more efficient, sustainable and secure. He also called for stronger awareness of opportunities and risks in the face of the new challenges internationally.
Xi said the COVID-19 pandemic has sped up changes in the international landscape, and the domestic development environment is also being transformed. He called for efforts to adapt to the changes and turn the crisis into an opportunity for high-quality development.
He called for technological innovation to bolster new growth drivers for high-quality development and urged more efforts to raise the capacity for independent innovation and for faster progress in key, cutting-edge technologies.
To this end, Xi said, the nation should fully leverage the marked advantages of the socialist system in mobilizing all available resources to fulfill major tasks, and accelerate turning scientific and technological achievements into productive activities to raise the level of industrial chains.
Enterprises should play a leading role in technological innovation, Xi said, adding that innovation should be coupled with openness. International exchanges and cooperation in science and technology also must be strengthened, he said.
Xi emphasized the importance of deepening reforms in high-quality growth, saying more concrete measures must be taken to break institutional barriers to boost vitality for development.
While advancing the modernization of the country's governance system and capacity, Xi said, the basic socialist economic system with Chinese characteristics should be upheld and improved.
He said the market should play a decisive role in resource allocation while allowing the government to play an improved role in order to create a long-term, stable and predictable institutional environment. Property rights and intellectual property rights must be protected with stronger measures, he added.
Xi stressed the importance of higher-level opening-up in international cooperation and competition, and reiterated that opening-up remains China's fundamental policy.
The country needs to raise the level of opening-up in an all-around way to build the new system for a higher-level open economy and create new advantages in international cooperation and competition, he said.
Xi underlined the need for the country to actively participate in the reform of global economic governance systems to make them fairer and more reasonable.
He also called for measures to improve social governance, build stronger public health and disease-control systems, create more job opportunities and uphold social stability.
[disclaimer] the above article is reprinted from the Internet, which is intended to convey more information. It does not mean that this website agrees with its views and is responsible for its authenticity; if the copyright unit or individual of the manuscript is unwilling to issue it on the website, please contact us or call us within two weeks.andy steel structure.