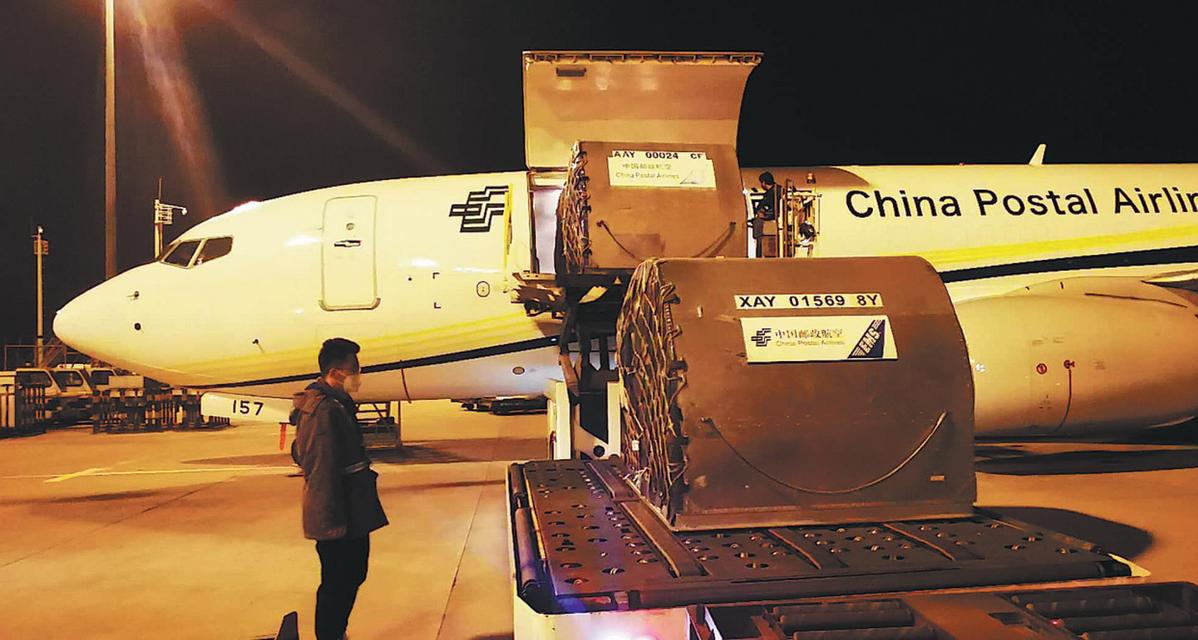 A China Post employee supervises the loading of medical supplies at Nanjing Lukou International Airport on April 28. [Photo provided to China Daily]
Central SOE shipping more medical supplies to hard-hit areas around globe
China Post Group Corp, the centrally administrated State-owned enterprise with nearly 1 million employees, plans to add a number of international postal routes via air, sea and rail to deliver epidemic prevention and control products and industrial goods to countries in need in fighting COVID-19, executives said on Thursday.
Many of the world's leading airlines including United Airlines, British Airways, Lufthansa Group, Air France and KLM have either suspended or cut flights in many parts of the world over the past three months. China's Civil Aviation Administration also decided to cut the number of international flights in and out of the country in late March to curb the spread of the contagion.
Because there is not much potential for Chinese companies to lease cargo space in passenger aircraft of Chinese and European airlines, China Post-supported by the 33 cargo aircraft owned by its subsidiary China Postal Airlines-increased its service frequency on six regular international postal air routes such as services between Shanghai and Tokyo, and Zhengzhou, Henan province, and Seoul since mid-March.
The group also organized international air cargo charters to carry COVID-19 testing kits, surgical masks, ventilators and infrared thermometers, as well as mail and industrial goods from Nanchang, Jiangxi province, to Amsterdam and Osaka last month.
"Even though the cost of air cargo service is higher than transcontinental rail and container vessel operations, we have seen surging demand for such services from domestic companies in shipping their medical supplies, manufactures and retail goods after they resumed production," said Liao Tao, general manager of China Post's goods delivery unit.
Liao said the group will work closely with various provincial-level governments and export-oriented manufacturers to gather their goods and operate more international air cargo services to support Chinese companies in carrying out overseas orders and ensure transportation channels for China's cross-border e-commerce platforms.
Given the fact that its clients have different budget ranges for international delivery services, China Post began to adopt self-organized China-Europe freight trains for its postal services to Europe in April after using other domestic providers' networks in the first quarter.
The Beijing-headquartered group launched a train service from Yiwu, Zhejiang province, to Vilnius, Lithuania on Monday.
The train will travel 13 days to deliver over 353.77 metric tons of items including mail, daily necessities and medical supplies to customers in 36 European Union and non-EU countries including Spain, Denmark, France, Cyprus, Switzerland and Norway, via local delivery after arriving in the Baltic nation.
China Post currently runs China-European block train services from cities including Chongqing and Yiwu to European cities including Madrid and Malaszewicze, Poland. It operates these services once or twice weekly, with 50 rail containers used per journey.
A block train involves a single shipper and multiple parties booking an entire train.
After many countries closed their seaports and airports, there have been delays in the distribution of medical supplies and other goods after January. The China-Europe railroad is able to transport a large amount of goods and medical supplies within 18 days maximum in both directions, said Feng Hao, a researcher at the National Development and Reform Commission's Institute of Comprehensive Transportation.
Liao from China Post said the group will help partner economies resume production and maintain stable trade and other commercial activities with China. The virus outbreak to a certain extent has also forced domestic companies to further diversify their operating modes to remain competitive in the global market.
Apart from adding air and rail cargo postal services, China Post also reached agreements with postal authorities in Japan, New Zealand and Israel in the first quarter to conduct maritime postal delivery services by partnering with China COSCO Shipping Corp, another central SOE and the nation's largest shipping company.
Eager to expand its business categories, China Post sent 13.2 tons of international mail and goods via a container ship owned by China COSCO Shipping from Shanghai to Israel late last month.
As China has effectively contained the coronavirus outbreak domestically and helped its trade partners resume production, China Post began to build a logistics and mail processing center in Zhengzhou, Henan province last month to support the city's efforts to build an "Air Silk Road" to enhance its position as a vital logistics hub in Central China.
Near to Zhengzhou Xinzheng International Airport, the facility's average daily mail processing capacity will reach 686,000 pieces after its completion, said China Post.
As an essential part of the national economy, the strategic value of the postal and express businesses-driven by strong market demand and technology upgrading-will gain fresh momentum and be more digitalized to facilitate China's economic growth this year, said Wen Shaoqi, the group's vice-president.
China Post's business mainly focuses on postal services, express and logistics, finance and e-commerce. Its branches at different levels provide universal postal services and special services such as confidential communication and the distribution of newspapers and periodicals.
[disclaimer] the above article is reprinted from the Internet, which is intended to convey more information. It does not mean that this website agrees with its views and is responsible for its authenticity; if the copyright unit or individual of the manuscript is unwilling to issue it on the website, please contact us or call us within two weeks.andy steel structure.