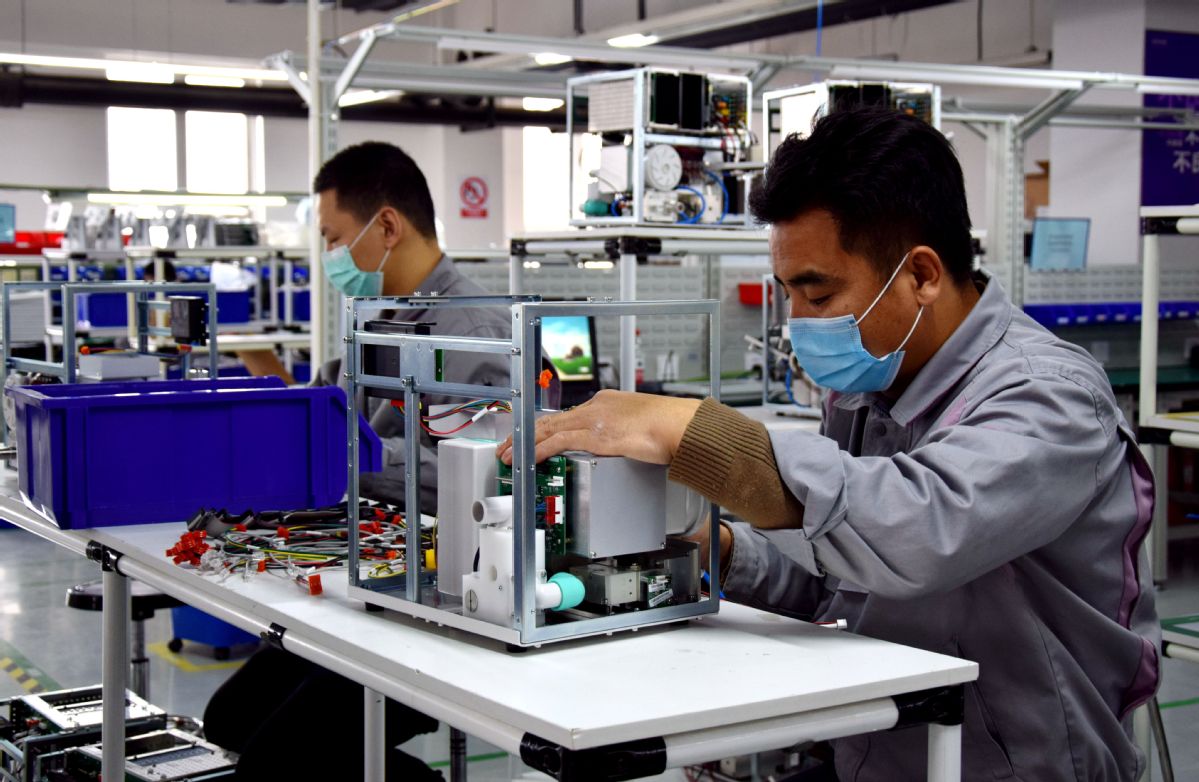 Employees make ventilators at a workshop in Shijiazhuang, North China's Hebei province, on Feb 3, 2020. [Photo/Xinhua]
Chinese companies are geared up to meet surging global demand of ventilators to join hands with the world fighting against COVID-19 outbreak, overseas edition of the People's Daily reported on Friday.
China's ventilator production capacity accounts for one-fifth of that of the globe and the country has received more than 20,000 orders of ventilators from overseas. Some orders have been moved to the third quarter, although all staff members including R&D employees are working non-stop at production line.
The current daily production capacity of ventilators has increased to 1,200 units from 200 to 300 at the beginning of February and with tens of thousands orders the company is still receiving hundreds of inquires each day, said Jiang Dong, marketing manager of BMC Medical Co Ltd.
The company is making every effort to increase production capacity of ventilators to meet the demand from Italy, France, UK and the United States, Jiang said.
BMC Medical Co Ltd is just one of the Chinese ventilator manufacturing companies working 24 hours a day to tackle challenges of surging ventilators orders brought by the novel coronavirus pneumonia.
Statistics from the WHO indicate that one out of every six COVID-19 patients will have severe illness and dyspnea, and non-invasive ventilator-assisted ventilation will be used. If the condition worsens, invasive ventilator-controlled ventilation will be needed.
It is estimated that in the US only 200,000 ventilators are available with a considerable part being worn out and cannot be used immediately.
The situation in Europe is also not optimistic as the ventilator gap in EU is projected to be 25,000. The shortage of ventilators may be even worse in some developing countries. The global demand for ventilators is ten times that of available in current medical institutions.
The global situation has becoming serious since the middle of March this year and many countries in badly need of ventilators eye on China, who brings hope to global villagers and committed to breath together with all the countries and build a shared future.
About 1,000 ventilators donated by Chinese private organizations to New York State arrived last week, about 300 ventilators were shipped from China to the UK, and Spain purchased more than 900 ventilators from China. Since March 1, China has exported 16,000 ventilators, said Jin Hai, director-general of the GAC's department of general operation, at a press conference on April 5.
[disclaimer] the above article is reprinted from the Internet, which is intended to convey more information. It does not mean that this website agrees with its views and is responsible for its authenticity; if the copyright unit or individual of the manuscript is unwilling to issue it on the website, please contact us or call us within two weeks.