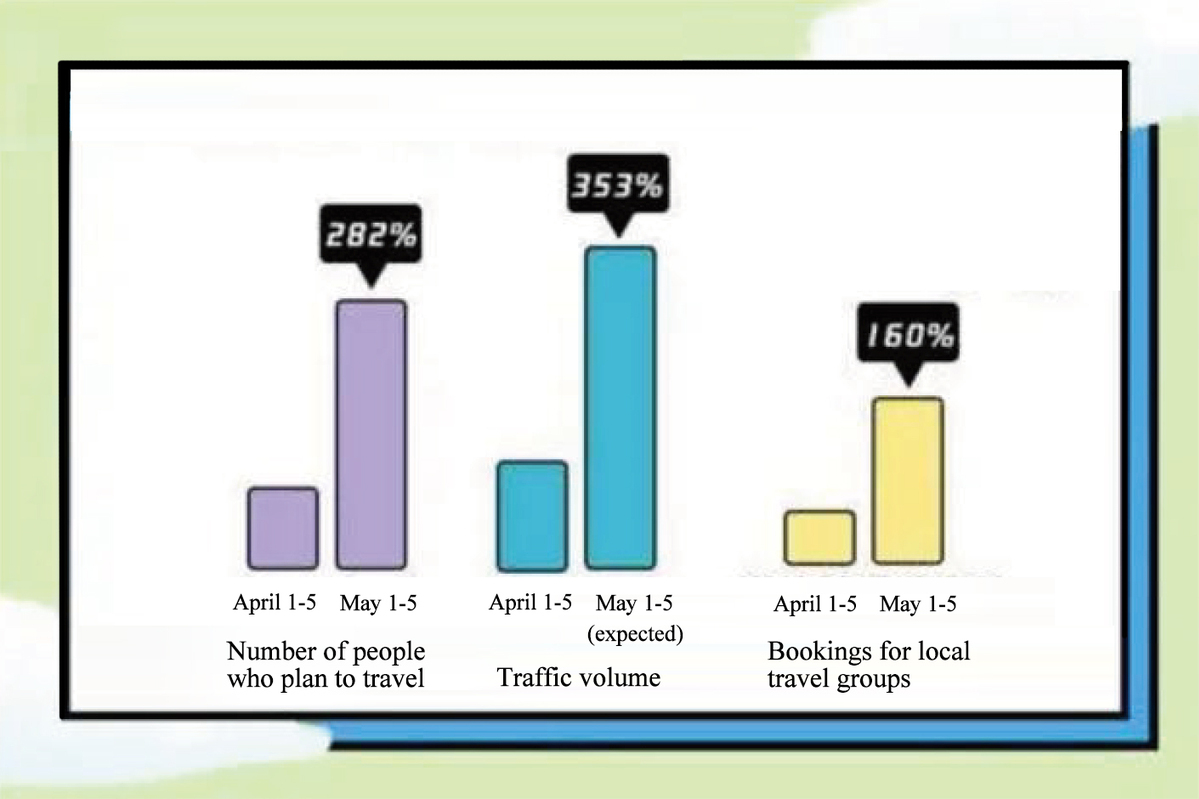 How would you spend your 2020 Labor Day holiday under COVID-19 outbreak? This year marks the first five-day Labor Day holiday since 2008 when the once "golden week" was cut to three days. And based on big data, many people already have their holiday planned.
Statistics from Ctrip.com, a major online travel platform, show the coming holiday, from May 1 to 5, is expected to see a traffic surge of 353 percent over the same period in April.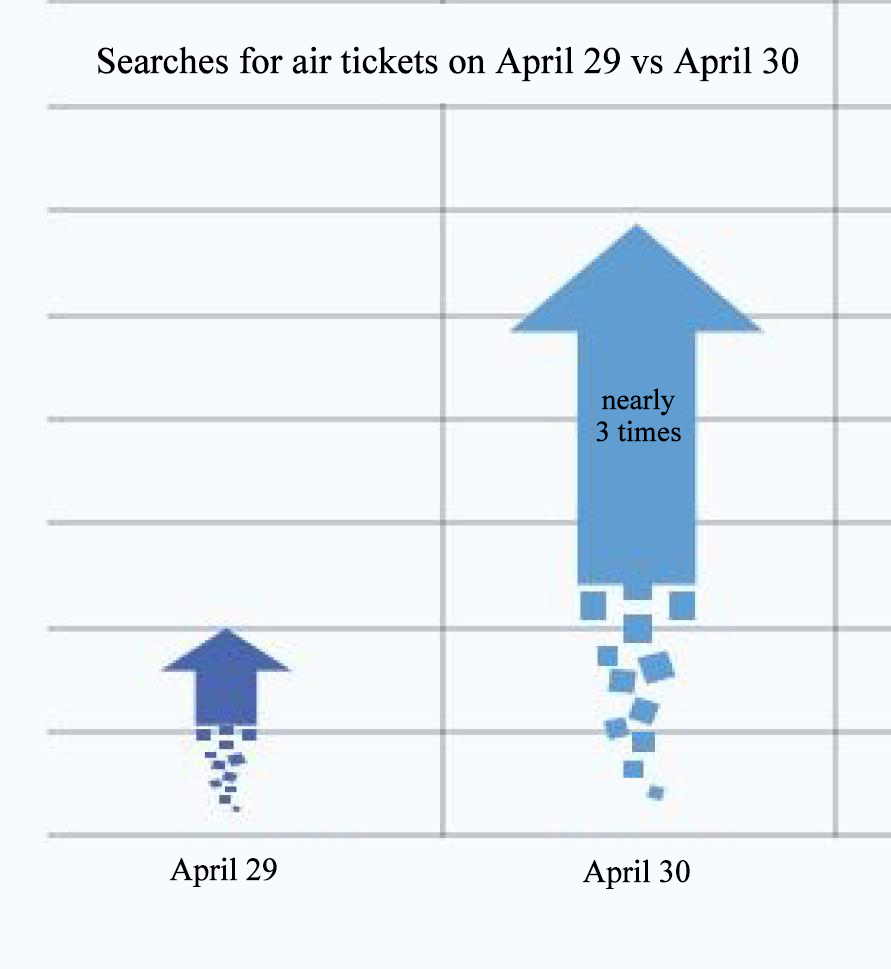 Pictured, from left, are searches for air tickets on April 29 versus April 30. [Source: youth.cn]
Elong.com, an online travel platform, said online searches for air tickets between April 30 and May 3 surged, with searches for air tickets on April 30 nearly tripling those for April 29, and those for May 1 topping other days.
Pictured, clockwise from left, are graphics showing searches for hotel bookings up 1.7 times, bookings at guesthouses in Qinhuangdao up 2.6 times, the Beijing-Tianjin route as the most searched one, and searches for train tickets in Beijing-Tianjin-Hebei region up 40%. [Source: www.bjd.com.cn]
Data from the travel platform Qunar.com published on April 20 also showed searches for May Day holiday hotel bookings increased 1.7 times between April 18 – 20 from a week earlier, after news was released that one's health status would be mutually recognized in the Beijing-Tianjin-Hebei region. Searches for train tickets in the Beijing-Tianjin-Hebei region rose by 40 percent, with Beijing-Tianjin travel the hottest route. And bookings for hotels in Qinhuangdao jumped 2.6 times.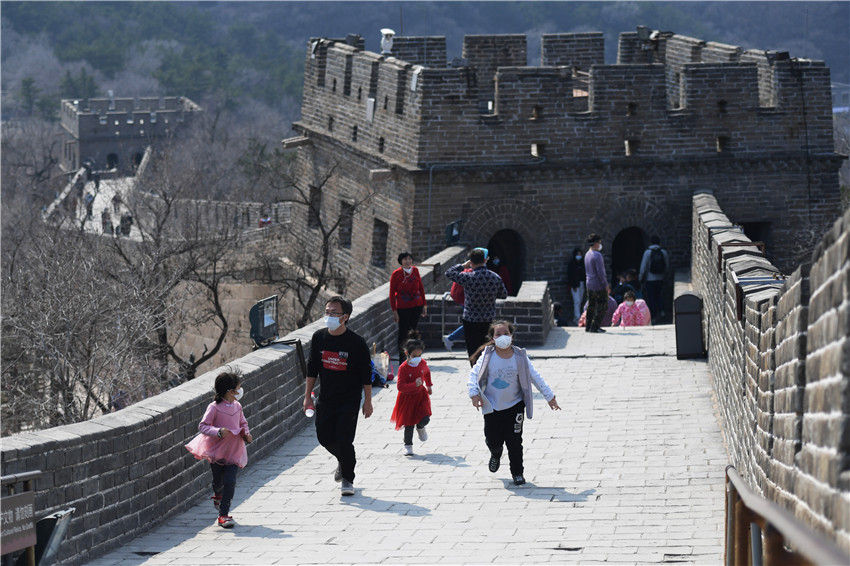 Visitors wearing masks climb the Badaling section of the Great Wall in Beijing, on March 24, 2020. [Photo by Wei Xiaohao/chinadaily.com.cn]
Ctrip.com said in its report that 10 scenic spots are poised to become the most sought-after getaways in the Labor Day holiday: the Bell Tower of Xi'an, Emperor Qinshihuang's Mausoleum Site Museum, Presidential Palace, Leshan Giant Buddha, Taierzhuang Ancient Town, Humble Administrator's Garden, Badaling Section of the Great Wall, Dujiangyan Irrigation System, Tang Paradise and Huqiu.
The online travel platform Lvmama.com said travel packages such as those for two days and one night or three days and two nights, including hotel and meals, are quite popular. And 75 percent of its users chose scenic spots or rural parks to spend their holiday time.
Given the outbreak of COVID-19, some scenic spots have reopened to the public while many others have not.
Scenic spots in the country have carried out control measures in concert with the notice jointly issued by the Ministry of Cultural and Tourism and the National Health Commission on April 13, requiring scenic spots to suspend opening indoor areas and to control the number of tourists to below 30 percent of maximum capacity.
In Beijing, 73 rated scenic spots had opened to the public as of April 20, including the Mutianyu Section of the Great Wall, Badaling Section of the Great Wall and Yanqi Lake. And 165 rated spots are still closed.
In Hubei, 266 of its 421 A-level scenic areas had reopened as of April 24. Most are natural scenic spots or in outdoor areas.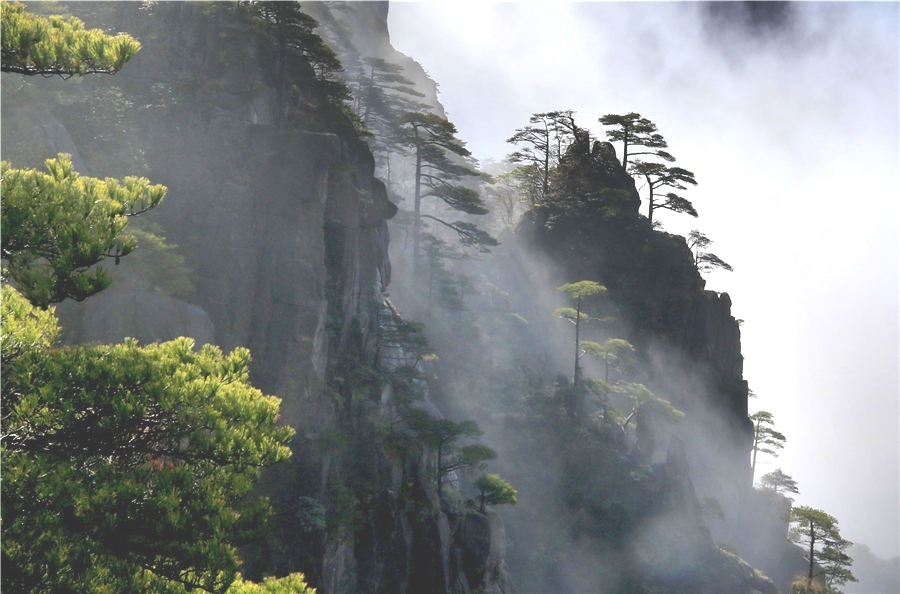 A view of Huangshan Mountain after snowy weather in East China's Anhui province, Feb 19, 2019. [Photo by Shi Guangde/Asianewsphoto]
Shanghai said some of its scenic spots will remain closed during the holiday, including the Oriental Pearl Radio & TV Tower, Shanghai Historical Development Exhibition Hall and the Sightseeing hall of Jinmao Tower.
In Shenzhen, the Overseas Chinese Town East has reopened since March 23, but has delayed its daily opening time to 10 am and shut down indoor areas. Of note, its Grand Canyon Park has only received up to 9,000 tourists a day. Although it is open, the Safari Park Shenzhen is not allowed to receive visitors without a prior booking. Outdoor facilities in Xiaomeisha Resort have opened to the public while its indoor area stays closed.
In Shandong's Jinan, 40 or over half of the A-level scenic spots including the Best Spring in the World, have resumed operation but they do not receive tour groups from outside Shandong province.
In Anhui province, the management committee of the Huangshan Scenic Area announced on its website on April 21 that the North Gate to the spot will reopen from April 29. It allows up to 1,500 tourist visits in a day. Tour groups of more than 30 people are forbidden.
During COVID-19 outbreak, online touring has become another option for travel.
Services on social livestreaming platforms such as cloud exhibitions, cloud scenic spots or cloud touring offer new travel experiences at home. Several thousand commercial entities on Alibaba's travel portal Feizhu have put up touring livestreams. Every day during the epidemic, the app has seen over 100 livestreams. The Palace Museum also launched its virtual panoramic tour on the app.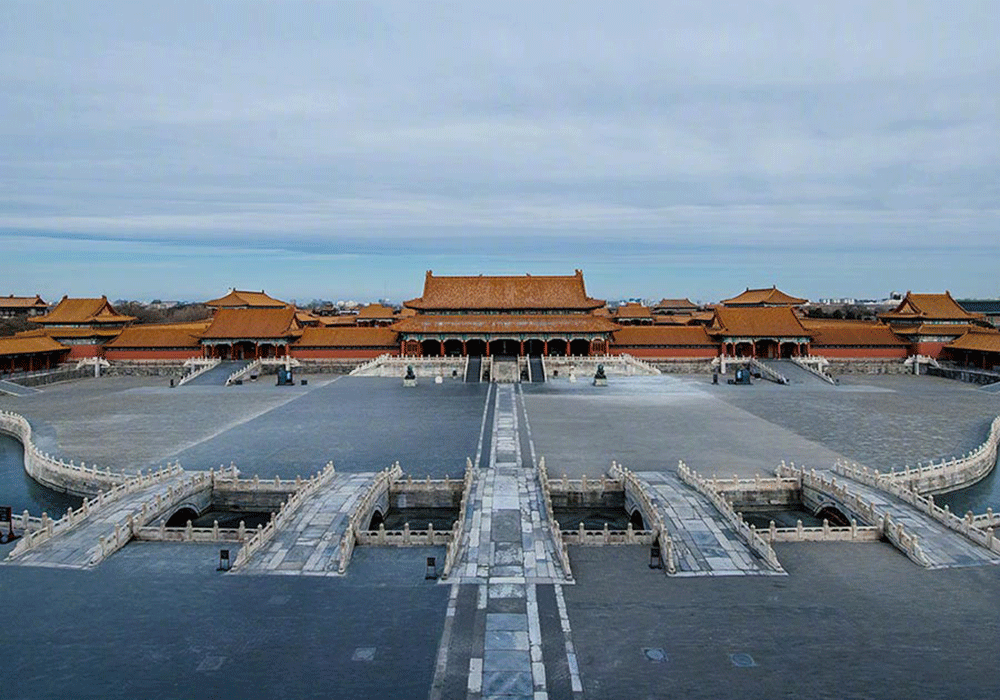 The Gate of Supreme Harmony (Taihemen) at the Palace Museum in Beijing. [Photo/Official Sina Weibo account of the Palace Museum]
Expert suggestions for travel
Li Lanjuan, member of the senior expert group of the National Health Commission, said: "During the global pandemic, traveling in China is nevertheless the safest option. The public is OK to go sightseeing at places which are not so crowded."
Zhang Wenhong, director of the infectious disease department of Huashan Hospital, suggested the public should bring their own food when going out, so that they may avoid dining with many other people in shared spaces.
Wang Guangfa, member of the expert group of the National Health Commission, said the public is not advised to visit one place on a large scale, a move to avoid the concentration of people. He also suggests wearing a mask during travel and washing hands when coming back home.
Wu Zunyou, chief epidemiological expert at the Chinese Center for Disease Control and Prevention, deemed gatherings should be carefully avoided even though there is a generally low risk of exposure to COVID-19 in the living environment in China.
The Ministry of Culture and Tourism also called for the public to seriously consider individual protection and check one's body temperature at scenic spots. One should immediately inform employees at a scenic spot if feeling unwell.
[disclaimer]
the above article is reprinted from the Internet, which is intended to convey more information. It does not mean that this website agrees with its views and is responsible for its authenticity; if the copyright unit or individual of the manuscript is unwilling to issue it on the website, please contact us or call us within two weeks.andy steel structure.